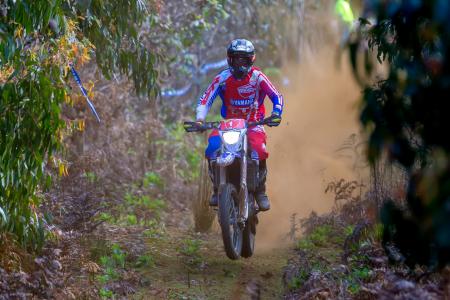 Daniel Milner has finished the second day of the A4DE with a 27 second lead over second placed Matthew Phillips.
By Hayden Gregory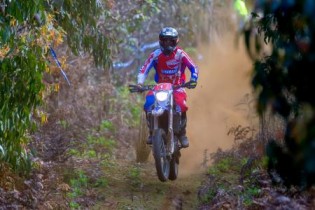 The Yamaha rider impressed through the slippery Tasmanian country side winning three of the five special tests conducted. Milner's time of 1:49.58 ensures he holds both the outright lead and the E2 (450cc) divisions.
"Things went well again today and I had a really good run this morning in the first two tests and was able to build a bit of a gap," Milner explains. "I had an issue in the final test and I lost some time, but all up it was a good day for me and the bike is going awesome, so I look forward to more of the same tomorrow."
While second placed Phillips was the fastest rider in the final two tests he couldn't help but fall away from leader Milner. He was able to extend his E3 class lead however over teammate Daniel Sanders by one minute and 45 seconds.
Active8 Yamaha's Josh Green managed to hold down fourth place outright and the number one position in the E1 class.
CDR Yamaha's Chris Hollis had a difficult day falling during special tests and losing important time on the leading riders. Currently sitting in fifth place outright and second in E2 he has his work cut out for him over the next two days.
In the women's class, Tayla Jones came from second place overnight to hold a near 90 second lead after 2 days of racing. Jones has been the benchmark in women's racing all year and that definitely showed today with an impressive enduro ride.
For a full list of results available at: www.mylaps.com
Keep up to date with the latest A4DE news on our live feed here.
Standings – After Day 2
OUTRIGHT
1st Daniel Milner – 1.49.58 (Am-Pro / CDR Yamaha)
2nd Matt Phillips – 1.50.25
3rd Daniel Saunders – 1.52.11
4th Josh Green – 1.53.09 (Active8 Yamaha)
5th Chris Hollis – 1.53.36 (CDR Yamaha)
6th Toby Price – 1.53.39
7th Beau Ralston – 1.53.50 (Active8 Yamaha)
8th Lachlan Stanford – 1.54.04
9th Glenn Kearney – 1.54.32
10th Tye Simmonds – 1.55.12
Class Standings
E2
1st Daniel Milner (Yamaha YZ450F)
2nd Chris Hollis (Yamaha YZ450F)
3rd Beau Ralston (Yamaha YZ450F0
E1
1st Josh Green (Yamaha WR250F)
2nd Tye Simmonds
3rd Wil Ruprecht
Women's
1st Tayla Jones (Yamaha YZ250FX)
2nd Jess Gardiner
3rd Jemma Wilson (Yamaha YZ250FX)