The Husqvarna rider enjoys an early championship lead.
By Hayden Gregory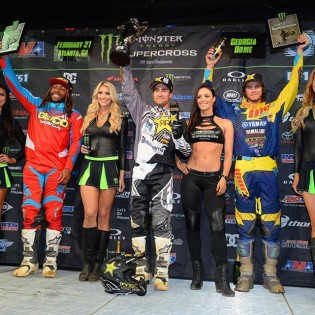 The East Regional 250SX riders fired up their engines for the first time this weekend in an exciting race that saw Davalos take first blood. Red Bull KTM rider Shane McElrath claimed the holeshot in a flurried first opening lap that also saw him ride straight off the track before returning in last place.
Davalos quickly moved his way into an early lead ahead of Malcolm Stewart and Darryn Durham. The two front runners were showing great speed as the challenge was on for third. Tyler Bowers passed Durham before Aaron Plessinger then passed both of them.
Stewart looked to be gaining on Davalos before crashing into a downed rider on lap seven. The incident left Davalos with a healthy lead in front with Stewart desperately chasing him down over the closing laps.
It was all too little too late for Stewart as Davalos hung on to claim his second career 250SX win and Husqvarna's first since way back in 2001.
"The last year and a half has been really tough for me," said Davalos, who suffered a serious injury during the 2014 season. "I'm just happy to be out there. I got a good start and I was able to just log in 15 solid laps. It got a little hectic towards the end with lappers, but I'm so happy to finally be back up here [on the podium]." 
"I'm so proud of all the hard work and the Rockstar Energy Husqvarna Factory Racing team that is standing behind me," Davalos added. "We had a tough year in 2015 with my sickness. They believed in me. Everyone has been putting in so much work. I had awesome starts and rode my own laps. I didn't care about anyone else besides myself and it paid off. The biggest challenge was lappers around the 10th lap. I understand they're racing their own race, but I think they could be a little safer." 
Stewart claimed second for the night while Plessinger was able to keep hold of the final podium spot. Jeremy Martin and Justin Hill rounded out the top five in an exciting opening night for the Eastern region.
Eastern Regional 250SX Class Results
1. Martin Davalos, Clermont, Fla., Husqvarna
2. Malcolm Stewart, Haines City, Fla., Honda
3. Aaron Plessinger, Hamilton, Ohio, Yamaha
4. Jeremy Martin, Millville, Minn., Yamaha
5. Justin Hill, Yoncalla, Ore., KTM
6. RJ Hampshire, Brooksville, Fla., Honda
7. Darryn Durham, Menifee, Calif., Yamaha
8. Tyler Bowers, Corona, Calif., Kawasaki
9. Alex Frye, Huntingtown, Md., KTM
10. Jimmy Albertson, Shawnee, Okla., Suzuki
Eastern Regional 250SX Class Championship Standings
1. Martin Davalos, Clermont, Fla., Husqvarna – 25
2. Malcolm Stewart, Haines City, Fla., Honda – 22
3. Aaron Plessinger, Hamilton, Ohio, Yamaha – 20
4. Jeremy Martin, Millville, Minn., Yamaha – 18
5. Justin Hill, Yoncalla, Ore., KTM – 16
6. RJ Hampshire, Brooksville, Fla., Honda – 15
7. Darryn Durham, Menifee, Calif., Yamaha – 14
8. Tyler Bowers, Corona, Calif., Kawasaki – 13
9. Alex Frye, Huntingtown, Md., KTM – 12
10. Jimmy Albertson, Shawnee, Okla., Suzuki – 11