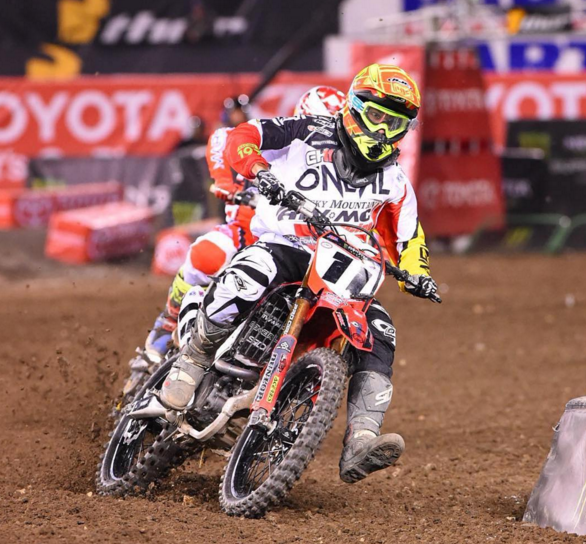 The Rocky Mountain ATV/MC rider suffered a nasty crash at round two of the AMA Supercross series in San Diego.
Chisholm has shared some nasty images of his injured shoulder on instagram overnight. The picture shows severe bruising as a result of a badly dislocated shoulder.
You can read Chisholm's full post below:
"I know everyone has been waiting on an update but I have been too. I had an MRI scan done today and now I'm just waiting on the report to know exactly what's going on and what the recovery process will be. Hopefully have an answer by tomorrow morning and I'll update as soon as I can. Thanks for all the thoughts, prayers, and well wishes!
"In the semi race I clipped a tuff block on the landing of a jump causing me to endo into the face of the triple. I guess a couple riders also ran me over up the takeoff. But I'm blessed it wasn't worse. Walked away with a concussion, dislocated shoulder (which was popped back in in the asterisk truck), some stitches, and soreness all over. I've never dislocated my shoulder so it's new to me. Hoping there wasn't too much damage but we'll know more with the MRI results. Thankful to have a great group of people behind me in my corner with@britneychisholm11 , friends and family, the @rmatvmc team, all their supporters and my personal sponsors @hjc_helmets@sidimotousa @onealracing@xbrandgoggles @virusintl @xwerks@rickiefowler"