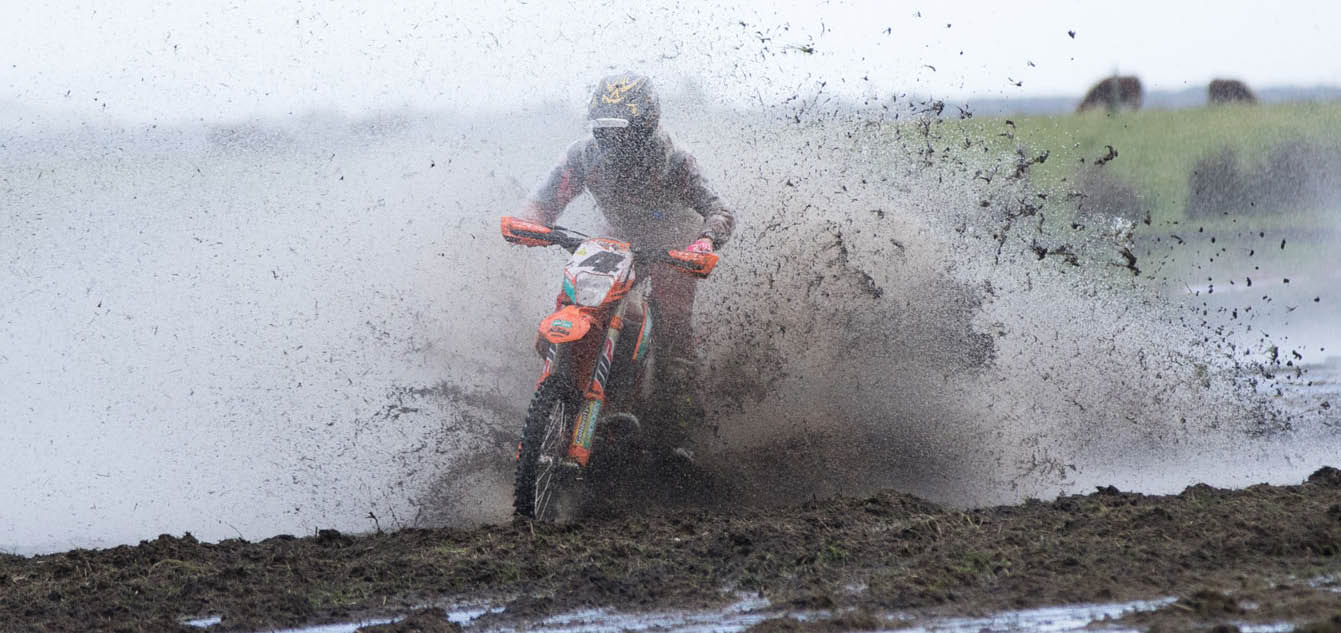 The KTM Enduro Racing Team scored victory in all three capacity classes at Hedley.
By Hayden Gregory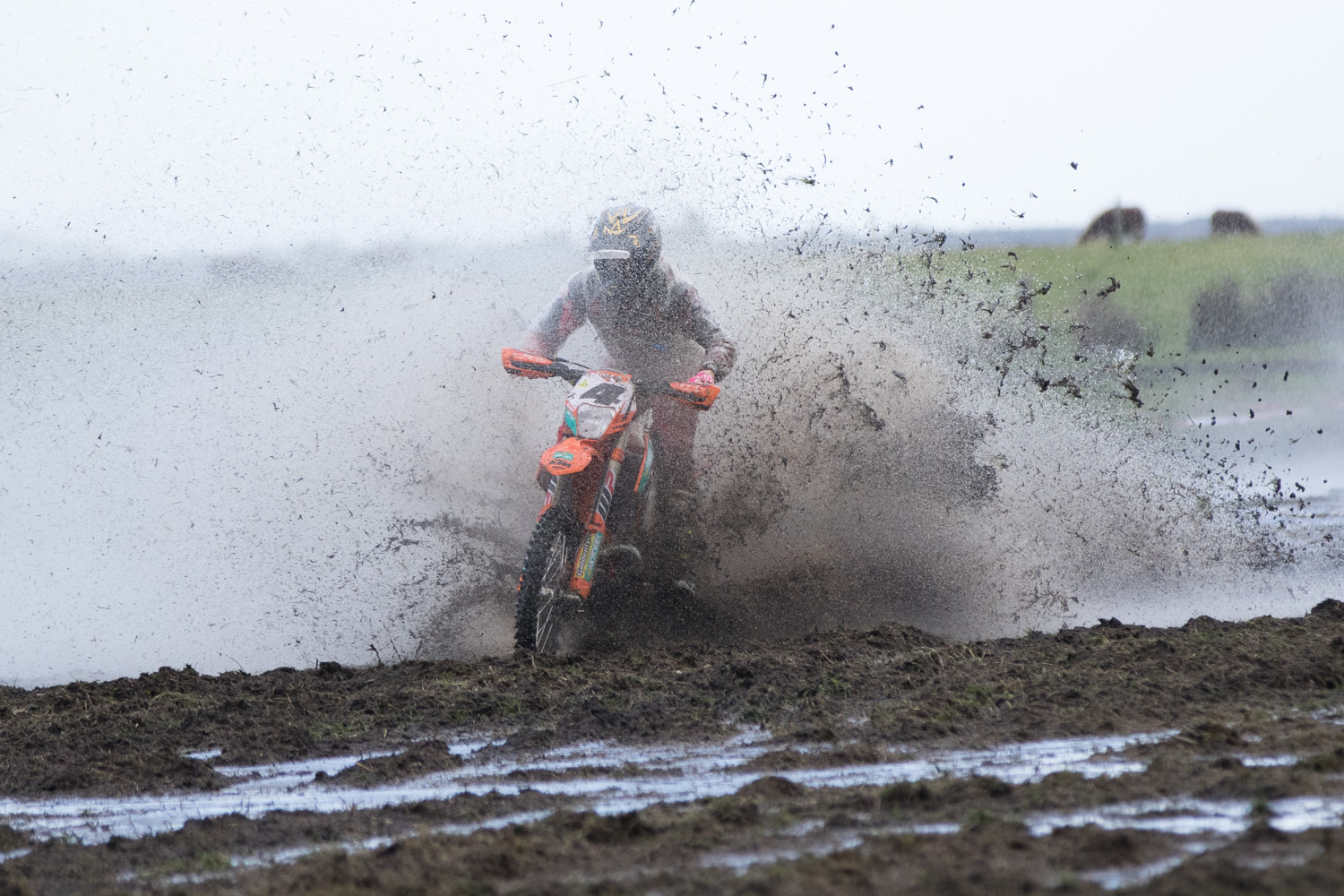 Rounds seven  and eight of the 2016 Australian Off-road Championships proved very successful for the KTM team. Tye Simmonds, Daniel Sanders and Jack Simpson all topped their respective classes despite the testing weather conditions.
Aboard his KTM 300EXC Daniel Sanders powered to victory in both the E2 class and the round overall.
"It was a good weekend," Sanders shared. "I got to play in the mud and it was great. I've been racing there for five years now so I know the track pretty well, and the conditions are good when it's wet, I enjoy it and I perform well. There was only one really wet section, the rest of the track was perfect. I had a bit of a scare off the start of the race, I went through that first lake and got blocked breather hose and the bike stopped. It  got going again and came back from 50 seconds behind and pulled through to first after three laps, then lead the rest of the race from there. Coming from South Oz where I injured my ankle and just had to push through and get as many points as I could, it's good to put everything together and extend that points lead."
In the E2 class Tye Simmonds claimed victory on both days while also finishing runner up behind Sanders in the overall.
"It was pretty treacherous this weekend. I've raced muddier races, but going across those flats through the water, your bike would be taking on that much water that it would nearly stop," Simmonds said.
"But we pulled through. It hailed four or five times during the race. At first you didn't pay that much attention to it, but then you'd get to a couple of spots where the ground was just white with hail! It was pretty funny in the tight stuff but then you'd really know that it was hail when you got cracking along a big wide-open straight and just stung like all buggery! Pretty unusual. It felt like a roost but it was ice coming from the sky. It made for an adventure – it rained for an hour and a half to 2 hours of the race. For me it was survival mode all weekend really. Great to be leading E2 and second outright. Lachy and Hollis had bad runs this weekend, but I've had my turn already," he finished.
Rookie of the team, Jack Simpson jumped in on the success snatching a pair of race wins in the E1 class.
"Awesome, I'm ecstatic," Simpson enthused. "I started off the cross country with an ordinary start, but I did 80% of my passing in the first two corners, and a couple of people crashed in front of me in the very early stages of the race. Then I was in third. I had a couple of crashes but I stayed there until I ended up getting pipped as I was stuck on the tyres, and that's all she wrote!
"I love those conditions. The training grounds I've got are the same kind of textured dirt to what we were racing in. I was out Tuesday and Thursday in the rain riding my practice track because I knew the conditions were going to be like that. I live about 80k away – it's the same soil! I'm fifth now, so that's great – not bad for a novice off-road racer! The KTM 250 SX-F didn't miss a beat, even through the lakes we had to ride through – aquaplaning through the swamp ground – not one fault. It was as tough as nails."
KTM Enduro Racing Team Manager Ben Grabham was extremely impressed with all the riders and confident they can push on for class championships.
"It was a fantastic result for the whole team both in class and in the championship," Grabham shared. "Daniel and Tye went 1-2 both days with Daniel topping both.
"The format was cross-country yesterday and sprint today. Yesterday saw some of the wildest and trickiest conditions I've ever seen in my days of racing, with hail, crazy winds, sun, sleet and pretty much anything you could think of. The KTM EXCs were amazing in conditions that a lot of other bikes suffered in.
"Chucky came from back to front on Saturday and Tye started well and looked solid all day. Those two boys pretty much gapped everyone else and had a clean run in pretty horrible conditions. Then did it all again today. So we're looking pretty good now. Chucky's got a pretty comfortable lead and Tye has moved into second outright and is also leading E2, so I couldn't be happier. Full credit to everyone in the team this weekend, they were kept on their toes – you couldn't put a foot wrong or you would have dramas," Grabham finished.