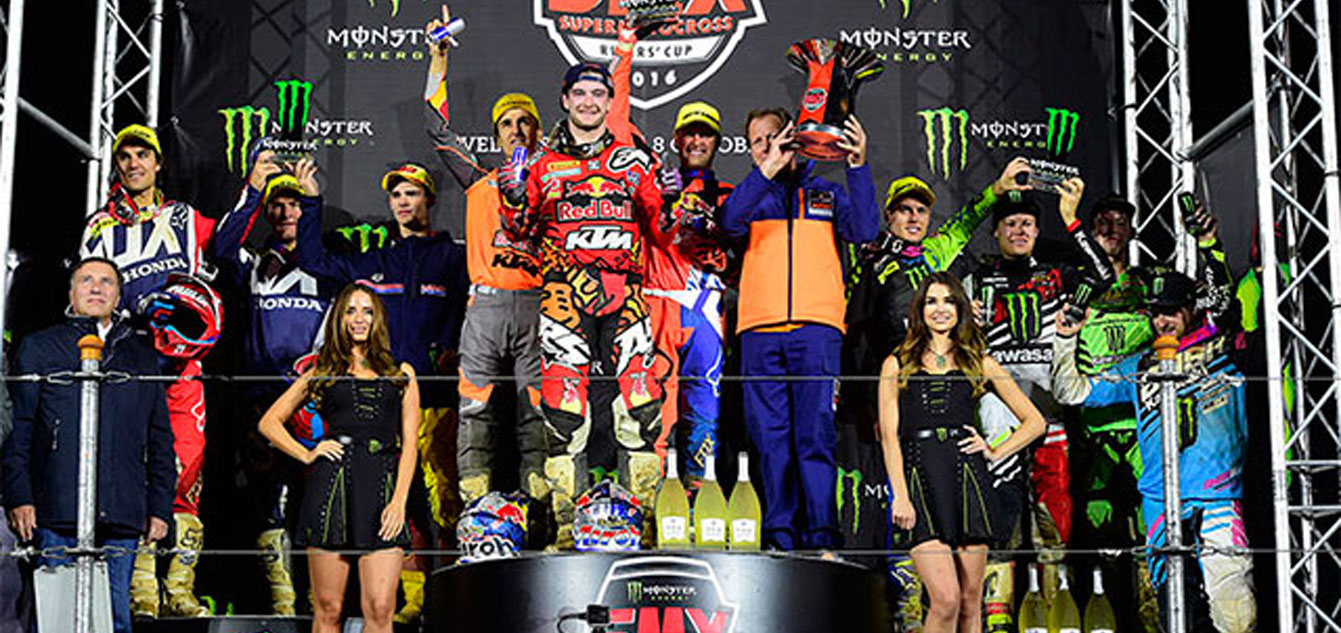 The Austrian manufacturer landed a podium clean sweep with Ryan Dungey, Jeffrey Herlings and Marvin Musquin landing the top three spots. 
By Hayden Gregory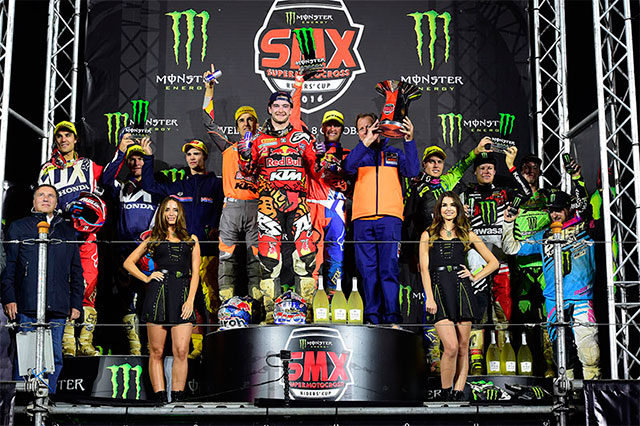 The stage was set in Germany for the world's best riders to go head to head in the first ever SMX Riders' and Manufacturers Cup. With an all star line up many expected KTM to take out top honours and the selected riders did not disappoint.
The first of three races, saw Honda's Tim Gasjer lead start to finish despite Ryan Dungey proving a constant threat in second. Zach Osborne scored third for Husqvarna while Romain Febvre (Yamaha) and Herlings rounded out the top five.
Race two started in similar fashion with Gasjer claiming the holeshot ahead of Herlings and Dungey. In a lapse of concentration Herlings went down almost knocking out his teammate in the process before a few laps later Gasjer also hit the dirt, sent flying over his handlebars after locking up his rear wheel.
Positions would change a number of times with Febvre eventually pushing ahead to claim the chequered flag ahead of Musquin and Dungey. Kawasaki's Jordi Tixier finished fourth with Herlings mounting an impressive comeback from dead last to finish in fifth.
The third and final race would see Dungey score the holeshot ahead of Gasjer and Musquin. The KTM number five looked confident in the lead and began to build a few seconds gap between himself and the rest of the field. In chase Jeffrey Herlings was showing immense speed to come from near tenth place to just off the rear wheel of Gasjer. The bullet was on a roll, making quick work of the Slovenian to set his eyes on teammate Dungey for the lead.
With time running out Herlings continued to apply pressure and a small mistake by Dungey saw the Dutchman take the lead. With KTM looking set for a team 1-2, Marvin Musquin decided to join the party, passing Tim Gasjer in the closing stages to ensure a clean sweep.
KTM would celebrate a convincing win in the SMX Cup with all three riders placing top three in the rider's classification. Ryan Dungey was awarded first place (2,3,2) while Herlings (5,5,1) claimed second ahead of Musquin (6,2,3) in third.
"It was kind of nice because the pressure to do it individually was not there but you also wanted to win for the manufacturer," Dungey said.

"It was great to be alongside Marvin and Herlings and Prado and good to see the KTM team from Europe here. I'm glad that we could get the Manufacturer's Cup and go 1-2-3 in the individual. A lot of people looked at the track and said I would have an advantage because it was a supercross track, but it wasn't. It got a lot rougher than you would want for supercross. We got the bike working well and the boys did a great job. They rode well and were consistent and if there was a mistake, they charged back. I thought we worked well as a team."
Team Honda Gariboldi was awarded second place for the event represented by Romain Febvre who finished fourth overall in the rider's classification, Evgeny Bobryshev and Gautier Paulin. Kawasaki claimed third place, just edging out Husqvarna thanks to strong performances by Jordi Tixier, Tommy Searle and Vsevolod Brylyakov.
Results Race 1
Tim Gajser (SLO), Honda, 13:47.253 min, 1 point (15 laps)
2. Ryan Dungey (USA), KTM, +2.041 sec, 2 pts
3. Zachary Osborne (USA), Husqvarna, +8.878, 3pts
4. Romain Febvre (FRA), Yamaha, +13.687, 4 pts
5. Jeffrey Herlings (NED), KTM, +16:628, 5 pts

Results Race 2
1. Febvre, 13.58.209 min, 1 pt, (16 laps)
2. Musquin, +3.811 sec, 2 pts
3. Dungey, +4.409, 3 pts
4. Jordi Tixier (FRA), Kawasaki, +8.242, 4 pts
5. Herlings, +12.965, 5 pts

Results Race 3
1. Herlings, 14:03.857 min, 1 pt, (16 laps)
2. Dungey, +5.381 sec, 2 pts
3. Musquin, +7.890, 3 pts
4. Tixier, +9.100, 4 pts
5. Gajser, +10.998, 5 pts

Final Standings Riders Classification
1. Dungey, 7 pts
2. Herlings, 11 pts
3. Musquin, 11 pts
4. Febvre, 12 pts
5. Tixier, 16 pts

Final Standings Manufacturers Classification

KTM, 18 pts
2. Honda 43 pts
3. Kawasaki, 61 pts
4. Husqvarna, 71 pts
5. Yamaha, 77 pts