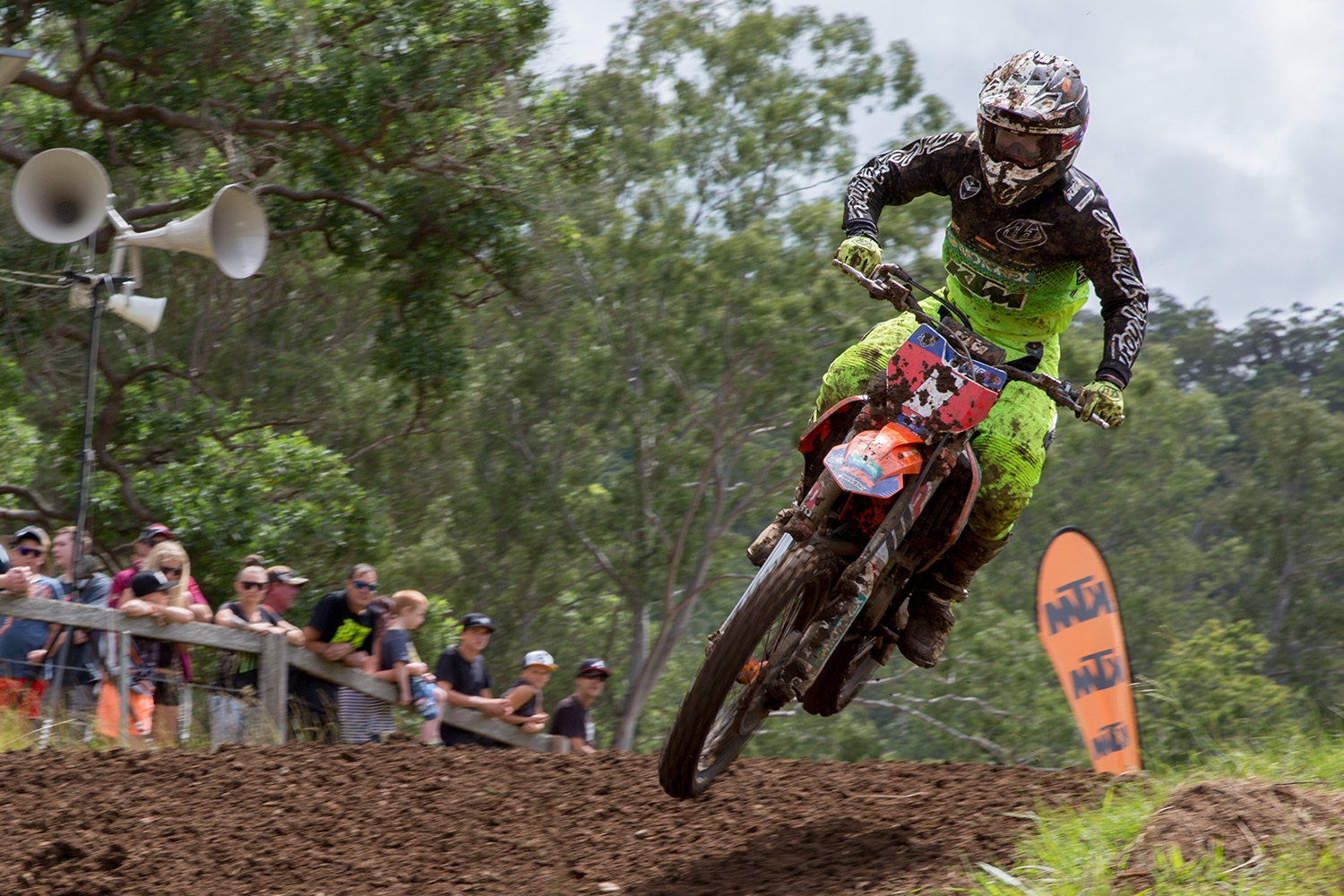 The KTM rider returned to the track following a long layoff with a broken pelvis.
By Hayden Gregory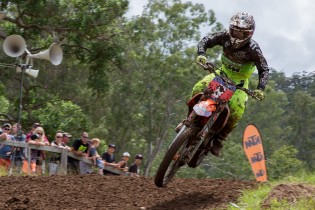 Gibbs stunned everyone on Saturday qualifying fastest ahead of Dean Ferris and Jesse Dobson despite having limited time on the bike. While preparing for last year's supercross series, Gibbs broke his pelvis and has been in rehab ever since focused on returning to defend his outdoor title.
The Conondale Cup served as a reminder to Gibbs that he is still on the road to recovery. A bad start and a crash left him struggling to find pace ultimately finishing seventh in the 450cc class.
"After a pretty long break this is the first race back, so it was good to just get everything in order. We were trying to change a few things with the bike, and it just wasn't there with the starts today." Gibbs commented.
"First Moto I buggered my start up a little bit and then ended up on the ground. I was pretty banged up after the first race, and then in the second I felt like I wasn't riding too bad, it's just that the track was really hard to race on today if you didn't get a start because there was sort of one main line a lot of the way. On paper it was a bad day, but I think it's just a matter of putting all the pieces of the puzzle together."
Gibbs new KTM teammate Caleb Ward had a solid first outing on the KTM 250SXF ending the day tied for top points. It was only a count back that could split the riders causing Ward to finish in third.
KTM team manager Kyle Blunden is confident both riders will learn a lot from Conondale and will be strong contenders come the MX Nationals.
"Overall today it was a mixed bag of results, after a really good qualifying session yesterday in which Kirk qualified fastest," Blunden said.
"But Kirk's first moto today where he fell sort of set a bit of a bad tone in the way it affected the next start position and so on. He definitely showed signs of speed though, to come from last in the first moto, but it was a difficult track to pass on. It was a tough day on the 450.
"For Caleb, he'll be disappointed because he thought he should have won, but today was his first ride on our evolution of the fantastic KTM production bike, so it's a little bit different in the engine and suspension characteristics. Overall today he did very well, in the feature race he came from about 8th, passed a few 250s and held the gap to Kirk and Todd for a couple of laps through the middle of the race. When he had some clear track to himself he was able to ride some really fast laps. Today was a great building block for him leading the way in the nationals."