Kade Mosig and the Moss brothers will all look to make an impact at the third round of MX Nationals.
By Hayden Gregory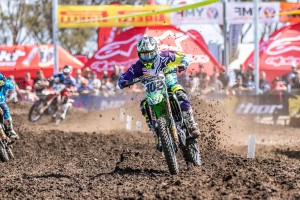 After losing his early MX1 Championship lead, Matt Moss will be out to regain the red leader's plate. While he is confident in his own abilities, Moss knows the importance of riding smart; with the reality that one small mistake could prove a huge turning point in the championship.
"I always want to win, there's no doubt about that. These early stages of the championship though are all about consistency, and then once we get to the tail end, we'll assess where we're at and attack from there," commented Moss.
MX1 teammate Kade Mosig is looking forward to the Broadford track and is aiming to improve on his opening pair of results.
"Broadford is a track that I really enjoy. The technicality of the circuit makes it really challenging, which is good. I definitely want to post a good result there and show everybody what I'm capable of," commented Mosig.
Jake Moss will lead the MX2 charge for NPE Monster Energy Kawasaki, currently sitting third place in the championship. Moss took a nasty crash at Appin so will be trying to keep it on two wheels this time round as the MX2 field takes aim at current point's leader, Caleb Ward.
"That last moto (in Appin) didn't exactly go to plan. However all of my other races have been good, so if I can continue to post results within the top three, I'll be happy," Moss commented.