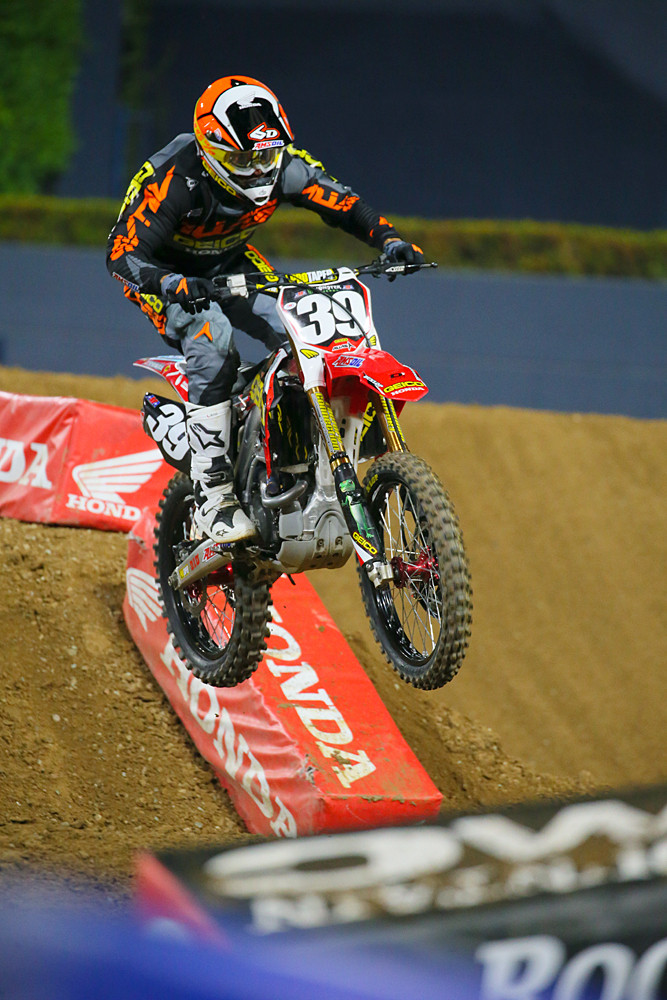 The GEICO Honda rider is revelling in a third place finish at San Diego.
By Hayden Gregory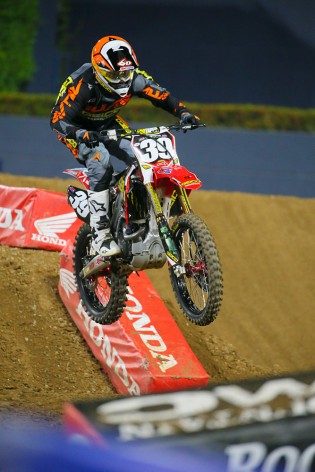 Jordon Smith impressed for the GEICO Honda Team piecing together a great ride in the 250X West class. It was a rewarding effort for Smith who has shown glimpses of brilliance in recent times but has been hampered with bad starts and crashes.
"My day went really well, I'm so happy," said Smith. "Felt comfortable all day throughout practice and into the night show. My GEICO Honda pulled me to a really good start, and I was able to get out front early.
"Last week I got to experience racing toward the front, and I got to do that again here and learn how to lead. I tried to ride my own laps, but I got a little tight in the middle of the moto. Just learning. I went back to third, but I'm happy I was able to pull it back together and got a strong podium! Overall it was a great night and now I can't wait for Anaheim 2!"
Smith's GEICO teammate Christian Craig similarly impressed at Petco Park scoring a career best fourth place finish. Craig looked promising on the track even topping defending champion Cooper Webb in the first qualifying session.
"In the main, I got a terrible start, but I tucked to the inside in the first turn. I don't know where I came out, but it was toward the front," Craig said.
"Rode around, got tight around lap five and started making a lot of mistakes. I wasn't happy with that, but I held on, got fourth. It's a career-best for me, but I want to get on the podium, and I'm not going to be happy until I get there. Other than that, though, it was a good night."
Early signs were also promising for Jimmy Decotis who was right behind teammate Smith in the early stages. Unfortunately a crash left 'The Rippa' back in the pack fighting to salvage point's way back in eighth place.
"Today the result was not good," said Decotis. "I felt really good all day riding wise, I was getting the sections down good and I was strong in the whoops. I was really looking forward to the main event, and I put myself in a good position off the start, right behind Jordon in second.
"I made a bobble and washed the front, came back through the pack. Overall, I felt like I rode really good all day, and I had strong points. I think I'm starting to believe I'm one of those guys and I can be up there every week, so I just need to keep working hard and hopefully it can just snowball from here."
GEICO Honda Results: San Diego Supercross
250SX
Jordon Smith
Christian Craig
Jimmy Decotis