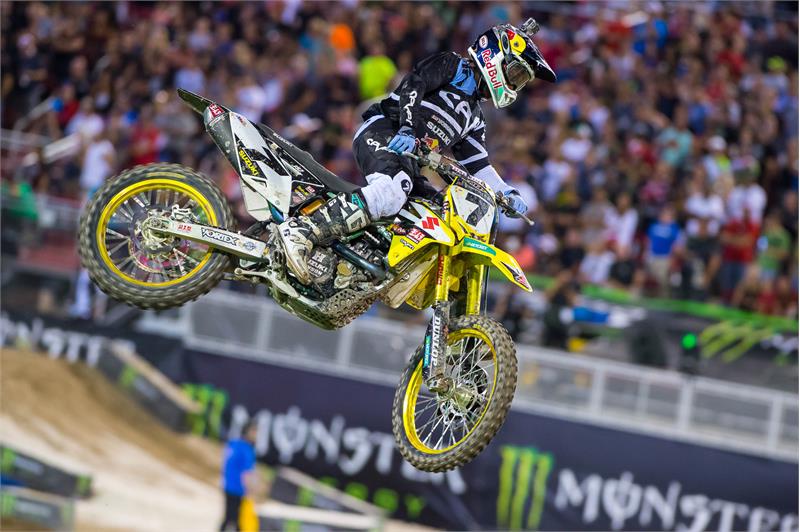 Red Bull Straight Rhythm champion James Stewart had an underwhelming return to the supercross track on the weekend, crashing out of the Monster Energy Cup in the first moto.
By Hayden Gregory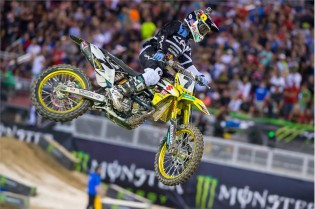 Having served a 16 month suspension, Stewart was determined to make an impact in Las Vegas before injuring his wrist in practice and then crashing down hard on it again in the first race. Stewart tried to ride on before deciding he would pull out of the event to ensure no further damage was done.
"The day didn't go how I planned" Stewart explained. "In practice I over-jumped this tabletop and jammed my wrist. It was super-sore, but I just kind of rode through it. Then in the first lap of the Main Event I almost got landed on, the track was so muddy guys were going everywhere. I think it was Trey (Canard) who fell and when I went in there I saw him and hit the brakes and went down myself."
"I got up and then ended-up casing the rhythm section and jammed my wrist again. The guys could see I was just struggling out there. I didn't want to pull-off so I just kept riding thinking maybe it would get better, but it just got worse. I came back in and we talked it over and I decided to pull back and let the wrist heal. 
"It was nice getting back out here racing," added Stewart. "Between last week and this week it was a complete opposite, but it makes me hungry. I just want to make sure I don't do that again and I learned some things and so did the team. Nothing's broken, I'm just beat-up right now, but I'll be alright."
Stewart's management has confirmed that the injury will not prevent him from competing down under in the Australian Supercross Championship next month.