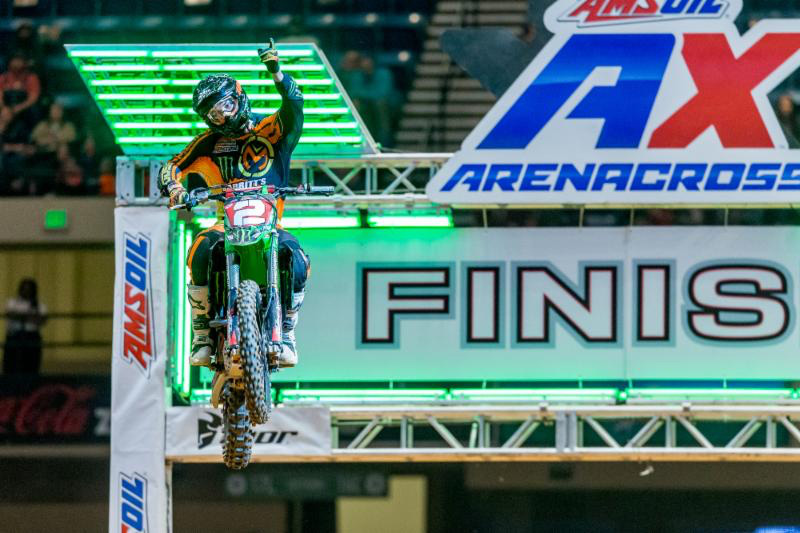 Hayes clean swept the weekend's main events to record his third round victory for the season.
By Hayden Gregory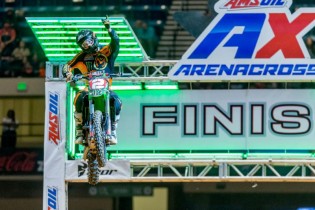 In the first main event Hayes found himself in the lead after overtaking holeshot winner Jace Owen by the end of the first lap. Joined out the front by Chris Blose and Travis Sewell the three riders paced each other for the 15 laps with Hayes ultimately proving too good to beat Blose home by three seconds.
Ahead of main event two, Hayes selected case number eight inverting half the field for the start. In what looked like Déjà vu, Owen exploded out of the gates first before being run down by Hayes on lap two. Third placed Blose tried to also make the pass before making a mistake and falling a number of positions.
Austin Stroupe took advantage of the mishap moving into third eventually holding off a fast finishing Travis Sewell in fourth. Owen was able to maintain his early speed to finish in second placed while Hayes recorded his second straight victory for the night.
The result marked Hayes eighth main event win for the season, the second time he has clean swept a round for 2016. Victory allowed Hayes to extend his overall championship lead by 19 points to Gavin Faith who finished sixth overall for the night.
In the Lites class Sean Cantrell made a memorable pro debut winning a close battle between Daniel Herrlein and himself. The pair exchanged blows for the majority of the race even colliding a few times before Cantrell took the chequered flag by just over a second.
It was a great start to Cantrell's Ricky Carmichael's Road to Supercross journey toppling the current Lites champion Herrlien who maintains a 36 point lead over second placed Dylan Walker.
Arenacross Class Overall Results (Main Event Results)
1. Jacob Hayes, Liberty, N.C., Kawasaki (1-1)
2. Jace Owen, Matoon, Ill., Honda (5-2)
3. Austin Stroupe, Lincolnton, N.C., Husqvarna (4-3)
4. Travis Sewell, Westville, Ind., KTM (3-4)
5. Chris Blose, Phoenix, Kawasaki (2-5)
6. Gavin Faith, Duncombe, Iowa, Kawasaki (6-7)
7. Gared Steinke, Woodland, Calif., Husqvarna (7-6)
8. Ben Lamay, Forney, Texas, Honda (10-8)
9. Daniel Herrlein, Bethesda, Ohio, Honda (9-9)
10. Cody VanBuskirk, Harvard, Ill., KTM (8-13)
Arenacross Class Championship Standings
1. Jacob Hayes, Liberty, N.C., Kawasaki – 262 (8 Main Event Wins)
2. Gavin Faith, Duncombe, Iowa, Kawasaki – 243 (2 Main Event Wins)
3. Chris Blose, Phoenix, Kawasaki – 237 (1 Main Event Win)
4. Travis Sewell, Westville, Ind., KTM – 235 (5 Main Event Wins)
5. Ben Lamay, Forney, Texas, Honda – 165
6. Jace Owen, Matoon, Ill., Honda – 146
7. Gared Steinke, Woodland, Calif., Husqvarna – 143
8. Kyle Regal, Lake Elsinore, Calif., Husqvarna – 130
9. Daniel Herrlein, Bethesda, Ohio, Honda – 127
10. Kyle Bitterman, West Pelzer, S.C., Husqvarna – 115
Western Regional Arenacross Lites Class Results
1. Sean Cantrell, Murrieta, Calif., KTM
2. Daniel Herrlein, Bethesda, Ohio, Honda
3. Cody VanBuskirk, Harvard, Ill., KTM
4. Dylan Walker, Lancaster, Ohio, Honda
5. Justin Cooper, Cold Spring Harbor, N.Y., Yamaha
6. DJ MacFarlane, Pinellas Park, Fla., Yamaha
7. Henry Miller, Rochester, Minn., Honda
8. Jared Lesher, Ball Ground, Ga., KTM
9. Jake McKinney, Hamersville, Ohio, Honda
10. Mathew Weakley, Atoka, Tenn., Husqvarna