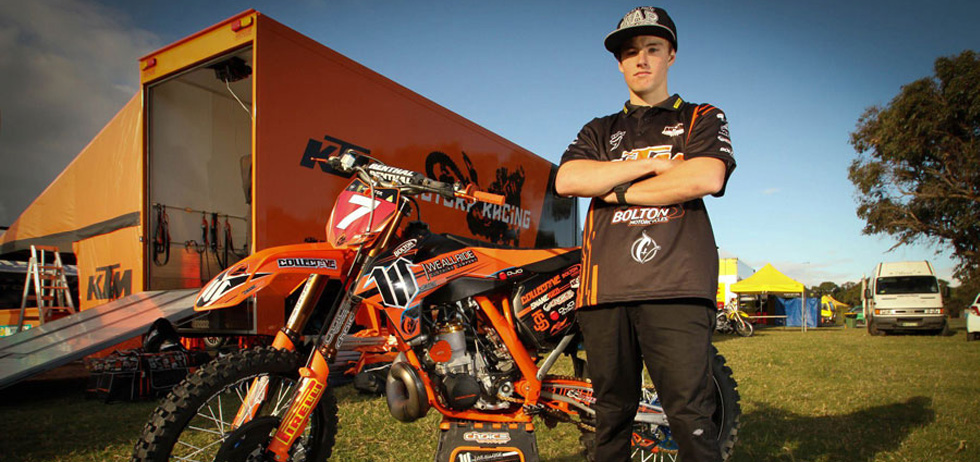 With preparations well and truly underway for Rounds 1 & 2 of the 2016 Yamaha Australian Off-Road Championships, MA caught up with KTM Australia's Jack Simpson.
Motorcycling Australia press
So Jack, you've made the move to the AORC this year – what was the main reason for making the switch from Motocross to Enduro?
I sort of hit a bit of a stale point in motocross, I've been doing it for that long that I got a bit stale, and that's why I decided to make the change to Enduro, its re-lit my fire and I am ready to go for a full year at the AORC.
Is this a full time switch or are you just using the first year to test the waters, and see how you go?
I will be racing full time in the entire AORC season this year. In my agreement with KTM it was confirmed that I was either going to race Motocross or Enduro, as it would be too difficult to race both, as a fair few rounds clash, it would be too much for my first year in Enduro. I chose to race Enduro for the year and see how I go with my results and progress, and hopefully try and become successful and try something different.
You raced a round of the AORC last year, and had some success, is that where the interest in Enduro started?
Last year I did one round of the AORC, the last round at Monkerai. I raced the 19's class. My first day I came third and the second day I came second. That was on a full motocross setup bike so it was a little bit difficult, I just went out there, and got the feet wet in that area of racing.
When I first started riding bikes growing up, we had a huge big property that was all bush and that's how I first got into Enduro type riding. I actually didn't race any Enduro but I rode a lot of off-road style tracks before I went and raced motocross. Motocross is very gruelling in the style of racing, and you can only really make money if your top 1, 2, or 3 in the classes.
My reason for moving over to the AORC this year is that I thought it would be good to mix it up a bit, and maybe try to become competitive in Enduro for the year, or for however long it takes me.
So you're on a KTM for the year, what's your involvement with them, and how have they been supporting you throughout this transition from Motocross to Enduro? 
The deal from 2014 with motocross was that I got a factory supported deal, which included factory bonuses, access to a parts budget and access to bikes and materials. The deal was continued the very next year, except I rode pro lites which was the MX2 class. This year I have the same deal again with KTM at the Enduro which is awesome. It's great to have their support again.
What's been the biggest difference you have noticed between Motocross and Enduro racing?
Mainly the racing side, because on a motocross track you've got around 40 competitors which is easy to gauge your progress throughout a race. If you're in fifth and you pass for fourth and then you pass for third you know you going well, you know you're faster and you're catching up. But in Enduro you take off against the clock, It's just learning how to go fast under your own eyes because you don't have anyone telling you what to do , you have no pit board to look at, you don't know where you are in the race.
You could come out and feel really strong on the bike and come in only tenth or go in there feeling discouraged and come in with a fast time. I will just be learning how to adapt to the track as quick as I can and after the first two rounds I'll gauge where I stand and continue to work on my weaknesses from there. Hopefully I'll be able to place as close to number one as I can.
What do you think is going to be your biggest challenge at the AORC this year? 
I am learning the times, and racing against myself pretty quick right now, that wasn't too much of an issue. The challenge that we have now is more about the bike setup, I have my own suspension mechanic, however he has never actually seen me ride in the bush. There is a fair bit of bike set up which is the hardest thing to get right at the moment.
Especially with the four-day Enduro later this year. Changing tyres and being your own bike mechanic on the day will be a challenge because I have always had mechanics work for me. To learn how to be able to work on the bike fast because you only have like 15 minutes to do it all is a bit of a tough task. So that's what I am stressing over a little bit, but it won't be too much of a worry because I will do plenty of practice before we get to round one.
You are obviously very fit from riding Motocross but what's changed, if anything, to your routine on the bike to prepare for the Enduro season? 
That is hard, because usually for motocross you can go out and go to a practice track and you'll either have one or two competitors there in your class, you can keep an eye on to judge your pace and competitiveness, but with my level of enduro racing there is only like 3-5 competitors who can run my pace in the bush straight up and they live hours away from me so I can't train and compare with them. I don't really have anyone to ride with to be able to gauge myself off, so the people I ride with are much slower, that's why they don't race. So I sort of have to work it out all myself and make sure I go off my own feelings and make sure I'm doing alright and going fast, that's the hard part.
Have you changed any of your off the bike training since making the switch? 
I haven't really changed too much of my fitness routine from how I would train for motocross. I said to my dad that I'll train as hard as a motocrosser and still practice as much motocross as I can, to keep that explosive power and speed that will help me deliver out in the bush on my Enduro bike. I really haven't changed much of my fitness routine, basically I'm an Endurance rider but training like a Motocross rider. It always helps to try and find someone faster to ride with, which is what I am trying to find – someone faster to ride with in their level of racing now. It's a little bit hard but I am slowly finding more people to ride with now and getting a bit better.
What are your expectations leading into Round 1&2 of the AORC? 
The best thing is I have no expectations, so I'm just going to get in there and try to ride as good and as safe as I can, and see where I end up. I think the old Enduro people like to pick on the Motocross racers a lot. Say if I went out and crashed they would say 'stupid idiot just another Motocross competitor trying to race our sport' and I don't want to put myself down in that way, I want them to respect me.
But with the actual results, I just have to show up ride a good as I can and as safe as I can and see where I end up. I'm hoping to definitely try and place in the top three of my class, and then top five outright and work on winning an outright. Anyone can say I want to go out there and win but my realistic goal is to top three in my class because that's what I am paid to do, and then work on the outrights throughout the year.
Who have been your biggest mentors and supporters in making the switch? 
Probably my dad. It was my idea but he is the one supporting me to do it. I didn't really have any rider saying 'come race enduro it going to be mad' so I have had no pressure from anyone. KTM were very surprised to hear it from me, from a full blown motocross rider to say that they want to race Enduro. I'm not exactlty like Tye Simmons who had been retired and then looked at Enduro afterwards. I'm still in my racing career and have no interest in slowing down yet. So it was a bit of a surprise to them, but dad was the one who said 'why not let's have a crack we have nothing to lose' – Dad will be there by my side at all of the rounds.
Rounds 1 & 2 of the Yamaha Australian Off-Road Championships will be held on March 19 and 20 at Kilkivan in Queensland.