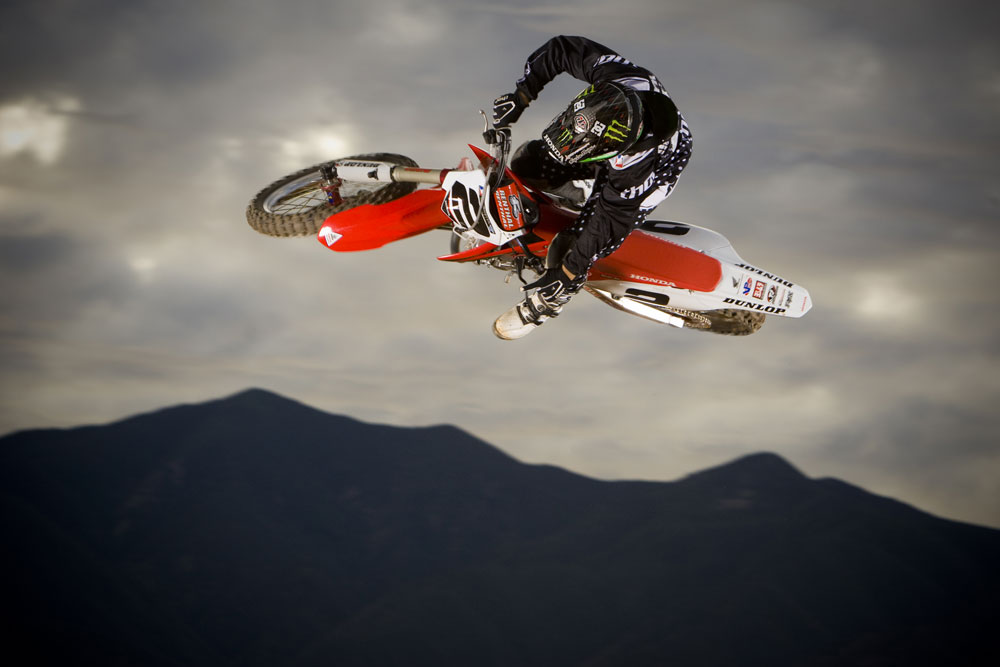 Let's start a fight! Trying to make any kind of list is bound to cause an argument. Everyone has an opinion, two are rarely the same and unfortunately some talented people miss out because you can only fit 50 people in a top 50 list.
STORY BY SCOTT BISHOP/DIRT ACTION
When the guys in the office asked me to name the top 10 Supercross riders of all time, both Australian and US, I never thought it would be easy. In fact, it was damn tough. After racking my brain for a few days and giving Google a workout, this is the list I came up with. I'm sure you'll disagree, so feel free to argue amongst yourselves.
AUSTRALIA'S TOP 10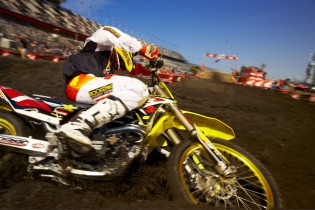 1. Chad Reed. This is obviously a no brainer. Chad is undoubtedly the best supercross racer Australia has produced and he just may well be the best we ever will produce. Reed has skill, technique, talent and drive as well as an ability to keep himself competitive and adapt to the times. But his two greatest assets are consistency and durability. His percentage rate of podium finishes at Supercross is amazingly high; combine that with the number of starts he's had over the years and his ability to ride with or overcome injury and he's yards ahead of anyone else. Reed is the man.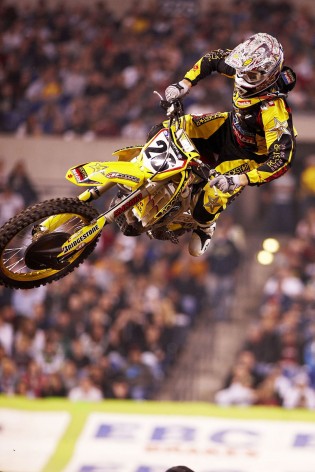 2. Michael Byrne. If the likeable Queenslander lived in any other era, he would have been an Australian star. Unfortunately for Byrne, his career has coincided with the enormous shadow cast by Chad Reed and as a result his star doesn't shine as brightly as it should. Byrne has raced at the highest level in the world for a decade now. Think of all the Australian riders who've gone to the US in that time to take their shot at fame — Byrne's still there, still relevant and highly respected. He's had factory rides with Honda, Kawasaki and Suzuki as well as good team rides with JGR and Suzuki.
3. Brett Metcalfe. Metty is the quiet achiever in Australian racing. He left our shores while still young and hadn't built up the following that Reed or Byrne had before he left. But, 10 years on, Metcalfe is still racing in the toughest indoor series of them all on a factory team and seemingly getting better with age. He's the epitome of determination and dedication. His results are earned by hours at the coal face and getting up to his elbows in racing.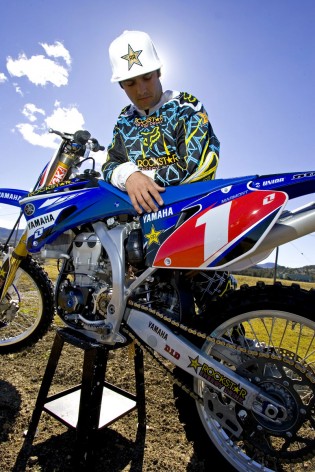 4. Jay Marmont. Sure, he had a crack at the USA that didn't work out as planned, but it didn't exactly stall his career. Marmont has two Australian supercross championships to his name and has also been the highest-placing Australian rider in Super X in all bar one year since its inception. Combine that with two years on factory KTM in the USA and a long reign near the top of the sport and Jay has earned his number-four spot. Some might question such a high placing but if you take out the international riders who've beaten Jay in national championships, he would have five Pro Open national supercross crowns. No other rider has had to contend with such a large number of AMA-based riders and still hold their head high.
5. Jeff Leisk. Australia was a supercross backwater until a quiet kid from Western Australia landed in the US in 1986 and gave it a shot. Within 12 months he had a factory Yamaha contract and was battling the biggest stars in arguably the strongest era of supercross in the US. Then it was factory Honda and the top-five results kept flowing. Leisk spent only three years in the USA but he unlocked doors that allowed riders of the future to walk right through. He was the pioneer among Australians venturing overseas and the start of teams looking at other nations for the best riders in the world.
6. Glen Bell. In the era before full factory teams, race trucks and flying to races, Glen Bell hooked up his trailer, got in his car and drove across the country for 40 weeks of the year, chasing races. At a time when Australia was supercross saturated, Glen Bell did the hard yards in order to make a living.
He won 60 main events throughout his career; to achieve a figure like that a modern rider would need to dominate for around eight to 10 years. On top of that, he drove, worked on his own bikes, trained himself and then drove home.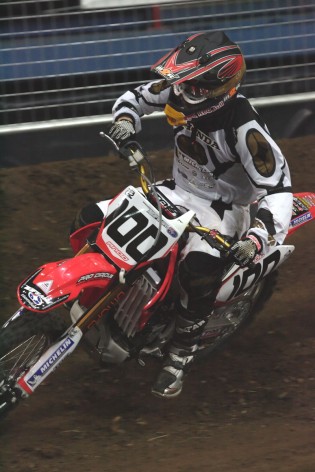 7. Craig Anderson. Ando knows his way around a podium more than any other current domestic racer and it's easy to forget just how much and how often Craig has won. He started a professional career in 1995 and is still going in 2011 — that's 15 years of serious wear and tear on your body. During his time, Ando has raced for Factory Yamaha, KTM, Honda and Kawasaki and is now forging his own team. Cousin Chad Reed has often said Ando had more talent than him and taught him a lot about racing. It's next to impossible to see an image of Ando where things aren't picture perfect.
8. Craig Dack. By his own admission, Craig wasn't a natural at supercross. But what he lacked in talent and grace he made up for in dedication and determination. Dack and Bell had a rivalry unlike any other but — unlike Glen, who competed almost every weekend — Dack was more selective in his events and targeted those that meant something to him. He set a goal, worked hard towards it and then made it a success. Competing in Europe for two seasons as well as his selective race program cost Craig wins and also, as a result, a higher position on this list.
9. Peter Melton. The most laidback rider of the generation with almost a Peter Brock-like relationship with his fans, Melton was twice Australian supercross champion in the 90s, had a career that spanned 20 years and saw the sport go from utes to semi-trailers. Peter didn't live like a machine. He liked a beer, he liked to hang out and enjoy life and he liked his time away from racing. Melton's results came from an abundance of natural talent, tunnel dedication when it mattered and a lifestyle that worked for him. His technique spanned a generation and if you used to marvel at watching Craig Anderson in full flight, his technique is modelled on Melton's.
10. Anthony Gobert. To this day the most naturally gifted motorcycle racer this country has ever produced, Gobert made the impossible look easy. He embarrassed others with his ability on a motorcycle and it drove his competitors insane. The harder they trained, the more they worked, made no difference as the results were always the same. Gobert was on another level. He was the only rider who could have put a dent in the McGrath dynasty. Yes, he was that good. Unfortunately, Goey took up road racing before hitting his peak in supercross and then the train went off the rails and the world never got to see just how good this kid was.
THE AMERICAN TOP 10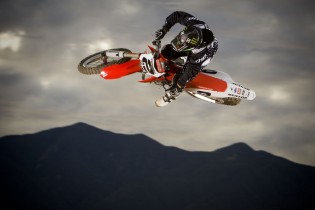 1. Jeremy McGrath. How can you argue with the most career wins and the most supercross championship wins, not to mention the profile his winning streak generated in bringing supercross to the public mainstream? McGrath's 72 race wins may be bettered one day — though that horizon's a long way off at the moment — but one thing that will never be beaten is the legacy he leaves in the sport. He won, he was charismatic, he was level headed, entertaining and a bit flashy — and all the while a regular guy.
2. Ricky Carmichael. For a rider who didn't have supercross skills, looked messy on the bike and was called an outdoor-only rider, Carmichael sure knew how to go around inside a stadium. He was the only rider to break the McGrath domination and he did it via hard work, belief and a never-say-die attitude that took him to race victories. Fans may have ebbed and flowed during his career but the number 4 was also 100 per cent on the track and they grew to love that as the years passed.
3. Ricky Johnson. McGrath may have been credited for the rise in supercross's profile and kicking the door down to the public, but it was Ricky Johnson who paved the way. The all-American, Californian-based, tall, blonde good-looking guy with the flashy riding and the confident demeanour had stadiums around the country on their feet and cheering. Ricky combined race results with flare and lifestyle that made the American public take notice.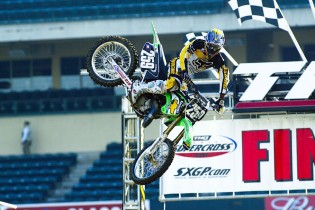 4. James Stewart. If you had to stake your life on one rider do to the fastest lap out of any racer that ever lived, you'd have to bet on James Stewart. He has jaw-dropping raw speed that burns competitors into the dirt and an ability to do things that others simply don't even think about. He has skill and technique far in advance of every other rider. The only thing that stops James from dominating the supercross world like McGrath and Johnson before him is his tendency to crash. The win-or-crash-trying mentality has hurt James as far as championships and career victories go but his technique and speed have changed the way others ride.
5. Bob Hannah. As supercross grew in popularity in the late 70s, one man's name stood above all others. Bob Hannah was the heart-on­-his-sleeve, brash-talking, win-or-die-trying kind of rider both fans and sponsors gravitate to. He'd often call out opponents in pre-race interviews or announce his dislike of anyone else on the start line with him. But he more than backed up his words on the track and was dominating the sport in the late 70s and early 80s until he broke his leg in a waterskiing accident and was never the same rider again. Still, his glory days were wild — the stuff that legends are made of.
6. Jeff Ward. The nuggetty Kawasaki rider was the mould for the future Ricky Carmichael. With their red hair, freckles, short stature and amateur careers on Kawasaki, Ward and Carmichael have a lot in common. The 80s was a tough era to be a supercross racer with a deep talent field and plenty of household names on the start line. Ward was never the flashiest or most outspoken but he did the business on the track and has an impressive résumé that stands the test of time.
7. Jeff Stanton. He wasn't supposed to be good at supercross. He was dull, workmanlike and not the average show pony supercross admired, but that didn't stop him taking control of the sport in the late 80s and early 90s. Stanton was all work and no play and, like in test match cricket, he simply ground his competitors into submission. It took the grace and skill of Jean-Michel Bayle to beat him during his prime and then it was only one season, 1991, as Stanton wrestled back the AMA crown in 1992 after Damon Bradshaw imploded at the final round.
8. David Bailey. Bailey was the man who gave rise to contemporary riding styles. The 70s were off the back of the bike and loose but Bailey refined that and bought in techniques that are still used throughout the world today.
His career was cut tragically short when he came up short on a double jump in the lead-up to the 1987 Supercross series. His accident shocked the world and was a massive reality check for motocross. But his input and style stand the greatest test: the test of time.
9. Jeff Emig. If Jeremy McGrath hadn't appeared, Jeff Emig may well have been a lot higher up this list. McGrath cast an enormous shadow over anyone in his generation but I'm sure if he had to say who his biggest rival was he'd name Jeff Emig. Emig won the 1997 crown while McGrath was on Suzuki and challenged him for race wins at almost every stop of the AMA tour. Emig was great, but McGrath never allowed him to truly shine.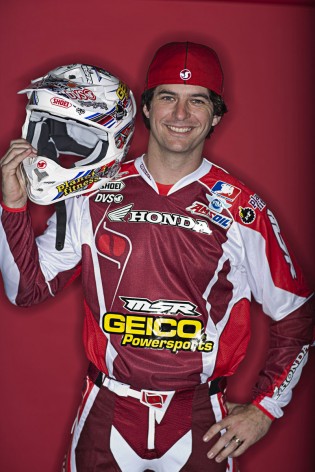 10. Kevin Windham. Kevin is what defines supercross: a guy who works as one with his bike, makes the toughest obstacle look easy and continues to do it over such a long period of time. Windham has prevailed for such a long time, that fact alone gives him enough points to land in the top 10. Just think: he was a contender in 1999 and is still considered a contender in 2012. He's clearly the fan favourite in the US and looks like a guy who just loves riding dirtbikes. He just rides them faster than nearly everyone else on the planet.
THE NEXT 30 TOP SUPERCROSS RIDERS OF ALL TIME
(In no particular order)
1. Johnny O'Mara
2. Bob Hannah
3. Ryan Marmont
4. Craig Carmichael
5. Lee Hogan
6. Jeff Ward
7. Mike Kiedrowski
8. Jeff Matiasevich
9. Matt Moss
10. Troy Dorron
11. Kim Ashkenazi
12. Jonno Porter
13. Damon Bradshaw
14. Troy Carroll
15. Joel Elliot
16. Ezra Lusk
17. Mike LaRocco
18. Jean-Michel Bayle
19. Stephen Gall
20. Micky Dymond
21. Broc Glover
22. Guy Cooper
23. Ron Lechien
24. Doug Henry
25. Cameron Taylor
26. David Vuillemin
27. Ernesto Fonseca
28. Damon Huffman
29. Tim Ferry
30. Eddie Warren