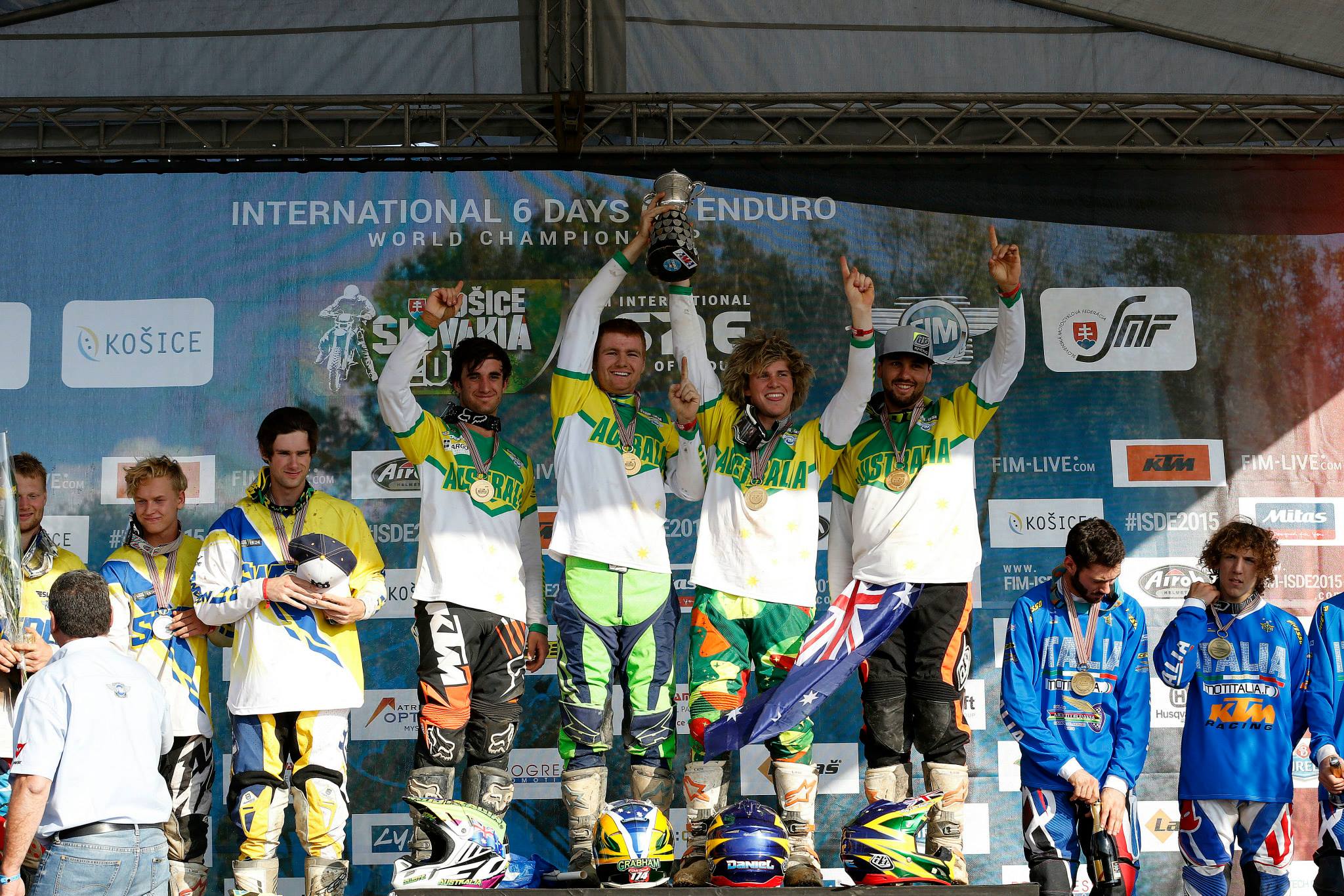 Australia's World Trophy team has controversially finished as provincial runners up at the 2015 FIM ISDE.
By Hayden Gregory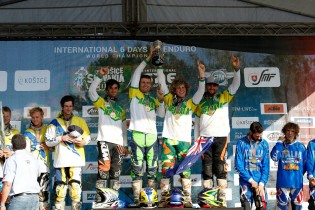 The senior Australian men's team were unable to catch provincial winners France after three of their riders were reinstated on day five of the competition. Marc Bourgeois, Anthony Boissiere and Jeremy Joly were all disqualified on day three after failing to meet a course check point.
The FIM International Disciplinary Court decided that the riders could continue in the competition on a provisional basis. This ensured the French team were able to hold onto a one minute victory in the World Trophy Class, leaving the Aussies in dismay.
Despite the circumstances, the Australian World Trophy team could still celebrate a number of fantastic individual results. Yamaha's Daniel Milner finished the ISDE as the second fastest rider overall and second in the E2 class behind American Ryan Sipes. Matthew Phillips joined Milner inside the top five of the E2 class while Josh Green similarly enjoyed a top five finish in Enduro 1.
The Australian Junior World Trophy team were the undeniable champions in their category. KTM's Daniel Sanders led the way for the boys claiming overall victory in the E3 class. With the aid of Tye Simmonds and Broc Grabham, the Aussies amassed a 15 minute lead over second placed Sweden to stand proudly on top of the podium.
Not to be outdone, the Australian Women's Trophy team secured their third straight ISDE title. The girls dominated all six days of the competition to remain undefeated with a lead of 55 minutes.  Tayla Jones maintained her stronghold on the overall result with Jemma Wilson (2nd) and Jessica Gardiner (3rd) rounding out an all Australian podium.
The Australian World Trophy team will now sweat on the FIM's final decision regarding the disqualified riders and whether the provincial standings will be final.
2015 International Six Days Enduro (ISDE) Kosice, Slovakia
World Trophy results (provisional, following day six):
1. France 21h08m30.76s
2. Australia +1m00.38s
3. Spain +10m26.76s
4. Italy +13m34.41s
5. Great Britain +22m43.38s
Junior Trophy results (following day six):
1. Australia 12h56m33.09s
2. Sweden +15m26.84s
3. Italy +26m44.08s
4. France +27m51.32s
5. Great Britain +30m00.63s
Women's Trophy results (following day six):
1. Australia 10h15m02.65s
2. France +55m53.73s
3. Sweden +1h15m20.98s
4. Finland +1h24m11.48s
5. USA +1h26m35.15s