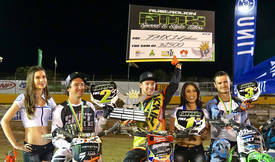 South Australia hosted the 2015 Australian FMX and Speed and Style Titles on the weekend with a blockbuster line-up on show.
By Hayden Gregory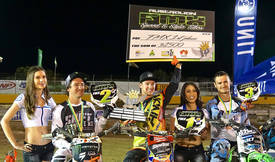 The Speed and Style contest featured an incredible line-up with no shortage of big names. Cam Sinclair, Blake 'Bilko' Williams, Robbie Marshall and 20-time X Games Medallist Nate Adams headlined the show.
As the heats progressed Adams took control, while 2014 champion Sinclair bowed out after a judging mishap initially gave him the win over Luke McNeil.
Semi final one saw Adams up against McNeil with both riders throwing in some serious tricks and flip combinations. While McNeil crossed the line first, Adams was awarded victory due to his amassed style points.
The second semi proved a little more one sided with Marshall comfortably trumping Williams in both speed and style.
In the gold medal match up Adams stepped it up another notch for the crowd. A determined Marshall raced out of the gates leading start to finish but once again it was the style of the veteran Adams which resulted in the championship title.
"Honestly, it was some of the best speed and style racing I have been a part of. I had some good battles," Adams said after the race.
Next up was the FMX competition in which there was again no shortage of talent. As the heats took place in a head to head format, it was Ryan Brown, Harry Bink, Bilko Williams and Nate Adams who progressed to the semis.
Top qualifier Brown locked bars with Bink as both riders provided a flawless run. Coming down to the judge's decision the points were given to Bink with a margin of just 1.5 points difference.
In the second semi final, Williams proved that Adams could be beaten, taking a determined victory over the American legend. Adams would come undone again in the bronze medal showdown as Brown threw down a flawless run to score third place.
As the final event arrived both Bink and Williams would need to put it all on the line for their six jump run. Bilko stepped up first unleashing a seat grab-rock solid, 360 nac, jackhammer with no handed landing, suicide no hander flip, double can and a 360 one hander flip.
Not to be outdone young gun Bink brought the crowd to its feet nailing a scissor kick, seat grab indy, a huge whip, ruler flip and a rock solid to take the FMX Championship by three points.