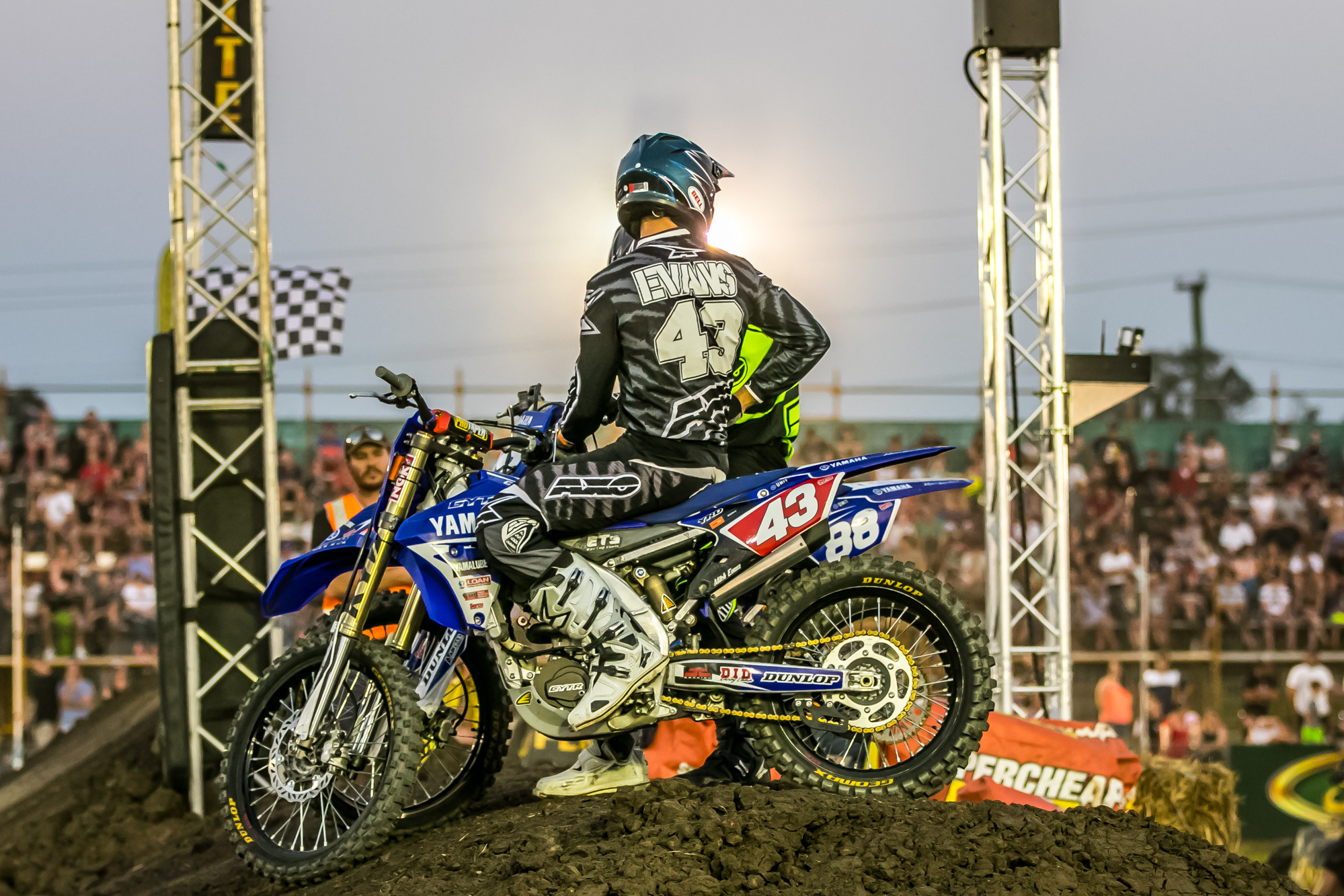 Jordan Hill has claimed his first overall victory in the SXD class, earning the chequered flag at J2.
By Hayden Gregory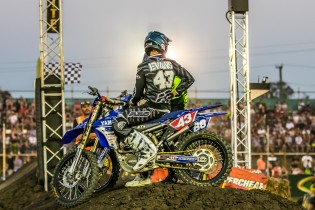 Coming into the weekend underdone, Hill showed grit and determination to top the class following a 2-1 result. Just four weeks ago the junior suffered from an awful training crash which left him unable to compete at Adelaide for round three of the series.
In a two final format, the first saw Hill rocket to the lead before a mistake in the whoops allowed teammate Mitch Evans to capitalise. The GYTR Yamaha pair finished the ten lap race one-two with Hill unable to regather his lead.
In the second moto, Hill benefited from another strong start before he found himself banging bars with Trent Wheatley. The pair traded blows for the majority of the race before Hill was able to gain the upper hand and stretch out for victory.
A 2-1 finish was enough for Hill to win his first professional round of racing.
"How cool is this?" Hill states on the podium. "My goal tonight was to just try and get through the racing safely as I'm still a bit sore and aim for a podium if possible, so to win it is awesome.
"I had a quick ride on Thursday and I felt ok so I knew I would be able to get around but the heat today really took it out of me and I struggled a bit during the afternoon sessions. I was pretty pumped when it cooled off as night came.
"It was a shame I missed the Adelaide round so I have no chance of winning the championship but I will keep working hard and aim to win the final round in Melbourne," Hill ends.
Despite clocking the fastest time in qualifying and claiming victory in moto one, Mitch Evans suffered a number of misfortunes in the second. A bad start followed by an early mistake left Evans well back in the field. Charging back into third place the rider mistimed a jump flying over the handlebars into the track.
In what was a terrible crash, Evans bike laid damaged meaning he was unable to finish the race. The DNF cost Evans his overall championship lead leaving him 11 points behind with just one round to go.
"I felt really good all afternoon and really wanted to dominate tonight after a tough weekend in Adelaide at the last round. I was jumping through the combo section on the back straight when I clipped the top of the third jump and it pushed my body weight forward where I fell onto the rear brake and it sent me in a nose dive as I took off from the next jump.
"I have a pretty big hole in my leg as it must have got caught on the handlebars or something. It's stitched up now and I'm sore, but I should be right to go for Melbourne.
"I'm now 11 points down but I can't do much about it now, all I can do is win at the final round and see what happens behind me," Evans said.
The SXD class will race its final round in Melbourne on December five at Knights Stadium.