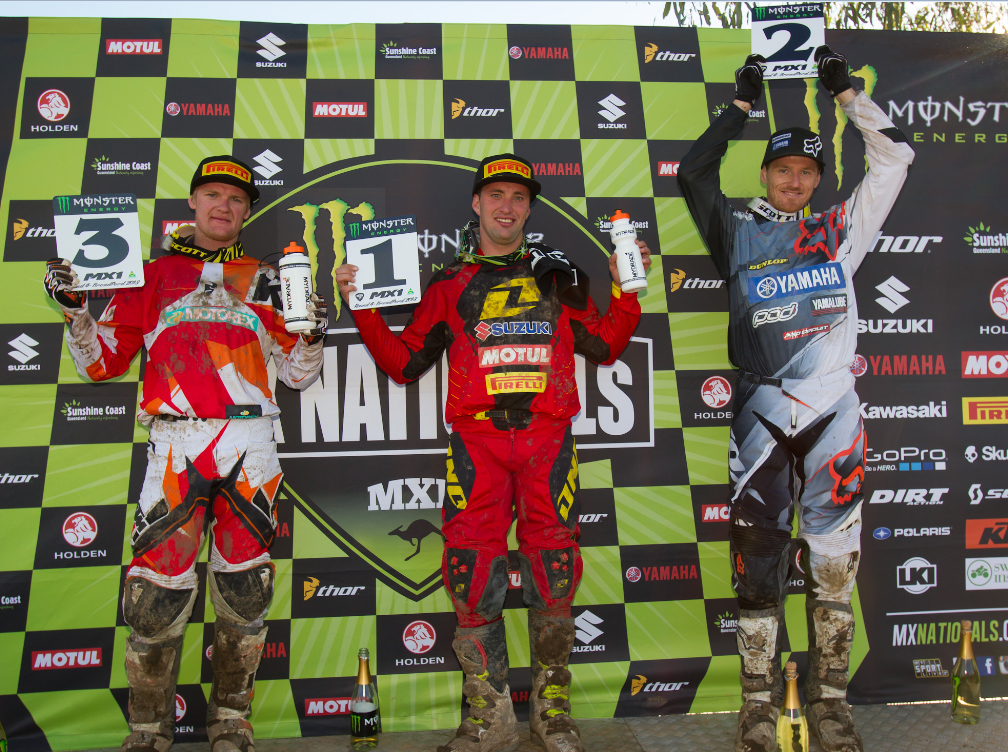 Team Motul Pirelli Suzuki rider Matt Moss claimed a stunning first overall MX1 class victory of the 2013 MX Nationals, Australian Motocross Championship, on Sunday 19 May at Broadford State Motorcycle Sport Complex in Victoria.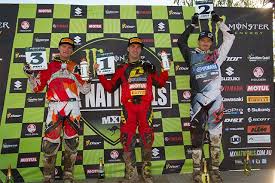 The multiple-time MX2 champion inched closer to the championship lead after four of 10 rounds to be contested this season, claiming his second Super Pole in succession before winning the opening moto in a hard-fought performance.
Moto two saw Moss slice his way to second in an inspired ride aboard the RM-Z450, clinching the round victory with 73 points. This now boosts Moss to within 27 points of the championship lead and he's excited to keep the ball rolling at this point.
"My day started off good and we were able to comfortably qualify first in Super Pole," Moss reflected. "That really boosted my confidence, the bike was working great and I felt good on the track. I didn't get a good start in moto one, I crashed myself, but was able to chase down the leader and win.
"We made some changes in between motos that I was confident would work and I've never felt so good. It was one of those motos that was effortless. Unfortunately Billy [Mackenzie] was too far ahead to chase down by the time I got into second, but all in all it was good and I really need to thank my team at Motul Pirelli Suzuki."
Kiwi teammate Cody Cooper had a mixed round on the second of the Motul Pirelli Suzuki RM-Z450s, finishing 14th in moto one before recovering to ninth in the second. It wasn't a true indication of Cooper's speed however, qualifying third in the morning's Super Pole proceedings. He finished 10th overall for the weekend and sits fifth in the standings.
"My starts were pretty good, but yeah it was one-lined out there and I didn't really ride how I should," Cooper said. "I almost holeshot the last race, but I was getting really bad arm pump so I couldn't hold on – it was difficult to get in a flow. Today was difficult in both motos, it's been hard, but I can't complain and we'll try to improve for the next round."
Motul Pirelli Suzuki team manager Jay Foreman was thrilled with Moss' result to mark the team's first victory in the year and now looking to continue progress with both riders as the championship approaches the halfway stage.
"I'm really happy for Matt and also the team to win this round and continue our positive steps forward," Foreman said. "It was really difficult conditions out there today, extremely rough, but Matt made the most of it and really stood up to the challenge.
"Cody had a tough day and that's been the case over the past few rounds, however we plan to keep working and making progress so I'm confident he will bounce back in the upcoming rounds. It's a long series and especially with Matt we are improving with every round."
The Australian Motocross Championship will resume on Sunday, 2 June, at Conondale in Queensland.
2013 MX Nationals, Australian Motocross Championship
Round four – Broadford, VIC
MX1 overall results:
1. Matt Moss (Motul Pirelli Suzuki) 73
2. Billy Mackenzie 67
3. Kirk Gibbs 57
4. Jake Moss 56 (Campbell Mining Suzuki)
5. Todd Waters 55
6. Adam Monea 52
7. Tye Simmonds 49
8. Lawson Bopping 49
9. Daniel McCoy 42
10. Cody Cooper (Motul Pirelli Suzuki) 41
MX1 championship standings (after four of 10 rounds):
1. Todd Waters 269
2. Matt Moss (Motul Pirelli Suzuki) 242
3. Billy Mackenzie 226
4. Lawson Bopping 217
5. Cody Cooper (Motul Pirelli Suzuki) 202
6. Tye Simmonds 189
7. Adam Monea 185
8. Kirk Gibbs 183
9. Jake Moss (Campbell Mining Suzuki) 177
10. Daniel McCoy 164