Tim Gasjer recorded his fourth GP victory of the year whilst Jeffrey Herlings remains undefeated in MX2.
By Hayden Gregory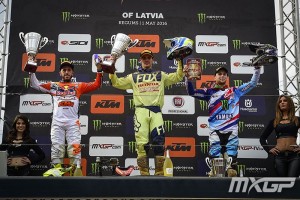 The opening MXGP race was won by 19 year old Gasjer who then recovered from a huge crash in race two to finish fourth and claim round honours.
"My start wasn't great in the second moto," Gajser said. "Then I came up the inside and came out well to be in second. I made a stupid mistake in the wave section on the first lap, and Max hit me. I got up and stalled the bike and then found some good lines and rode well. 
"I didn't have a great start in the first moto, because Antonio closed me in. I managed to pass some riders in the first corners, and then followed Antonio for a little while and made the pass. He was behind me a long time and I was able to keep first place. 
"I am really happy again, winning the overall and gained two points on Romain. On the second lap it was such a stupid mistake. I was pushing too hard in the first laps. I need to be happy and I want to thank the team, my family, my dad and brother. It was the hardest victory in my career."
Red Bull KTM's Antonio Cairoli was in line to take round victory with a 3-2 weekend before a last lap pass by Gasjer bumped him down to second place.
Championship leader Romain Febvre holds onto the red leaders plate by just point after he bounced back from a fifth in race one to win the second moto and record third overall.
"We changed my bike completely in the second race and I feel like I was riding like I know how in the second moto so I am happy about that, and I am happy to be on the podium again," Febvre said.
In MX2 racing Jeffrey Herlings was once again the rider to beat, finding the lead early in both races before checking out on the rest of the field.
"I'm back, I'm feeling strong and I'm just trying to get the best out of myself, it's six out of six wins this weekend and I hope there will be many more to come." Herlings said.
English rider Max Anstie gained a lot of positives from the weekend landing his first podium of the season with a pair of runner up finishes. Team Suzuki's Jeremy Seewer rounded out the MX2 podium with another strong showing.
MXGP Overall Top Ten: 
1. Tim Gajser (SLO, HON), 43 points
2. Antonio Cairoli (ITA, KTM), 42 points
3. Romain Febvre (FRA, YAM), 41 points
4. Jeremy Van Horebeek (BEL, YAM), 38 points
5. Maximilian Nagl (GER, HUS), 38 points
6. Evgeny Bobryshev (RUS, HON), 27 points
7. Christophe Charlier (FRA, HUS), 26 points
8. Ben Townley (NZL, SUZ), 22 points
9. Shaun Simpson (GBR, KTM), 21 points
10. Milko Potisek (FRA, YAM), 20 points
MXGP Championship Top Ten:
1. Romain Febvre (FRA, YAM), 260 points
2. Tim Gajser (SLO, HON), 259 points
3. Antonio Cairoli (ITA, KTM), 213 points
4. Maximilian Nagl (GER, HUS), 203 points
5. Jeremy Van Horebeek (BEL, YAM), 200 points
6. Evgeny Bobryshev (RUS, HON), 197 points
7. Shaun Simpson (GBR, KTM), 143 points
8. Kevin Strijbos (BEL, SUZ), 142 points
9. Glenn Coldenhoff (NED, KTM), 121 points
10. Valentin Guillod (SUI, YAM), 116 points
MX2 Overall Top Ten: 
1. Jeffrey Herlings (NED, KTM), 50 points
2. Max Anstie (GBR, HUS), 44 points
3. Jeremy Seewer (SUI, SUZ), 38 points
4. Petar Petrov (BUL, KAW), 33 points
5. Dylan Ferrandis (FRA, KAW), 31 points
6. Benoit Paturel (FRA, YAM), 28 points
7. Pauls Jonass (LAT, KTM), 27 points
8. Brian Bogers (NED, KTM), 25 points
9. Brent Van doninck (BEL, YAM), 24 points
10. Calvin Vlaanderen (NED, KTM), 22 points
MX2 Championship Top Ten:
1. Jeffrey Herlings (NED, KTM), 300 points
2. Jeremy Seewer (SUI, SUZ), 230 points
3. Pauls Jonass (LAT, KTM), 193 points
4. Petar Petrov (BUL, KAW), 165 points
5. Aleksandr Tonkov (RUS, YAM), 163 points
6. Benoit Paturel (FRA, YAM), 154 points
7. Samuele Bernardini (ITA, TM), 133 points
8. Vsevolod Brylyakov (RUS, KAW), 132 points
9. Max Anstie (GBR, HUS), 126 points
10. Alvin Östlund (SWE, YAM), 110 points