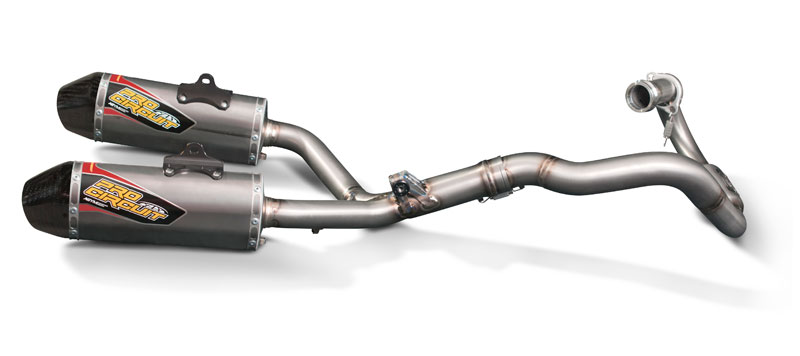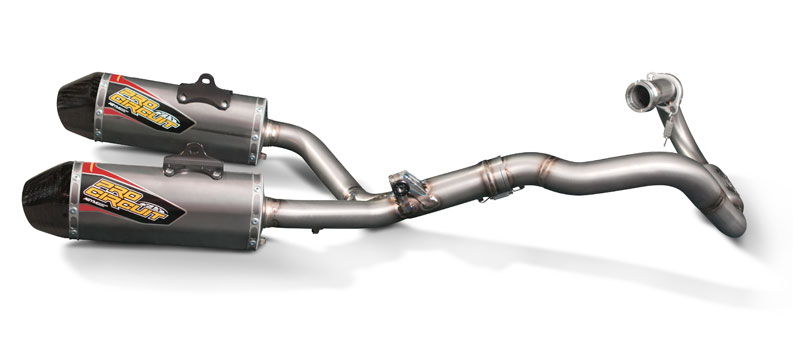 If you looked up the word "sexy" in the dictionary, there should be a photo of the Pro Circuit CRF450R titanium twin system. I had been running the single system on the Honda up until a couple of months ago, when the guys from Monza Imports supplied the twin so we could compare the two.
There is quite a price difference between the twin and single, but the weight of the titanium twin is considerably less than the stainless single. Plus it looks a heck of a lot better than the single, in my opinion.
I have tested both the Euro-spec twin and the US-spec twin. The US-spec is an angry-sounding beast, while the Euro-spec is quieter with a slightly less-aggressive power curve. This, however, is splitting hairs. The US-spec is a lot shorter, but the noise factor is something that leaves me leaning towards the European spec. Although, a big crack of the throttle with a flame out the back isn't a bad psychological message to the guys next to you on the start line.
I don't like quoting dyno figures, though, as I feel the benefits of having this exhaust are highly noticeable on the bike. It revs more freely and feels like it has more top-end power, which is fantastic for racing the Dirt Action Amcross series.
On the dyno, the bike has around 2hp more than with the standard exhaust. The project Honda has a Pro Circuit piston, Axis Motorsport head work and the pipe. These combined offer around four more horsepower, but also three more pounds of torque. The torque is just as, if not more, important when you are chasing a good, strong and rideable 450, so this combination is well worth investigating if you own a Honda CRF450R. — Matt Bernard
Contact: www.monzaimports.com.au