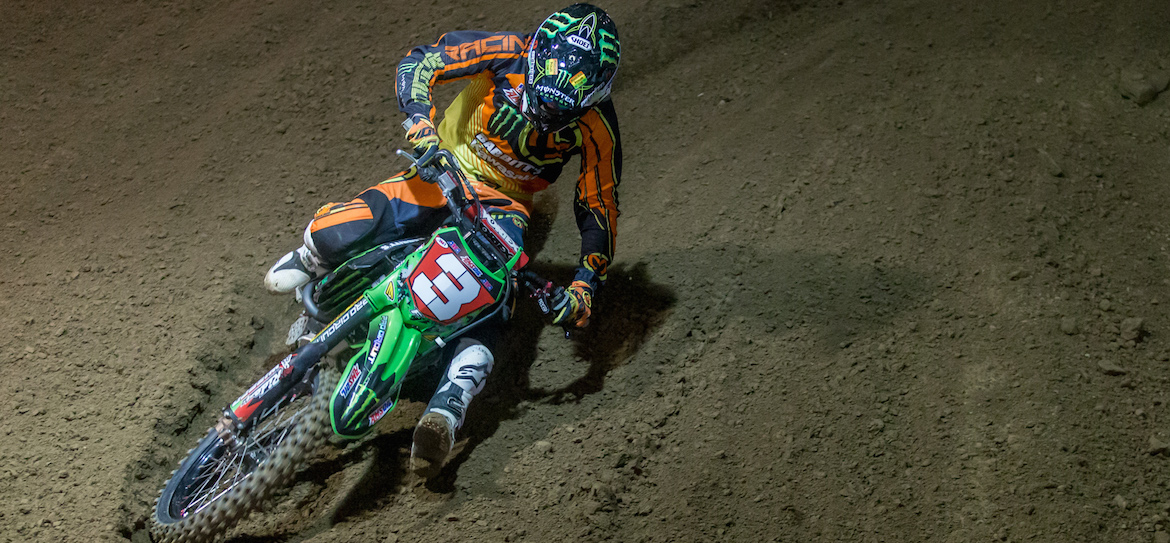 Faith has extended his championship lead with another AMSOIL Areacross clean sweep.
By Hayden Gregory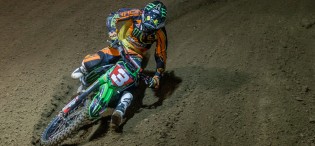 The team Babbitt/Monster Energy/Kawasaki rider was near flawless on his way to a second consecutive round victory.
The first main event saw Faith secure the lead on lap one after holeshot winner Jace Owen crashed out of the race. Faith was soon passed by Kawasaki's Steven Mages before a duel ensued and Faith eventually passed back going on to take out the moto. Mages would crash in the closing laps allowing Ben Lamay to finish second and Travis Sewell in third.
The second main started perfectly for Faith who scored the holeshot and took an early commanding lead. Jacob Hayes moved into second and started pressing Faith for the lead with less than a second separating the riders for a few laps. In the end Faith triumphed to claim the chequered flag ahead of Hayes and Blose in third.
Faith's clean sweep gives him four wins for the championship as he sits comfortably at the top of the leader board 17 points ahead of Sewell.
The 2016 AMSOIL Arenacross season will continue next Saturday, March 12, from Lafayette, Louisiana's CAJUNDOME.
Arenacross Class Overall Results (Main Event Results)
Gavin Faith, Fort Dodge, Iowa, Kawasaki (1-1)
2.     Jacob Hayes, Liberty, N.C., Kawasaki (5-2)
3.     Chris Blose, Phoenix, Kawasaki (4-3)
4.     Travis Sewell, Westville, Ind., KTM (3-4)
5.     Ben Lamay, Forney, Texas, Honda (2-5)
6.     Cody VanBuskirk, Harvard, Ill., KTM (6-9)
7.     Jared Lesher, Ball Ground, Ga., KTM (8-8)
8.     Kyle Bitterman, West Pelzer, S.C., Husqvarna (7-10)
9.     Steven Mages, Sardinia, Ohio, Kawasaki (14-7)
10.  Chris Canning, Coventry, Conn., Yamaha (9-11)
Arenacross Class Championship Standings
Gavin Faith, Fort Dodge, Iowa, Kawasaki – 276(4 Main Event Wins)
2.     Travis Sewell, Westville, Ind., KTM – 265 (5 Main Event Wins)
3.     Jacob Hayes, Liberty, N.C., Kawasaki – 262 (8 Main Event Wins)
4.     Chris Blose, Phoenix, Kawasaki – 256 (1 Main Event Win)
5.     Ben Lamay, Forney, Texas, Honda – 185
6.     Jace Owen, Matoon, Ill., Honda – 175
7.     Gared Steinke, Woodland, Calif., Husqvarna – 171
8.     Daniel Herrlein, Bethesda, Ohio, Honda – 148
9.     Kyle Regal, Lake Elsinore, Calif., Husqvarna – 130
10.  Kyle Bitterman, West Pelzer, S.C., Husqvarna – 115