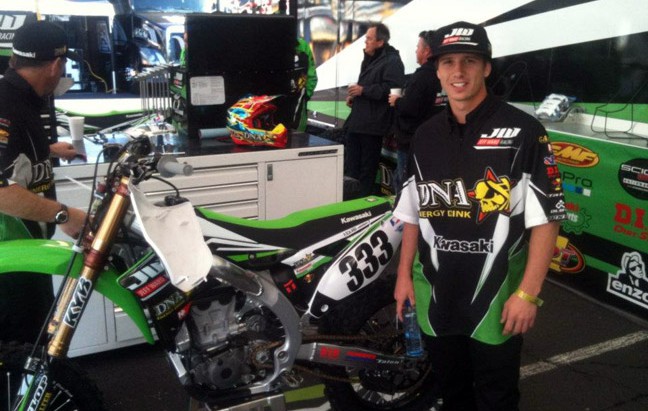 Dirt Action just caught up with Cody Mackie fresh after his second day riding his new DNA Energy Drink/Jeff Ward Racing KXF 450.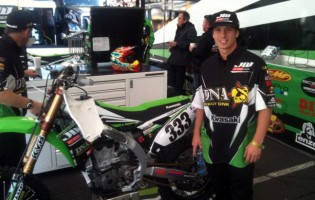 Where were you riding today?
I just finished up riding at the Kawasaki test track. It was a big day and pretty much all the Kawi racers were out there which was cool, but I'm not gonna lie I was a little nervous at first. I settled in ok though and got some good laps in which was good.
How are feeling on the new bike?
Everything feels good. I haven't made many changes at all, I'm just working on getting comfortable on it which I feel I am. It's great to have the opportunity and everything that comes along with it. I'm on a great bike with great suspension and tyres, so I'm looking forward to racing this weekend.
You didn't even have a gear deal over there, has that changed now?
Yeah it has, I'll be wearing Troy Lee Designs gear, Alpinestar boots and continue using Scott goggles.
Did you have a feeling this might happen or was it a total surprise to get the call up?
Obviously this was a dream scenario for me that I had hoped might happen, but probably didn't think would. It's a shame it comes about due to Josh Grant being injured but I guess it's part of the sport. It was really a surprise when I got the call about the opportunity and now I just want to make the most of it.
Well we'll let you get back to dinner, good luck and thanks for the chat.
No probs thanks for the call..