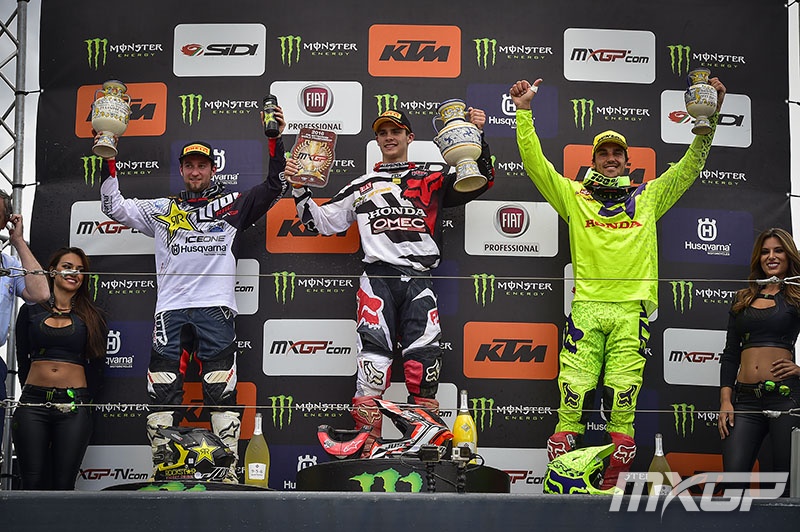 Both riders extend their championship leads.
By Hayden Gregory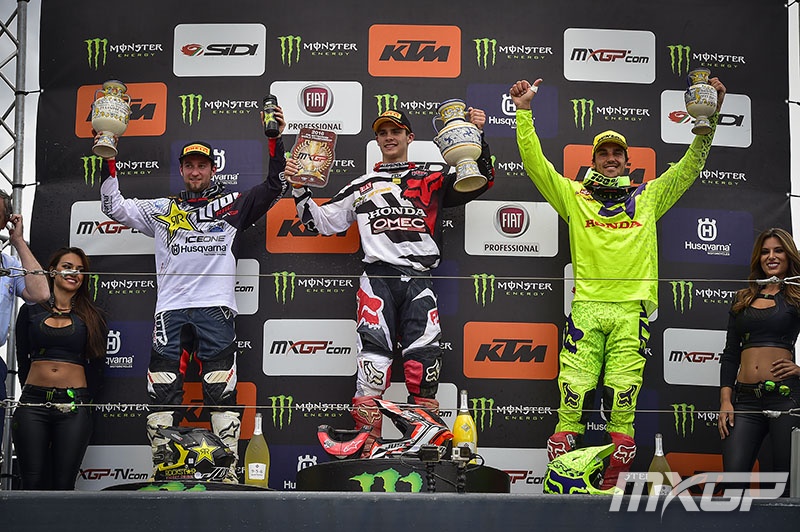 In the MXGP class, 19 year old Gasjer dominated proceedings winning both motos to build a 24 point lead in the championship. The rookie continues to shine in the premier class beating home experienced campaigners Max Nagl and Gautier Paulin who finished second and third respectively.
"It was a great weekend and a great reward for the hard work the team has been putting in," Nagl said after days end.
"We did some more testing last week and we managed to make my bike even better. One of our goals was to further improve our starts and during the weekend our starts were great. I got the holeshot in both motos and lead the races for the first few laps. Gajser was a little bit quicker around the track so when he passed me in race one and in race two I tried to ride smart and stay behind him.
"Our lap times were a bit better than the rest of the field and I was happy to finish both races in a good second position. This GP is a big confidence booster for me and for my team. Going to France now I'm positive for another good result. I'm in good shape at the moment and the bike feels great, so I'll do my best to keep my podium streak running."
Romain Febvre ended the round in fifth place overall showing determination after injuring his shoulder on Saturday.
In MX2 racing, Jeffrey Herlings once again swept both motos in what is just becoming protocol for the Red Bull KTM rider. He topped the round nine podium ahead of Benoit Pautrel and Pauls Jonass to claim his ninth consecutive grand prix overall.
Team Suzuki's Jeremy Seewer had a round to forget battling for seventh overall (11-4).
"My speed is really good and it is not something I have to worry about but the starts weren't there today," Seewer explained. "Everything was working good but I didn't have the best luck and that's what happened in the first moto. When you are deep in the pack then there is always more risk than when you are upfront. I came up a bit short on the double jump and it kicked me sideways.
"I'm happy to finish the race and finish 11th and I needed some time to get my confidence back in the second moto. I did quite well. I was dropped to fourth but found quite a good rhythm by the end; I was really happy with my riding. I just need to put things together a bit more in the coming races."
MXGP Overall Top Ten: 
1. Tim Gajser (SLO, HON), 50 points
2. Maximilian Nagl (GER, HUS), 44 points
3. Gautier Paulin (FRA, HON), 38 points
4. Clement Desalle (BEL, KAW), 35 points
5. Evgeny Bobryshev (RUS, HON), 31 points
6. Romain Febvre (FRA, YAM), 30 points
7. Antonio Cairoli (ITA, KTM), 28 points
8. Jeremy Van Horebeek (BEL, YAM), 27 points
9. Valentin Guillod (SUI, YAM), 27 points
10. Shaun Simpson (GBR, KTM), 21 points
MXGP Championship Top Ten:
1. Tim Gajser (SLO, HON), 385 points
2. Romain Febvre (FRA, YAM), 361 points
3. Antonio Cairoli (ITA, KTM), 338 points
4. Maximilian Nagl (GER, HUS), 317 points
5. Evgeny Bobryshev (RUS, HON), 295 points
6. Jeremy Van Horebeek (BEL, YAM), 274 points
. 7. Shaun Simpson (GBR, KTM), 210 points
8. Kevin Strijbos (BEL, SUZ), 204 points
9. Valentin Guillod (SUI, YAM), 180 points
10. Glenn Coldenhoff (NED, KTM), 156 points
MX2 Overall Top Ten: 
1. Jeffrey Herlings (NED, KTM), 50 points
2. Benoit Paturel (FRA, YAM), 40 points
3. Pauls Jonass (LAT, KTM), 40 points
4. Dylan Ferrandis (FRA, KAW), 38 points
5. Aleksandr Tonkov (RUS, YAM), 30 points
6. Brian Bogers (NED, KTM), 29 points
7. Jeremy Seewer (SUI, SUZ), 28 points
8. Samuele Bernardini (ITA, TM), 25 points
9. Michele Cervellin (ITA, HON), 25 points
10. Max Anstie (GBR, HUS), 22 points
MX2 Championship Top Ten: 
1. Jeffrey Herlings (NED, KTM), 447 points
2. Jeremy Seewer (SUI, SUZ), 325 points
3. Pauls Jonass (LAT, KTM), 300 points
4. Benoit Paturel (FRA, YAM), 251 points
5. Aleksandr Tonkov (RUS, YAM), 240 points
6. Petar Petrov (BUL, KAW), 210 points
7. Max Anstie (GBR, HUS), 205 points
8. Samuele Bernardini (ITA, TM), 204 points
9. Dylan Ferrandis (FRA, KAW), 200 points
10. Vsevolod Brylyakov (RUS, KAW), 197 points