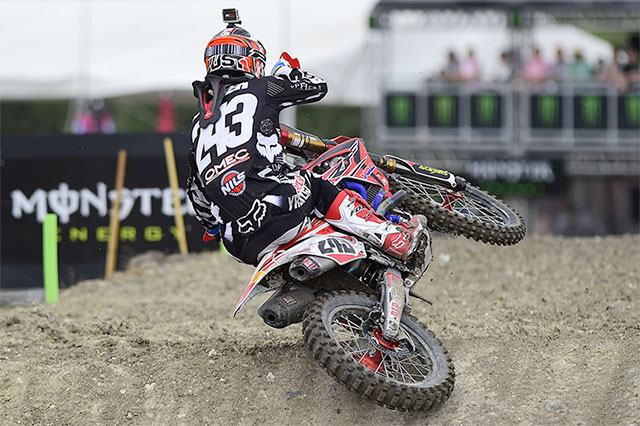 The two riders have gone back to back claiming round victories once more at round five of the MXGP World Championship.
By Hayden Gregory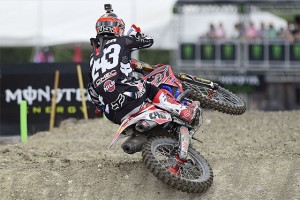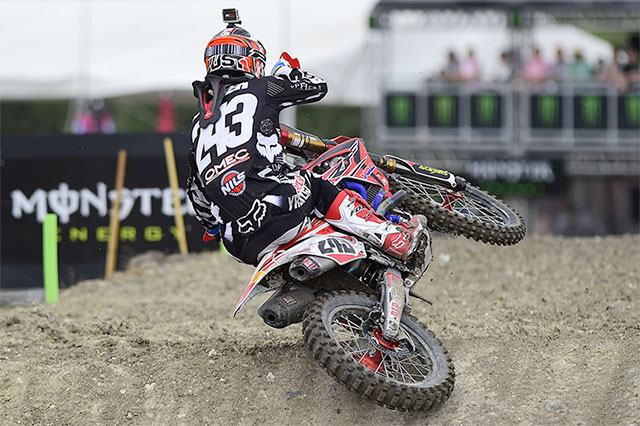 In the MX1 class, young guns Tim Gasjer and Romain Febvre continue to set the pace out front winning a moto each. The pair finished tied on 47 points with Gasjer given the GP win due to a higher result in the second moto.
A 1-2 result allows Febvre a slim hold on the championship lead just three points clear of Gasjer in second.
"I struggled a little bit with the settings on the bike", Febvre said, "so I worked with the team late last night and today it was much better but I was missing something to have enough for the win and that is just how it is." 
"We made a few changes on the bike for the second moto, and it seemed to work well because in the first corner the start I was right at the front and ready to chase. I was faster in the beginning that Gajser because I could choose a better line, but soon he found the right one and after that the track was like one single line and it just wasn't possible to pass."
"I'm a little disappointed that I couldn't pass him, but the key today was the holeshot. The team did everything right today and we still have a very good result so I am thankful to them and ready to go to Latvia," the Frenchman concluded.
Rockstar Energy Husqvarna's Max Nagl scored a pair of third place finishes to claim third overall. Antonio Cairoli holds third place overall in the championship with Evgeny Bobryshev and Clement Desalle rounding out the top five.
"We had a consistent weekend so I'm pretty much happy," Bobryshev said finishing fourth. "Today I had less speed and confidence, and less flow, than yesterday though. Yesterday the speed and time was good, but today the track changed. There were big ruts and I was struggling to make the speed. To finish two times fourth is ok though, and I closed up to the top three in the championship, just one point from third, so I'm happy enough."
In MX2 racing Jeffrey Herlings is proving unstoppable with yet another round clean sweep. The Red Bull KTM rider easily won both motos showing too much class and maturity.
"I pretty much lost the championship last season being too aggressive in the beginning" Herlings said after qualifying yesterday, "what I learned in the past is that you can win by five seconds or you can win by a minute, it doesn't mean anything extra. So I just try to win and I try to do what people expect me to do."
Team Suzuki's Jeremy Seewer finished 3-2 for second overall in Mexico. A consistent showing keeps him second in the championship race with Pauls Jonass back in third.
"I will keep working to try to get close to Jeffrey and try make his life a little bit more difficult" the optimistic Seewer said.
The biggest surprise of the weekend came by way of young Russian Vsevelod Brylakov who recorded a 2-6 finish to claim the final spot on the podium in third.
MXGP Overall Top Ten: 
1. Tim Gajser (SLO, HON), 47 points
2. Romain Febvre (FRA, YAM), 47
3. Maximilian Nagl (GER, HUS), 40
4. Evgeny Bobryshev (RUS, HON), 36
5. Clement Desalle (BEL, KAW), 32
6. Antonio Cairoli (ITA, KTM), 27
7. Valentin Guillod (SUI, YAM), 25
8. Tommy Searle (GBR, KAW), 24
9. Jeremy Van Horebeek (BEL, YAM), 24
10. Kevin Strijbos (BEL, SUZ), 24
MXGP Championship Top Ten: 
1. Romain Febvre (FRA, YAM), 219 points
2. Tim Gajser (SLO, HON), 216
3. Antonio Cairoli (ITA, KTM), 171
4. Evgeny Bobryshev (RUS, HON), 170
5. Maximilian Nagl (GER, HUS), 165
6. Jeremy Van Horebeek (BEL, YAM), 162
7. Kevin Strijbos (BEL, SUZ), 127
8. Shaun Simpson (GBR, KTM), 122
9. Glenn Coldenhoff (NED, KTM), 104
10. Tommy Searle (GBR, KAW), 98
MX2 Overall Top Ten:
1. Jeffrey Herlings (NED, KTM), 50 points
2. Jeremy Seewer (SUI, SUZ), 40
3. Vsevolod Brylyakov (RUS, KAW), 37
4. Pauls Jonass (LAT, KTM), 36
5. Aleksandr Tonkov (RUS, YAM), 32
6. Petar Petrov (BUL, KAW), 28
7. Benoit Paturel (FRA, YAM), 27
8. Samuele Bernardini (ITA, TM), 26
9. Max Anstie (GBR, HUS), 25
10. Jorge Zaragoza (ESP, HON), 22
MX2 Championship Top Ten: 
1. Jeffrey Herlings (NED, KTM), 250 points
2. Jeremy Seewer (SUI, SUZ), 192
3. Pauls Jonass (LAT, KTM), 166
4. Aleksandr Tonkov (RUS, YAM), 163
5. Petar Petrov (BUL, KAW), 132
6. Benoit Paturel (FRA, YAM), 126
7. Vsevolod Brylyakov (RUS, KAW), 121
8. Samuele Bernardini (ITA, TM), 117
9. Alvin Östlund (SWE, YAM), 89
10. Max Anstie (GBR, HUS), 82