Home team and title favourites France have won the 2015 MXoN thanks to the performance of riders Romain Febvre, Marvin Musquin and  Gautier Paulin.
By Hayden Gregory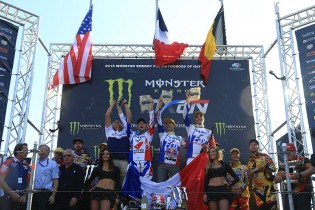 Over 80,000 fans packed out the Ernee track to watch world class racing and they were not disappointed. Home town heroes France rode to victory by two points over second placed USA much to the delight of the fanatic crowd.
The opening MX2 race saw an intense battle between USA's Justin Barcia and Frenchman Marvin Musquin up front. The pair battled fiercely and swapped the lead position a number of times before Musquin made a small mistake, falling from his bike and leaving Barcia to extend his lead on the field.
Russia's Evgeny Bobryshev and Germany's Max Nagl were able to pass Musquin following his fall, unable to catch Barcia they managed to finish in second and third respectively. Musquin was able to hold off a fast finishing Jeremy Martin to finish fifth. Compatriot Gautier Paulin finished two places later in seventh to ensure the French remained in touch of the fast starting American team.
The Australian's had it tough in the opening moto with Luke Clout suffering from a crash in turn one. The late replacement was unable to work his way back in to the field finishing 33rd. Team mate Todd Waters had a more successful run, making his way through the pack to end in 13th.  The results following race one, had Australia in eighth place with USA holding the lead from France.
Race two started similar to the first with a French and American rider leading the way. Cooper Webb grabbed the hole-shot before going on the defensive trying to hold off second placed Romain Febvre. The tussle continued until the newly crowned MXGP champion capitalised on a small mistake by Webb, taking the lead and the race victory.
Webb was able to recover quickly from his small crash, holding onto second place. Race one leaders Jeremy Martin and Marvin Musqiun were having another battle back in the pack with Britain's Dean Ferris and Belgium's Jeremy Van Horebeek. The group traded blows before Musquin was able to round them all up and take third place. Dean Wilson secured fourth and Martin finished fifth. The results left both team's USA and France on eight points with one race remaining.
Australian rider Luke Clout had a much better performance in race two, impressing with a 13th place result. Dean Ferris had a troublesome ride having to recover from two separate crashes for a 19th place finish. Team Australia dropped two places to sit in tenth spot with one race to go.
Race three geared up as a battle between USA and France and as the gates dropped the crowd went crazy. The limelight of the opening few laps was stolen by Kiwi Ben Townley as he shot out to the lead to show he still has what it takes to compete with the world's best.
MXGP champion Romain Febvre closed in on Townely with the support of the crowd, before showing his class to overtake the veteran and set eyes on a French victory.
Importantly, team mate Gautier Paulin was also having a strong race holding fourth position. Focus moved to American Justin Barcia who stepped up to the moment working his way from outside the top ten to make the all important pass on Paulin. Unfortunately for the American's Cooper Webb suffered from a stalled bike and was unable to move through the pack like his compatriot.
The final moto ended with Febvre holding off a fast finishing Townely ahead of Barcia in third. A fifth place finish by Paulin was enough for the French team to take out the title for a second straight year, the win made all the more significant being on home soil.
Australia were amazingly in touch of a podium finish at one stage trailing only four points behind third placed Belgium. This was until Dean Ferris suffered two late crashes falling to 20th position. Waters had another strong race crossing in 12th place to give Australia a seventh place standing overall.
Team Latvia's Pauls Jonass was awarded the Ricky Carmichael award for the most promising young rider.
2015 Final MXoN Standings
1. France 14
2. USA 16
3. Belgium 56
4. Estonia 66
5. Switzerland 67
6. The Netherlands 72
7. Australia 77
8. New Zealand 92
9. Germany 97
10. Austria 103
Race One MXGP / MX2 Top Ten
1. Justin Barcia (USA, Yamaha), 35:41.061
2. Evgeny Bobryshev (RUS, Honda), +0:13.103
3. Maximilian Nagl (GER, Husqvarna), +0:16.316
4. Marvin Musquin (FRA, KTM), +0:19.053
5. Jeremy Martin (USA, Yamaha), +0:25.080
6. Ben Townley (NZL, Honda), +0:36.939
7. Gautier Paulin (FRA, Honda), +0:39.665
8. Shaun Simpson (GBR, KTM), +1:00.544
9. Valentin Guillod (SUI, Yamaha), +1:03.697
10. Jeremy Seewer (SUI, Suzuki), +1:15.50
13. Todd Waters
33. Luke Clout
Race 2 MX2 / MXOpen Top Ten:
1. Romain Febvre (FRA, Yamaha), 35:38.570
2. Cooper Webb (USA, Yamaha), +0:03.133
3. Marvin Musquin (FRA, KTM), +0:10.889
4. Jeremy Van Horebeek (BEL, Yamaha), +0:15.384
5. Jeremy Martin (USA, Yamaha), +0:19.463
6. Dean Wilson (GBR, KTM), +0:40.540
7. Glenn Coldenhoff (NED, Suzuki), +1:05.159
8. Tanel Leok (EST, Kawasaki), +1:14.771
9. Pascal Rauchenecker (AUT, KTM), +1:23.712
10. Jeremy Seewer (SUI, Suzuki), +1:25.074
13. Luke Clout
19. Dean Ferris
Race 3 MXGP / MXOpen Top Ten: 
1. Romain Febvre (FRA, Yamaha), 35:29.211
2. Ben Townley (NZL, Honda), +0:03.179
3. Justin Barcia (USA, Yamaha), +0:04.708
4. Evgeny Bobryshev (RUS, Honda), +0:13.119
5. Gautier Paulin (FRA, Honda), +0:14.435
6. Cooper Webb (USA, Yamaha), +0:15.539
7. Jeremy Van Horebeek (BEL, Yamaha), +0:39.713
8. Dean Wilson (GBR, KTM), +0:45.383
9. Ken de Dycker (BEL, KTM), +0:54.619
10. Glenn Coldenhoff (NED, Suzuki), +0:57.639
12. Todd Waters
20. Dean Ferris