The CDR Yamaha rider has retained the red leader's plate after a second overall in Broadford.
By Hayden Gregory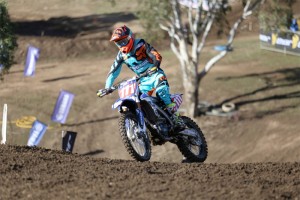 Ferris rode well in the testing conditions proving himself a key contender in the 2016 championship race. In the first moto Ferris found himself back off the pace from the start. He was circulating as low as seventh before a late race surge saw him climb up to a determined fourth place finish.
The second moto proved more successful as Ferris moved into the lead on the opening lap before stretching away to a 12 second victory. The 4-1 result scored the Yamaha rider second for the round behind KTM's Kirk Gibbs. Ferris retains the championship lead by just one point following three rounds of competition.
"Good and bad day for me in a lot of ways," Ferris said. "The first race wasn't good and it took me far too long to adjust to the track and the difficult conditions. It wasn't until the last three or four laps that I was able to work things out and understand what I needed to do.
"So, moto two was far better and the way I think I should ride. I was able to get to the front early and focus on what I needed to do and not by ducking and dodging roost. My lines were good and the bike worked well.
"Thank you to everyone at the CDR Yamaha team who worked so hard in trying conditions. The bike was bullet proof with thanks to the team keeping it in top shape all day," Ferris added.
Ferris' teammate Dan Reardon moved up to sixth place in the championship following an 8-7 result. The 2015 supercross champion finished sixth for the day and is starting to show a lot more consistency on the longer outdoor tracks.
"It was a tough day for all riders out there," Reardon said. "It was so soft and muddy in the morning but it dried to a one lined, super rutty track that was extremely rough so it was so easy to go down. It wasn't my greatest day but considering the conditions, it was ok and I feel like things are starting to come together.
"I'm sixth now in points and the next few tracks are some of my favourites, so hopefully I can continue to gain some more positions in the coming weeks," he concluded.
Team Owner of CDR Yamaha, Craig Dack was pleased with his team's efforts considering the difficult track conditions.
"The conditions today made it tough for not only the riders, but the technical staff and mechanics to get the bikes turned around and ready for three seasons on a wet track, so a huge thanks to our off track team for working tirelessly over the weekend.
"On track, I'm happy with how things are progressing. To be leading the championship after three rounds in a very talented MX1 class is an honour and something we are proud of this early in the season. Dean showed plenty of mental strength to turn his day around and that second moto performance was dominant.
"We are also happy with Dan's progress. We have set goals for Dan and he is on track to achieving them and we believe his best is still to come. As a team, sitting first and sixth is an excellent position to be in and we look forward to Murray Bridge in a few weeks' time."
Round four of the MX Nationals takes place at Murray Bridge, South Australia on May 22.