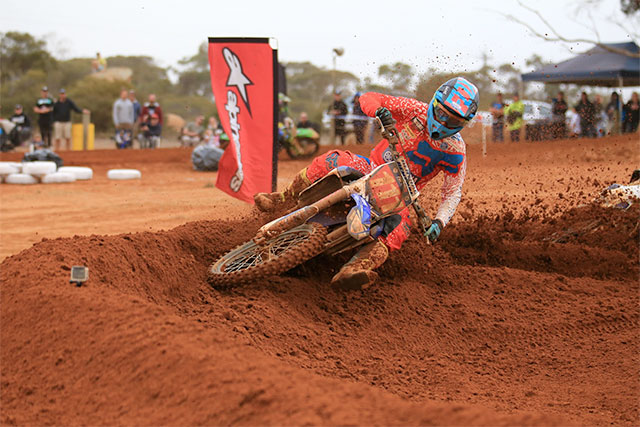 It was a mixed day for the team with Dean Ferris losing his red leader's plate and Dan Reardon succumbing to a virus.
By Hayden Gregory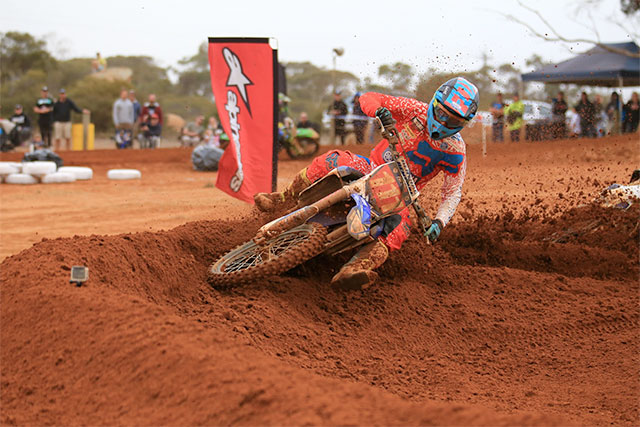 Entering the fourth round as MX1 overall leader, Dean Ferris was determined to keep his hot run of form going. In moto one he circled with the lead riders to finish third before a crash in moto two resulted in him dropping to fourth.
In such a competitive class the smallest mistakes can cost you vital championship points. A 3-4 result landed him fourth overall for the day, also falling one point behind KTM's Kirk Gibbs in the outright standings.
"I had a tough day today and couldn't really get comfortable on the track," Ferris said. "It looks soft and loamy but you actually ride on a hard base and I just couldn't settle on the track and produce my best.
"Things are still close in the championship and there is a three way battle at the top at the moment, which is making things exciting. I think it will come down to the rider that makes the least mistakes and keeps putting good races together at each and every round."
Team mate Dan Reardon entered the weekend obviously affected by sickness. Despite the illness he soldiered on in moto one to finish in a very respectable sixth place.  Reardon headed straight to RACESAFE Officials post race who quickly deemed his round over. A dropping blood pressure and spiked heart rate were enough for Reardon to pull the pin, watching the second moto from the sidelines.
"It was disappointing to not be able to see out the day and race both motos but I trust the judgement of the RACESAFE team and elected to sit out race two," Reardon said. "I just felt terrible after the first race and was probably lucky to be even able to see that one out. 

"We have a tough round in the sand next week in Perth, so this week will be about trying to get my health back as quickly as possible as racing in the deep sand of WA will take plenty of strength and endurance." 
Team Manager Craig Dack knows that both riders will be keen to hit back next round in Peth given a frustrating weekend,
"No doubt it was a tough day for us and we had to work to overcome some adversity," stated Dack. "Dean just didn't feel 100% with the track but to his credit he kept fighting on out there and gave it everything he had. 
"Dan just can't take a trick at the moment with his health and so far he has been under the weather at two of the four rounds. He didn't look good when he finished moto one and I think it was the smart call to sit out of moto two.