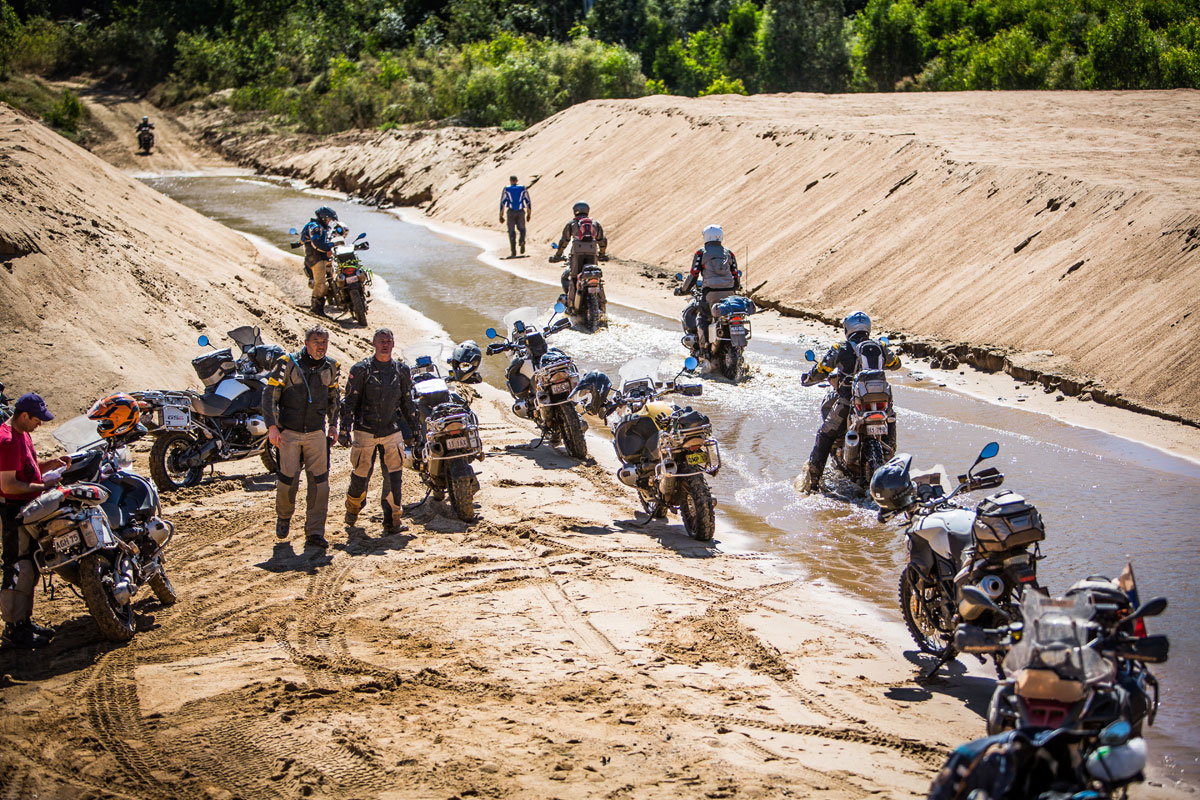 A 3500km trek taking in croc-infested river crossings, wide-open outback roads and long days in the saddle: this is the adventure of a lifetime
STORY & PHOTOGRAPHY NIGEL INGLIS/FUELFOTOMEDIA

For a few years now, one on my bucket list was to complete an off-road adventure that would blow my mind. Sure, I've seen the moto-adventure movies that you will know: Long Way Round, Long Way Down and, more recently, Adam Riemann's MotoNomad which, needless to say, has taken the genre to another level. But I wanted (and needed) to experience all I hoped an adventure ride would be — and I wasn't disappointed.
Cue the 20th-anniversary 2014 BMW Safari, Enduro Edition. The concept itself is simple: get a bunch of blokes who love the off-road adventure environment, put them on what many consider to be the flagship adventure bike and send them off across the Savannah Way from Darwin to Cairns for eight days of epic adventure that would see the riders traverse a 300-metre-wide croc-infested river, eat prawns straight off the boat at Karumba and experience the vastness of the distant horizon along a stretch of dirt where you can hold it wide open for just about as long as you like.
Now that I look back, for days on end during the Safari I was able to truly believe there was no tomorrow. You see, on a ride like this you become one with your rhino, for no longer is it simply a bike — it becomes your best friend, your salvation even, and while you can punish it harshly and have the time of your life doing that, a very high level of respect for the outback environment is necessary if you and your rhino are to survive. And out there you visit places where the ordinary doesn't exist. Did it blow my mind? Absolutely!
Many of the blokes rode their bikes to the Territory, some from Sydney via Birdsville, up to Threeways and into Darwin. Others came from Victoria — although these guys took out a couple of emus on a brand-new GS, ordered a new one that got delivered to their location 1500km from the dealership, stripped the adventure parts off the old bike, fitted them to the new one and off they went! Yep, many of the guys lived the old saying that just getting to the destination was an adventure on its own.
Having made some new great friends of my own on the way from Brisbane, I headed off with them to meet the rest of the guys on the Darwin waterfront.

PRE-SAFARI DINNER
At the pre-Safari dinner, and as a BMW Safari-virgin, I was keen to learn from other riders and hear tales of their earlier Safari experiences. However, as we looked at the planned route and listened to the briefing, it became clear that even the most Safari-hardened riders were in for some new experiences themselves.
Never before had a BMW Safari ventured to such remote locations or for such extended periods. To be sure, we had a doctor, professional tyre-support and gear truck, the most senior BMW tech in the country and what I would regard as some of the best planning by BMW and its team that we could hope for in an event like this. Daily briefings and route maps would be provided, such announcements adding to the building excitement as we tucked into a seafood dinner on the Darwin wharf.
On two legs, we were advised, fuel would be specially transported to the isolated cattle stations we'd be passing through to ensure that even those bikes with the larger-capacity tanks could reach their destinations. Once out there, the barrels were a reassuring sight — particularly on one day when a few of us, who may not have been as conservative on the throttle as we should've been, came in running on nothing but fumes.
With the pre-Safari briefing dinner out of the way the night before, the 90 or so riders geared up we departed in our time from Darwin, headed for what we knew was going to be the adventure ride of our lives. And while every day was epic, there were a few days that really stood out for me.

LORELLA SPRINGS
Coming into Lorella Springs was without doubt some of the hardest riding we experienced over the whole ride — and this was only day two. The dust, while manageable if you dropped back a little from the rider in front, was part of the challenge most days. On this leg, the real test arrived at the end of the almost 500km day, with more than two hours of riding sand, ruts and rocks that really tested even experienced riders.
When you arrive at Lorella Springs — known for its warm water bubbling out of the ground into a swimming hole just next to your swag, incredible gorges, wildlife and, of course, the isolation — you're left in awe of how magical the place is. I think just about every rider stripped off and headed straight for the springs because we'd covered so much hard ground that day. It wasn't until after our swim that the host mentioned a freshwater croc lived only a few meters up the creek. "They don't really eat us, though," he said.
Coming into Lorella Springs was where the pro-tuition helped so much for those who attended the training (see the sidebar). Those core riding techniques like not chopping off the throttle, keeping your momentum and looking ahead all helped keep the rhino upright in the sand.
KARUMBA
If you've never been to Karumba, you need to put it on your bucket list. The sunset alone is reason enough to get there for one day once in your life, let alone getting there on the beast of a rhino that is the BMW R 1200 GS Adventure — my preferred weapon of choice.
Like every other night on this adventure, arriving at Karumba brought as much relief to be off the rhino after almost 500km as pleasure to be in such an idyllic location. As the official photographer for this adventure, I quickly downed a cold one and mentioned to BMW's Miles Davis (he can wheelie a bike, this bloke!) that we needed to get a bike out to the beach for a sunset shot.
After we got the shot, I remember the beers flowed pretty freely that night and, even though I lost my rhino keys for about three hours (you know that feeling!), we still managed to roll out the next day headed for over 500km of more action-packed riding — the biggest day of this adventure — to Hahn River. This was the big day we'd all been waiting for: a 300m across waters known to be inhabited by crocs: the saltwater human-eating type.

THE MITCHELL RIVER
The riders had talked about this crossing all week and, as we drew closer, the tension mounted. During the recce, Miles and Nick from Maschine Pty Ltd — the brains behind the adventure — told the group the water was hip deep with a strong flow. So strong, in fact, they'd had to walk their bikes across when they made the crossing several weeks earlier. They expected us to have little problem in making the crossing at this time of year — so they said, but anything was possible.
I had been riding with Adam Riemann all day — a fun-packed adventure on its own, I have to say — and when we arrived at the Mitchell we wasted no time in heading straight across so we could get as much action video and as many shots as we could.
Imagine bright blue skies, dense bushlands bordering rainforest on the banks and a gorgeous, steady flow of water the length of a footy field all in the middle of nowhere and you have the Mitchell River crossing.
Surprisingly, only a few bikes managed to bin it at the start of the crossing, as it was a bit tricky on entry. After that, a steady throttle saw all riders make the crossing with no problem. On exit, the sand made it interesting for a few of them but everyone got across with bodies and bikes in one piece. As I had heard one bloke say, "We're all here to have fun but also make sure we all get across and home in one piece." That was the mantra the whole trip; even more so in the tricky areas. And not a single croc was seen (that day).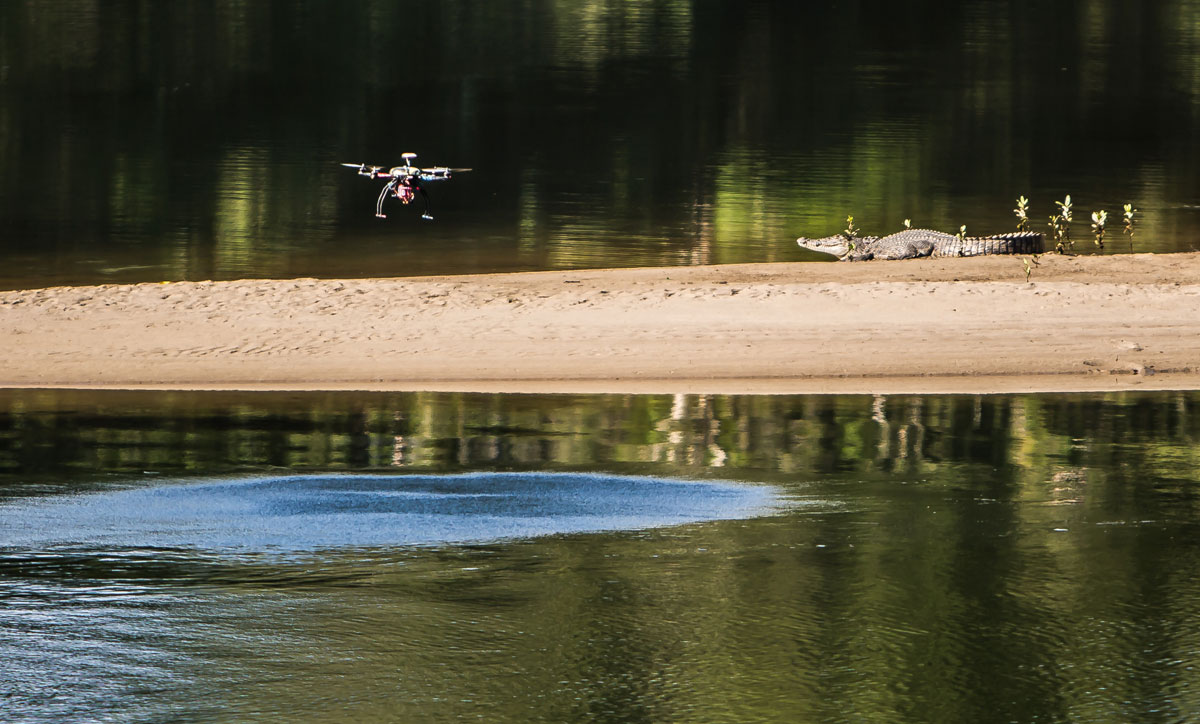 THE DAINTREE
Having left Hahn River for Cooktown the day before, we headed south towards Palm Cove. The transformation of the landscape from the likes of Hells Gate only a few days earlier to coming through the Daintree and across the Daintree River Ferry was nothing short of remarkable. You could reach out to the ferns and palms and almost taste the moisture in the air as we entered the Daintree, which was in stark contrast to the black boys, dust and giant ant hills that we had become so accustomed to up to this point.
We went from dust and sand riding in the outback landscape to some slippery mud and a few steep descents inside the Daintree canopy, emerging to a gorgeous coastal ride into our final destination, Palm Cove. This is another place for your bucket list if you haven't already been there: magical, postcard-perfect scenes of palm tree-lined beaches and resorts. Of course, the brassy, punchy note of an Akro pipe on a 1200 GS Adventure completes that mental picture perfectly for me.
And what a finish it was: blokes covered in red dust hugging each other and high-fiving. Even though many of us had worn the same clothes for several days straight, nothing could have restrained the sheer joy of completing this incredible adventure.
On a ride like this, the true nature of this incredible country we live in becomes apparent — it really is as vast as it is diverse in its landscape. And what better way to do it than on the back of your favourite adventure bike?
In writing this piece for DIRT ACTION I would like to mention that I did not receive any payment from anyone or anything in kind to promote or mention the brands or people referred to.
——-
TUITION FROM THE PROS
In preparation for the Safari, I participated in the BMW off-road course. The course is specifically designed for BMW riders and tailored to BMW bike systems. With tuition by former pro motocross riders Shane Booth and Chris Urquhart, 40 of us spent two full days putting our BMWs through their paces in a controlled environment at the Hidden Valley Race Circuit in Darwin.
For this course we focused on the skills we'd need to get through Safari in one piece. Sure enough, there were no serious injuries on the Safari and, as for the guys who did the course with Shane and Chris, I have little doubt that result was due in large part to their expert tuition.
We covered the basics as well as more advanced techniques: everything from standing position, throttle and clutch control, obstacles, hill climbs and descents, through to drifting and emergency braking, among other things.
For me, the course gave me a chance to become comfortable on the bike and a deeper understanding of the bike's and my own strengths and weaknesses before heading off on the Safari adventure. Being more comfortable increased my confidence and made the Safari so much more enjoyable — and no doubt safer.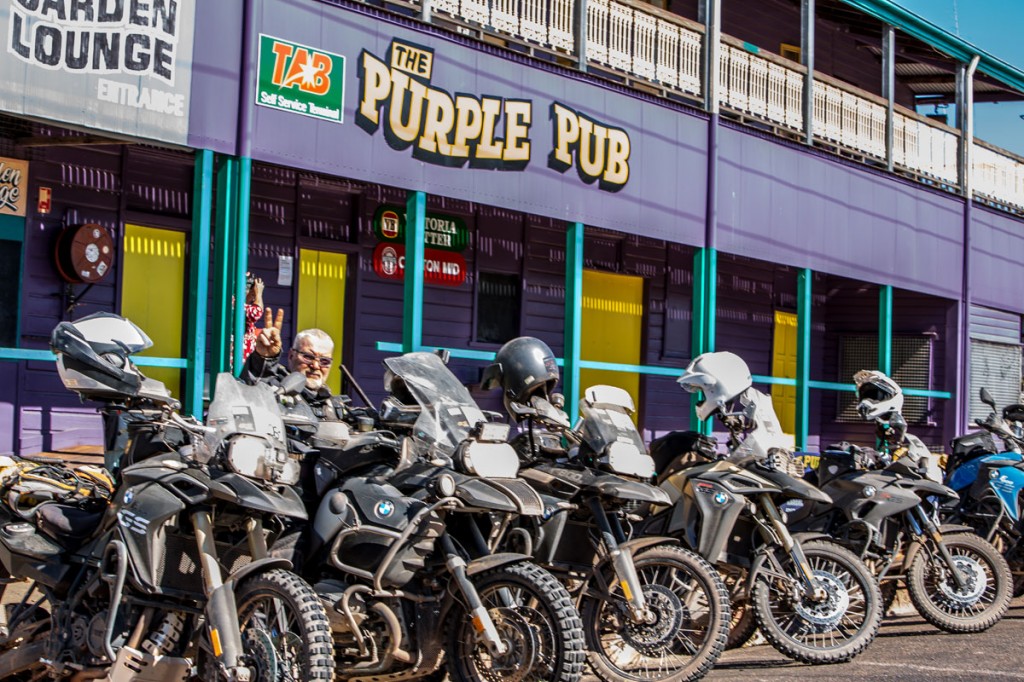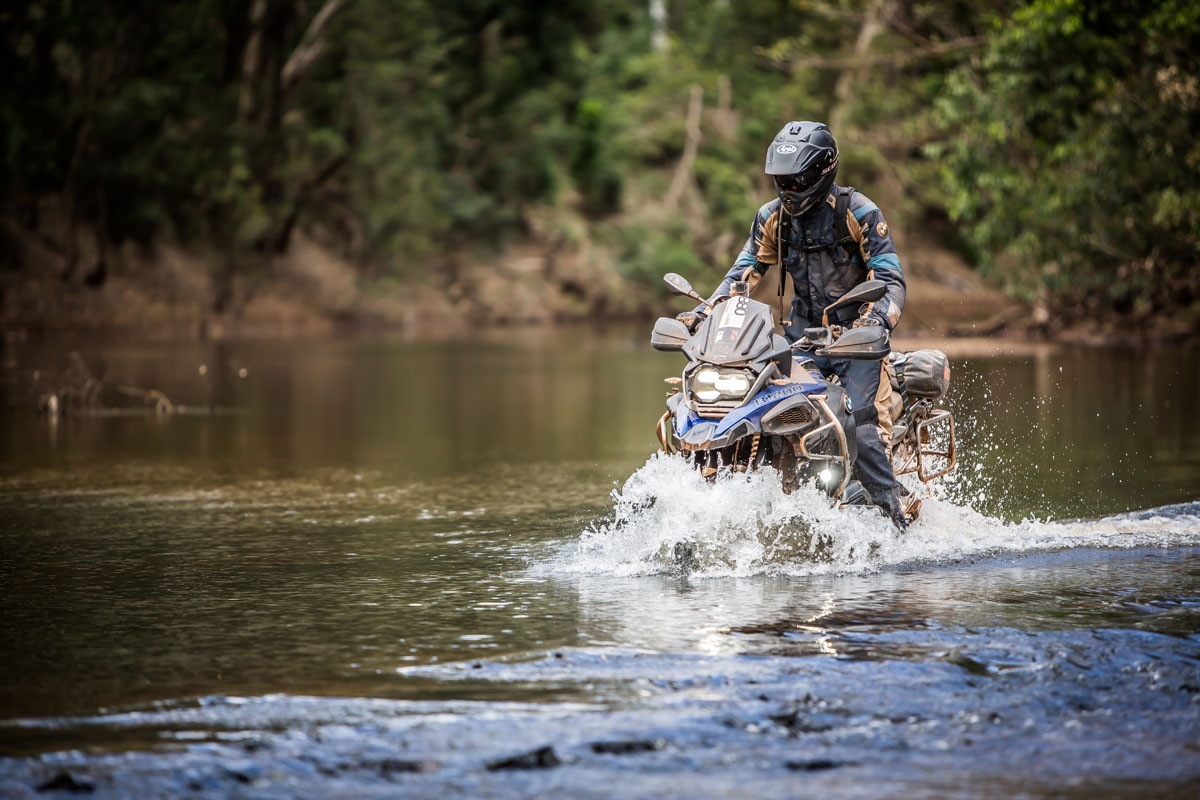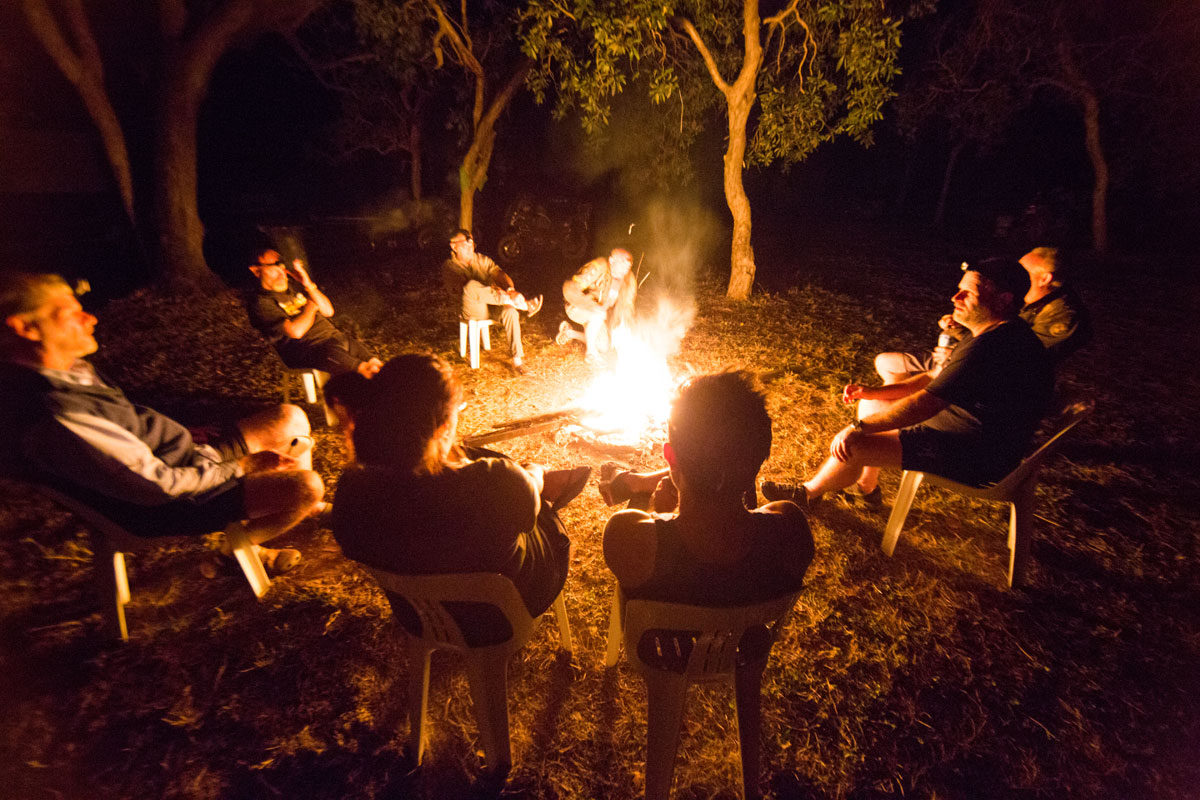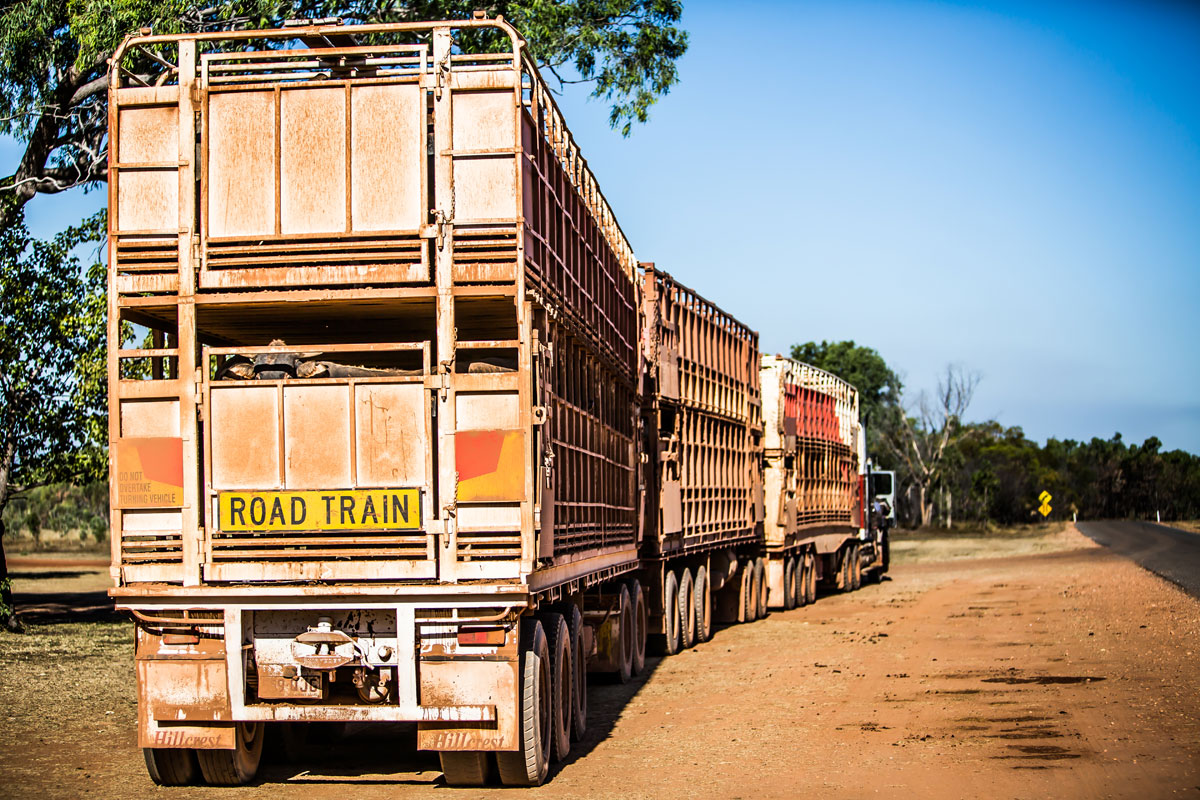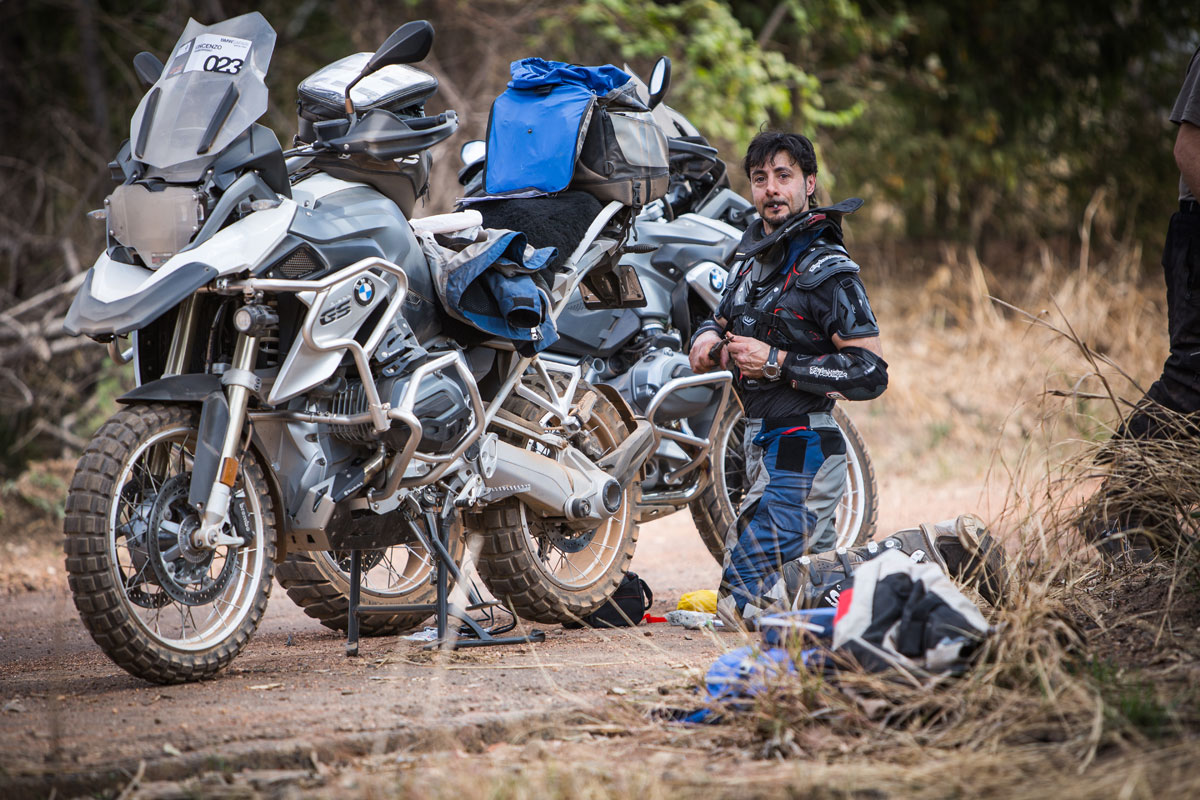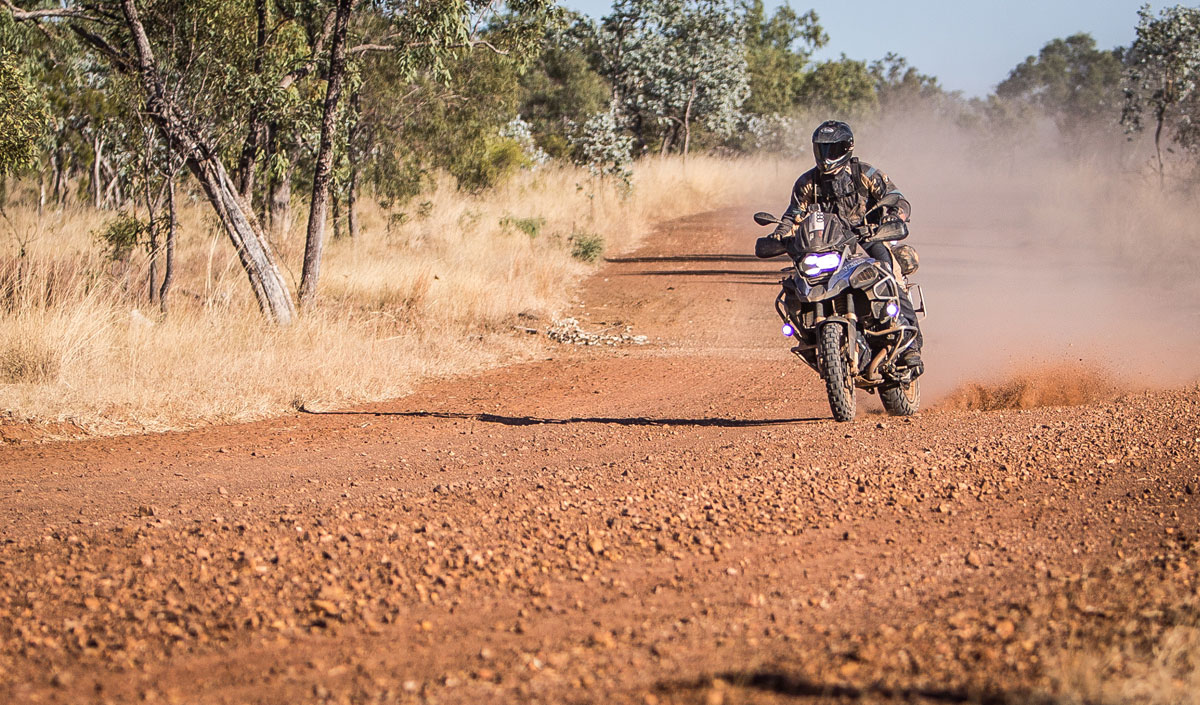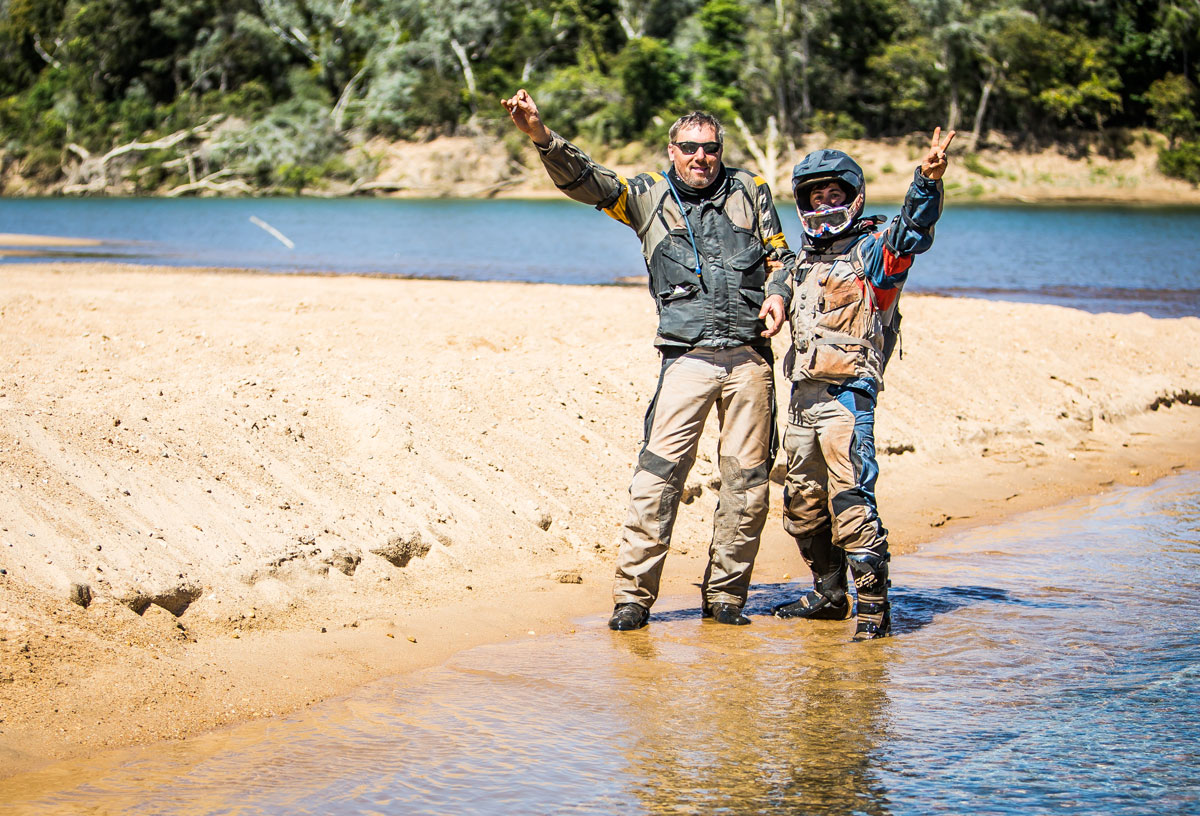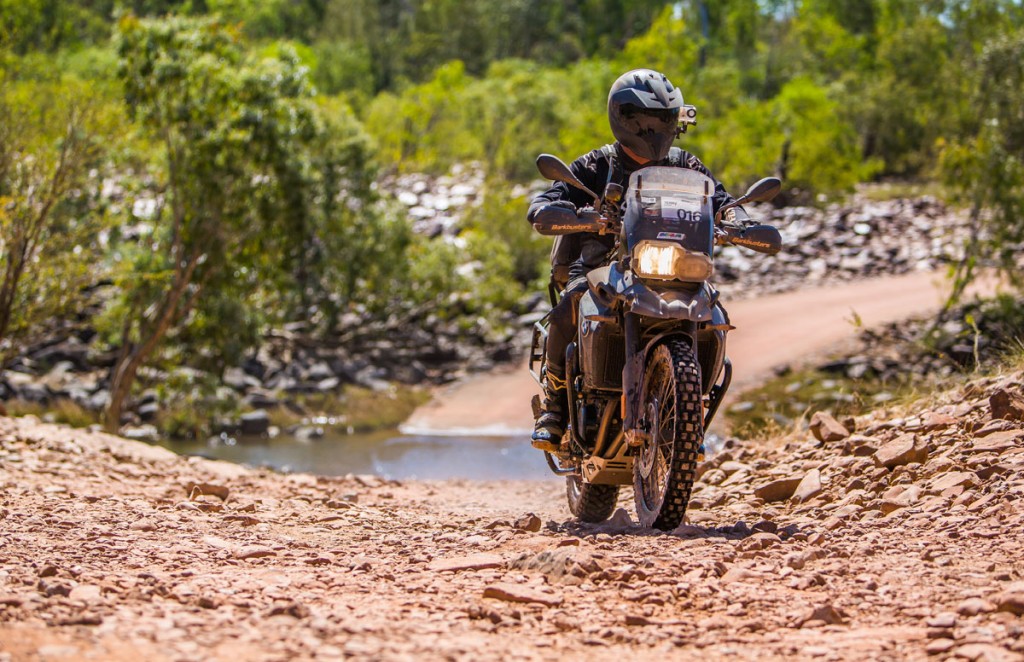 Want more articles like this? Subscribe to Dirt Action Magazine.