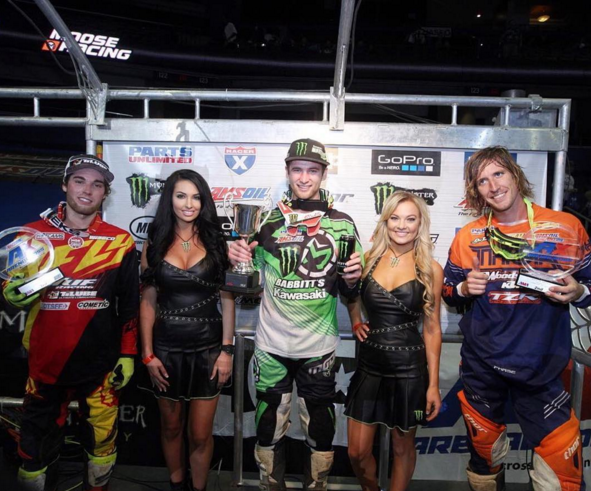 Gavin Faith has taken over the AMSOIL Arenacross leader board following a clean sweep at Amalie Arena.
By Hayden Gregory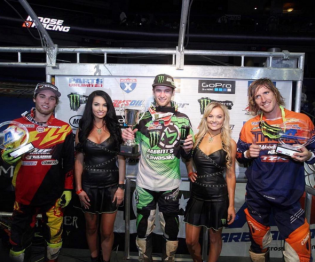 In a cruel start to proceedings championship leader Jacob Hayes crashed in practice forcing him to withdraw from the night's main events. In his absence Team Babbitt's/Monster Energy/AMSOIL Kawasaki's Gavin Faith outshone the field to not only take victory for round seven but also the championship lead.
In the opening moto Faith led start to finish scoring the holeshot before leading the field for the entire 15 laps.  In a relatively uneventful moto Travis Sewell and Jace Owen followed in tow with the top three remaining unchanged for the whole race.
Faith was given the opportunity for inversion choosing the number eight case meaning half the field would be switched for main event number two.
As gates dropped again, Sewell scored the holeshot edging out Faith who fell into second. The pressure started to mount and Sewell crashed on lap two handing the lead to the Kawasaki rider.
Given the lead, Faith stretched ahead to claim his second win of the night. He was however tested by Jace Owen who stalked Faith the whole race ultimately finishing less than a second behind him. Sewell was able to recover from his early race crash to finish third.
Faith's 1-1 result was enough to move into the overall championship lead given Hayes late withdrawal from the event. Travis Sewell was also able to move into second overall finishing 2-3 to sit three points clear of Hayes.
In the Lites class Cody VanBuskirk pipped championship leader Daniel Herrlein to take the main event victory. The pair had a great battle out front with Herrlein constantly placing pressure on the KTM rider. VanBuskirk was able to hold strong taking the chequered flag by just over one second to Herrlein. Sean Cantrell rounded out the podium leading home the rest of the field.
Arenacross Class Overall Results (Main Event Results)
Gavin Faith, Fort Dodge, Iowa, Kawasaki (1-1)
Travis Sewell, Westville, Ind., KTM (2-3)
Jace Owen, Matoon, Ill., Honda (4-2)
Gared Steinke, Woodland, Calif., Husqvarna (3-4)
Steven Mages, Sardinia, Ohio, Kawasaki (5-5)
Daniel Herrlein, Bethesda, Ohio, Honda (6-8)
Ben Lamay, Forney, Texas, Honda (8-6)
Chris Blose, Phoenix, Kawasaki (10-7)
Cody VanBuskirk, Harvard, Ill., KTM (9-9)
Jared Lesher, Ball Ground, Ga., KTM (11-11)
Eastern Regional Arenacross Lites Class Results
Cody VanBuskirk, Harvard, Ill., KTM
Daniel Herrlein, Bethesda, Ohio, Honda
Sean Cantrell, Murrieta, Calif., KTM
Scott Zont, Algonquin, Ill., KTM
Brandon Hartranft, Brick, N.J., Yamaha
Ramyller Alves, Coconut Creek, Fla., Yamaha
Brandon Marley, McEwen, Tenn., KTM
Dylan Walker, Lancaster, Ohio, Honda
Scott Meshey, Dade City, Fla., Kawasaki
Dylan Rouse, Florence, Ky., KTM
Arenacross Class Championship Standings
Gavin Faith, Fort Dodge, Iowa, Kawasaki – 276 (4 Main Event Wins)
Travis Sewell, Westville, Ind., KTM – 265 (5 Main Event Wins)
Jacob Hayes, Liberty, N.C., Kawasaki – 262 (8 Main Event Wins)
Chris Blose, Phoenix, Kawasaki – 256 (1 Main Event Win)
Ben Lamay, Forney, Texas, Honda – 185
Jace Owen, Matoon, Ill., Honda – 175
Gared Steinke, Woodland, Calif., Husqvarna – 171
Daniel Herrlein, Bethesda, Ohio, Honda – 148
Kyle Regal, Lake Elsinore, Calif., Husqvarna – 130
Kyle Bitterman, West Pelzer, S.C., Husqvarna – 115
Eastern Regional Arenacross Lites Class Standings
Daniel Herrlein, Bethesda, Ohio, Honda – 105 (2 Main Event Wins)
Dylan Walker, Lancaster, Ohio, Honda – 63
Jacob Williamson, Swartz Creek, Mich., Kawasaki – 49 (1 Main Event Win)
Steve Roman, Apollo, Pa., Suzuki – 43
Justin Cooper, Cold Spring Harbor, N.Y., Yamaha – 42
Lane Staley, Chillicothe, Ohio, KTM – 39
Tyler McSwain, Shelby, N.C., Yamaha – 35
Henry Miller, Rochester, Minn., Honda – 34
Sean Cantrell, Murrieta, Calif., KTM – 30
Brandon Hartranft, Brick, N.J., Yamaha – 30