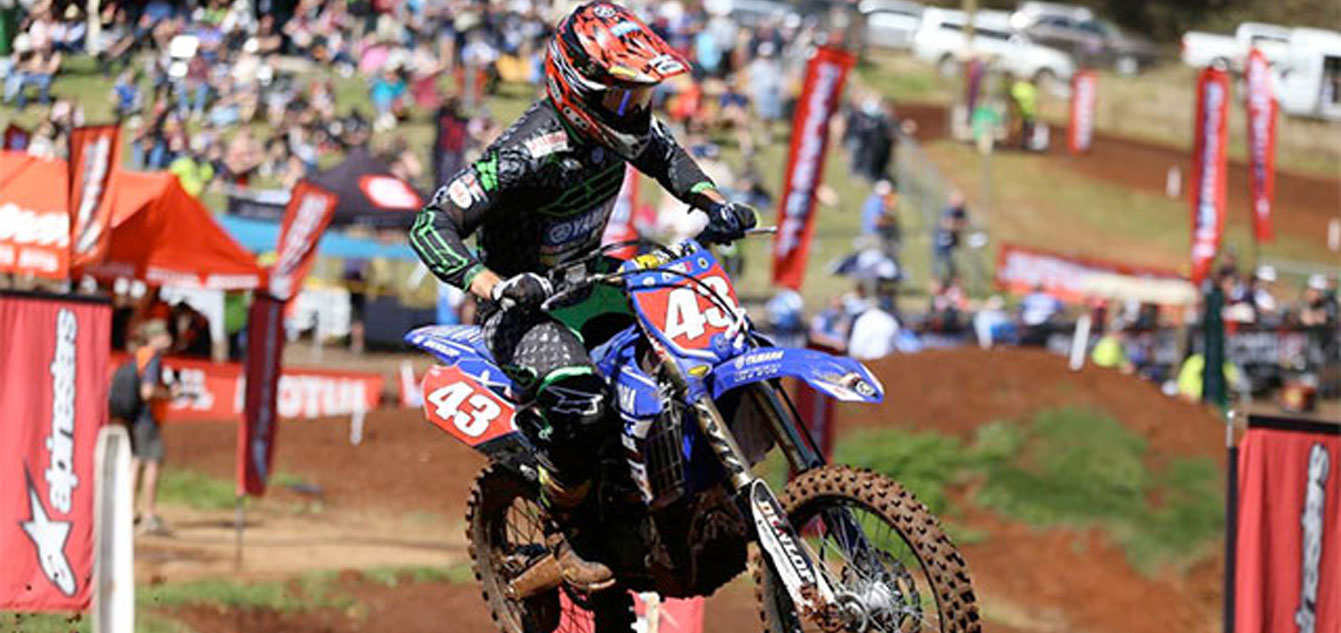 Mitch Evans has recorded another round clean sweep, extending his overall championship lead to 15 points.
By Hayden Gregory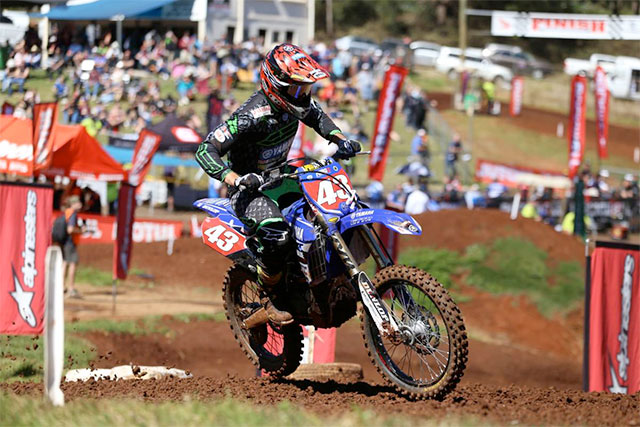 Yamalube Yamaha Racing's Jordan Hill started the day on the right note scoring the fastest time in qualifying ahead of Kaleb Barham and Connor Tierney.
As gates dropped in the first moto, Barham was able to show similar speed to score the holeshot ahead of Hill and Kirkland. Evans was looking like a man on a mission with his new red plate quickly moving into third before an incident with Hill and Barham saw him dramatically claim the lead.
The Yamalube Yamaha duo of Evans and Hill began to pull away from the pack and the pair were set for a battle right down to the wire. Ultimately Evans was able to hold on for moto victory defending team mate Hill's every move. Wade Kirkland would finish third.
In moto two, Evans once again quickly assumed the race lead ahead of Cooper Pozniak and Kirkland. As the trio battled up the front Kirkland was able to pass into second before Pozniak also fell victim to Tierney, Barham and Hill after a small mistake on lap six.
Evans continued to look the goods out front, pressing forward to claim the chequered flag for a second time. The victory marked a perfect scorecard for the rider as he extends his championship lead with one round left to race. –
"To go 1,1 at Toowoomba is awesome for me. I've never really went very well here so I'm stoked," Evans said.
"The goal coming in to Round 9 was to try and win both motos and give myself a bit of a points buffer for the final round, and we definitely achieved that at Toowoomba today.
"I've been a bit unwell the past week, so I'm pretty happy with what I achieved even though I'm sick. I rode the best I could, got some good starts, and managed to make some quick passes, so it was a solid day for me.
"To stretch out my lead, and to go into Coolum in a healthy position in the championship takes the pressure off a little, but the plan is to go 1,1 there and finish off the season on a perfect note."
Jordan Hill claimed second for the round ahead of Tierney in third. With the season set to come to an end next weekend in Toowoomba all eyes will once again be on the Yamalube Yamaha pair of Evans and Hill with only 15 points separating the duo.
Pirelli MXD round nine results
1) Mitchell Evans – 70 points
2) Jordan Hill – 60 points
3) Connor Tierney – 58 points
4) Cooper Pozniak – 55 points
5) Zak Small – 52 points
6) Billy Harth – 47 points
7) Hugh McKay – 46 points
8) Kaleb Barham – 44 points
9) Luke Abela – 44 points
10) Justin Hart – 43 points
Pirelli MXD Championship Standings
1) Mitchell Evans – 486 points
2) Connor Tierney – 471 points
3) Cooper Pozniak – 449 points
4) Wade Kirkland – 446 points
5) Kaleb Barham – 394 points
6) Jordan Hill – 382 points
7) Zak Small – 376 points
8) Hugh McKay – 314 points
9) Lochie Latimer – 303 points
10) Levi McManus – 273 points