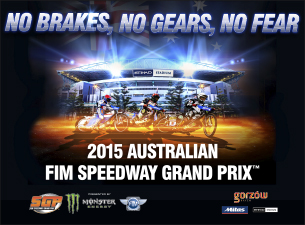 The 2015 DON Smallgoods Australian FIM Speedway Grand Prix has taken formation at Etihad Stadium this week, with media having the first opportunity to check out the venue, and hear from riders at an intimate press conference this morning before racing kicks of this Saturday night.
Press Release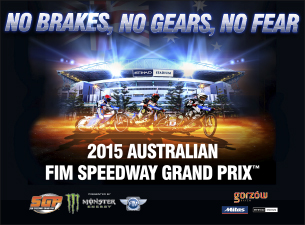 With close to 5,000 tonnes of dirt brought in to the iconic venue in order to build the Australian Speedway track, Etihad Stadium will host to up to 30,000 screaming fans on Saturday night, with Australia's stars set to put on the performance of a lifetime on home soil.
With 2002 marking the last time that the FIM Speedway Grand Prix visited Australia in Sydney, Etihad Stadium CEO Paul Sergeant shared his excitement in welcoming Speedway back to Australia, and say's Melbourne is in for a real treat come Saturday night.
"It's going to be a ripping weekend and we're really looking forward to it. We're incredibly ambitious, and it's been a good three years in the making getting the event here," he said.
"What you see now is the result of many, many people working very hard together. We're expecting anywhere between 25, and 30,000 spectators in year one which is well above our original expectations.
"What is interesting is that 68 per cent of ticket sales are from interstate and overseas, which really shows the reach that an event like this has.
"We have a dedicated Speedway following in Australia that are coming far and wide, and we're really looking forward to putting on a great show."
Australia's Wildcard entrant for Saturday night's event, Sam Masters, echoed Sergeant's words, and shared his excitement in being provided with the rare opportunity to race the Speedway Grand Prix in front of a home crowd.
"I was eleven years old the last time the Speedway GP was in Australia, I took it all in then, and I've been to Cardiff a couple of times, so I've seen what the GP is all about," he said.

"I'm a bit nervous, but it should be a lot of fun. Hopefully I can go out there and get amongst it
"I've raced a lot of them before, and I've beat some of them before which is good, but being the Grand Prix it's a lot harder."

Tickets for the 2015 DON Smallgoods Australian FIM Speedway Grand Prix will remain on sale until the event kicks off on Saturday night.