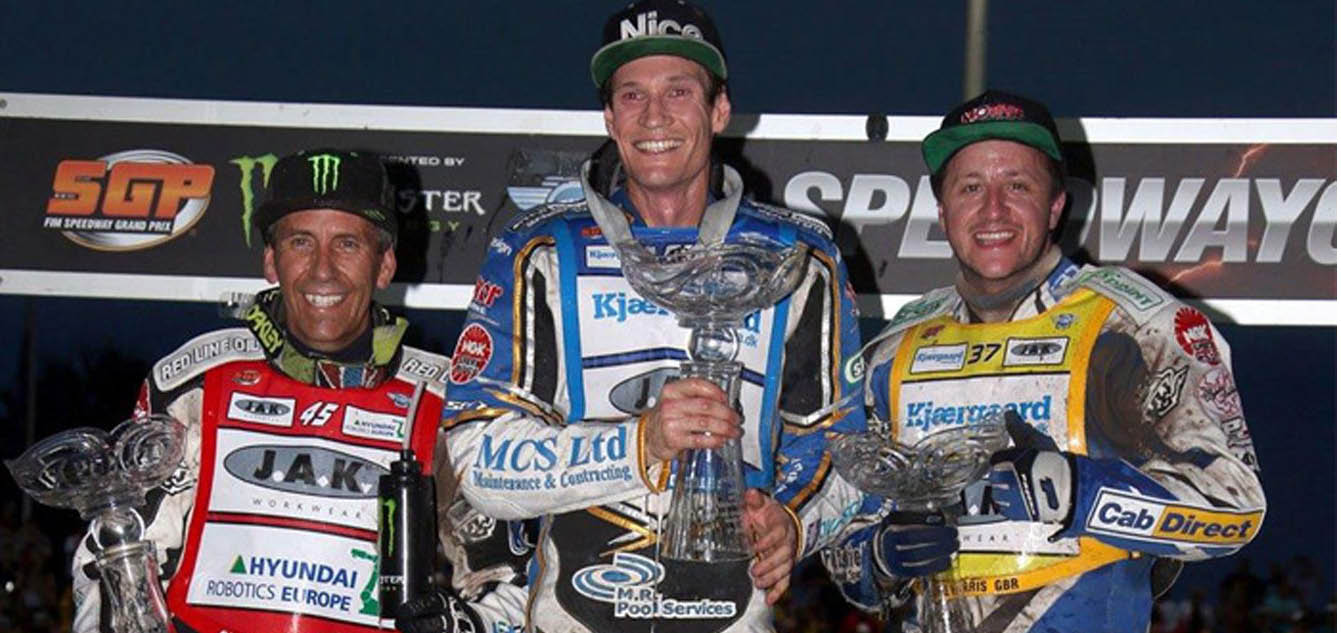 The Australian rider has won the Mitas Czech SGP in Prague.
By Hayden Gregory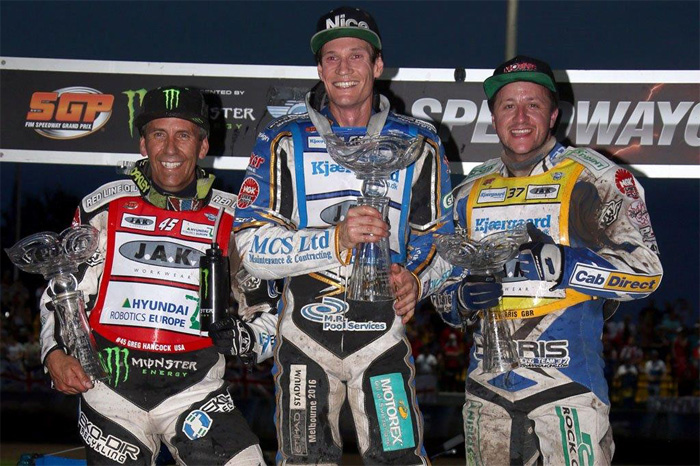 Jason Doyle has finally tasted victory in the Speedway World Championship after surging past Greg Hancock in Prague.
"I can't believe what has happened," Doyle exclaimed. "On the last lap when I was out in front, I was just thinking 'come on! Keep going!' Everyone tells you that when you're going to win something, you can hear the engine ticking over nicely. In the final, the bike rode perfectly. It's one of those moments I'll never forget. 
"I knew I wouldn't be able to out-trap Greg off one. He's just one of those class acts. I went wide and tried to pick up the dirt. I had enough speed to cut back and when the bike hooked up and I had the speed to pull past Greg, I couldn't believe it.
"Once I got some fresh air, I knew I'd be able to do something with it. I was happy with second, but to finally win it is a moment I really can't comprehend.
"It's a feeling I never thought I was going to have, but it has happened and it's a monkey off my back to say I've won a Grand Prix." 
Eight of the last 12 Prague winners have gone on to take out the world championship and Doyle will no doubt be looking to join this list. He currently sits in fourth place on 42 points.
"I hope I can just get on the rostrum. If it feels like this, I hope I can win a lot more."
Victory was made all the sweeter with Doyle's family trackside, cheering him on.
"My sister and her husband came to Horsens last time as well and that didn't go the way I wanted it to. I had my Dad here in Prague too. I wish my fiancée had been here, but hopefully it can happen again and she'll be there," Doyle added.
"My family haven't been over here for 10 years. It's really difficult for them when they're working; they work quite hard. 
"When we're away from home and you don't see your family, it's very difficult. But this is the life we chose and to have this feeling, it's all worth it." 
It has been a long road for the Aussie, making his SGP debut at the age of 29 a break he was looking for since moving to Europe back in 2005.
"When I first made it into the Grand Prix, I didn't know what was going to happen. 
"But I have invested a lot and I've got some really great guys working for me. I know sometimes I give them a really hard time, but tonight they wanted it as much as I did. When I won, they were at the pit gate first and that just shows what a team I have got.
"It's a long road. For the young kids who start off thinking they're going to make it straight away, it's a big wake-up call. 
"I did it the hard way and you really appreciate the best things when they happen." Doyle finished.
Greg Hancock now leads the World Championship on 56 points after finishing in second place for the round, overtaking Aussie born rider Tai Woffinden.
"It's crazy to think I've been coming here all these years, but I still feel as young as these guys and sometimes younger." Hancock said.
"I was really looking forward to winning and I wanted it really badly, but Jason was on a mission.
"I think this is one of the best GPs we've had here. That's the most passing I have ever seen here. It's really exciting to have that because you have possibilities. The Marketa has always been a great place."
MITAS CZECH SGP SCORES:
1 Jason Doyle 17,
2 Greg Hancock 18,
3 Chris Harris 10,
4 Niels-Kristian Iversen 11,
5 Bartosz Zmarzlik 13,
6 Fredrik Lindgren 11,
7 Tai Woffinden 9,
8 Nicki Pedersen 8,
9 Andreas Jonsson 6,
10 Peter Kildemand 6,
11 Piotr Pawlicki 6,
12 Antonio Lindback 5,
13 Maciej Janowski 5,
14 Matej Zagar 5,
15 Chris Holder 5,
16 Vaclav Milik 3,
WORLD CHAMPIONSHIP STANDINGS: 
1 Greg Hancock 56,
2 Tai Woffinden 48,
3 Chris Holder 44,
4 Jason Doyle 42,
5 Maciej Janowski 41,
6 Bartosz Zmarzlik 38,
7 Antonio Lindback 35,
8 Peter Kildemand 34,
9 Nicki Pedersen 32,
10 Fredrik Lindgren 32