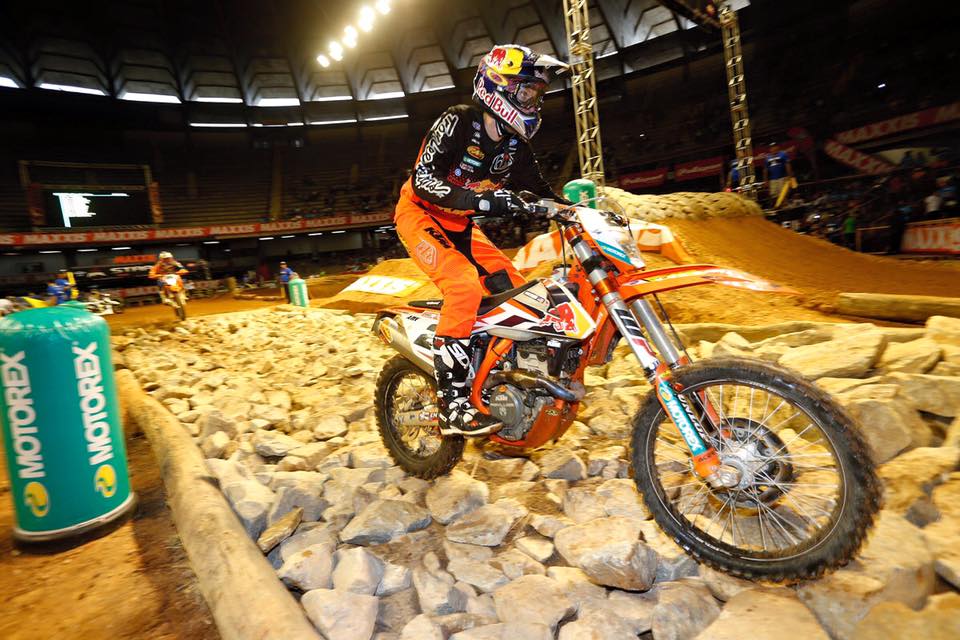 Red Bull KTM's Cody Webb was a standout at round four of the FIM SuperEnduro World Championship.
By Hayden Gregory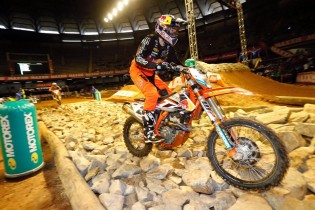 Webb was extremely consistent in Brazil recording a 1-2-2 result to take his third victory for the season. The American rider narrowly grabbed the win over top championship contenders Colton Haaker and Jonny Walker.  The one point victory can be attributed to some last corer brilliance, passing Walker for second in the final moto.
"I'm happy to be back on the top step of the podium again," Webb said, "It all came down to the last corner for the overall and I managed to get by Jonny Walker for the win." 

"I felt like I was riding well, but I made it hard on myself with too many mistakes" said Webb. "I guess we're all just pushing so hard that it's so easy to crash. We've got a weekend off now and then it's the final two rounds back to back so everything is still to play for."
Heading into the penultimate round Jonny Walker maintains a nine point lead over Webb and Haaker a further 15 point behind him.
"In the first race I rode sort of tense and just couldn't do anything to challenge the top two guys," Walker explained. "In race two I focused on my own race and the win came my way.
"I almost had the overall but to finish third overall and only two points off the top step of the podium is good. I've got the championship lead with two rounds to go so I'm looking forward to getting back to Europe."
The SuperEnduro World Championship will continue on March 12 in Prague, Czech Republic.
Final 1
1. Cody Webb
2. Colton Haaker
3. Jonny Walker
4. Mario Roman
5. Alfredo Gomez
6. Taylor Robertt
7. Kevin Rookstool
8. Ty Tremaine
9. Aurelien Addesso
10. Rico Rigor
Final 2
1. Jonny Walker
2. Cody Webb
3. Colton Haaker
4. Taylor Robert
5. Alfredo Gomez
6. Mario Roman
7. Ty Tremaine
8. Aurelien Assesso
9. Kevin Rookstool
10. Rico Rigor
Final 3
1. Colton Haaker
2. Cody Webb
3. Jonny Walker
4. Taylor Robert
5. Alfredo Gomez
6. Ty Tremaine
7. Mario Roman
8. Aurelien Addesso
9. Kevin Rookstool
Maxxis FIM SuperEnduro World Championship Standings
1. Jonny Walker – 212 Pts
2. Cody Webb – 203 Pts
3. Colton Haaker – 188 Pts
4. Alfredo Gomez – 142 Pts
5. Taylor Robert – 141 Pts
6. Ty Tremaine – 116 Pts
7. Mario Roman – 109 Pts
8. Taddy Blazusiak – 79 Pts
9. Kevin Rookstool – 71 Pts
10. Andreas Linusson – 45 Pts