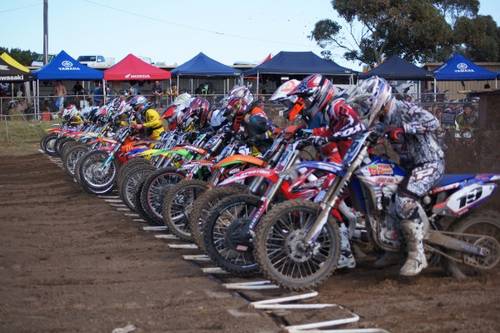 The 2012 Smarter than Smoking Motocross Championships Round 1 was staged at Coastal Park Henderson on Sunday  the 22nd of April.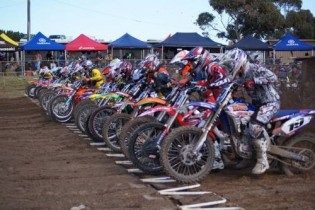 Record numbers of riders filled the grids in all classes across solo's and quads. The pits were bursting at the seems while the club parking had spilled across to the international Kart way by 10am. Twenty four degree beautiful weather, Track groomed immaculately, great conditions for racing for a bumper start to the Motocross season.
Eight classes of racing over 3 moto's entertained the crowds for over seven hours with some fierce and furious racing that enthralled everyone there.
The Quad Championship class race 1 was hole shotted by Jordan Dummett with Luke Gaisford coming through for the pass to take the lead, with Josh Mckay following him through to get into second place, a battle royal between Dummett and Mckay and Mortimer ensued with Ryan Lancaster suffering a visible mechanical holding down 5th. Gaisford took the win with McKay 2nd and Dummett 3rd. Race 2 saw International NZ visitor Andrew Vincent take the holeshot but the deep sand whoops caught him out with a huge back end kick, that almost saw him over the bars, Gaisford motored on to the lead with Ryan Lancaster in second and Dummett in 3rd. Race 3, Luke Gaisford got the holeshot with Ryan Lancaster on his back wheels , a tight race between the two with only seconds between them for most of the moto, Joel Mortimer took a superb 3rd place in front of Vincent and McKay.
1st Luke Gaisford
2nd Ryan Lancaster
3rd Jordan Dummett
The Pro lites class was flagged as the one to bring surprises from the upgrading Juniors entering seniors for 2012. Erhard Pajewski took the early lead in race 1 with David Birch close behind, Dean Porter had made his way up into 3rd and when Birch and Pajewski tangled in the S Bend, Porter streaked to the front and increased his lead every lap, Josh Adams took 2nd with Dylan Sexton in 3rd.Race 2 Porter took the holeshot in the 6 lap sprint and lead the race from start to finish, still putting in 1.46 laptimes on the ever increasingly whooped out track, David Birch 2nd and Scott Kramer 3rd. Race 3 Porter again out front early with Birch in tow, this wasnt to last as Birch's woes for the day saw him relegated back a handful of places, Josh Adams consistency saw him take 2nd with Scott Kramer in 3rd Reece Colgan in 4th and Mitchell Taylor in 5th. State Round 2 at Collie will be an interesting round where the butterflies have settled and all riders can go about getting points for the remainder of the 15 moto's
1st Dean Porter
2nd Josh Adams
3rd Scott Kramer
The penultimate Pro Open Class was missing its 2011 #1 rider Michael Addison due to work commitments but the grid had a star studded field none the less. Race 1 was lead out the blocks by long time racer Paul Humberston leading a charging Dean Porter, who was a man on a mission to complete the Pro lite/Pro Open double. Porter charged up the bridge for a brilliant pass on Humberston with young Anthony Hicks also closing the gap on the leaders, Hicks took the pass jumping side by side over Autotarader and held 2nd place to Porter to the chequers, Humberston in 3rd. Race 2 saw Josh Adams with the holeshot, but Porter took the lead in lap 2 and Adams was also passed by Humberston relegating him to third for the 6 lap sprint. Race 3 the finale to the round and also the day was worth waiting for and the crowds were all there to the end to see the young Bunbury boy Anthony Hicks take on his rivals. The race was on from the start with Paul Humberston taking the holeshot,  the crowd in the pit spectator area cheer and oooh and ahh with every pass, jump and corner. Hicks took the lead and held onto it for 2 laps, but Humberston got it back over Autotrader jump, Porter also took advantage and squeezed into 2nd on the same lap with Hicks now back in 3rd with Louis Calvin closing in, all 4 riders close and coming into lapped riders, taking advantage and some losing pace, closing the gap for a tight finish, with the last lap board up, Hicks made his move and passed Humberston, but was passed back immediately, Porter motored to the win, Humberston in 2nd Hicks 3rd Calvin 4th
1st Dean Porter
2nd Paul Humberston
3rd Anthony Hicks
Dean Porter "So stoked on yesterday winning both classes at the state round, Hopefully i can keep it up. That track was real rough!. Big thanks to all my sponsors for making this year possible, and big thanks to epic lifestyle fitness I haven't felt that good on a rough coastal park ever! "
The day was finalised with presentations in the clubrooms, many riders in attendance to celebrate and saviour their wins, some their losses, but after a 6 month off season, Motocross Action was back in season.
You can see the next 2012 Smarter than Smoking State Round 2 at Stockton Park Collie on May 27th
Spectators $20 kids under 16 free Canteen and Bar available.
Bethwyn Gaisford
WAMX