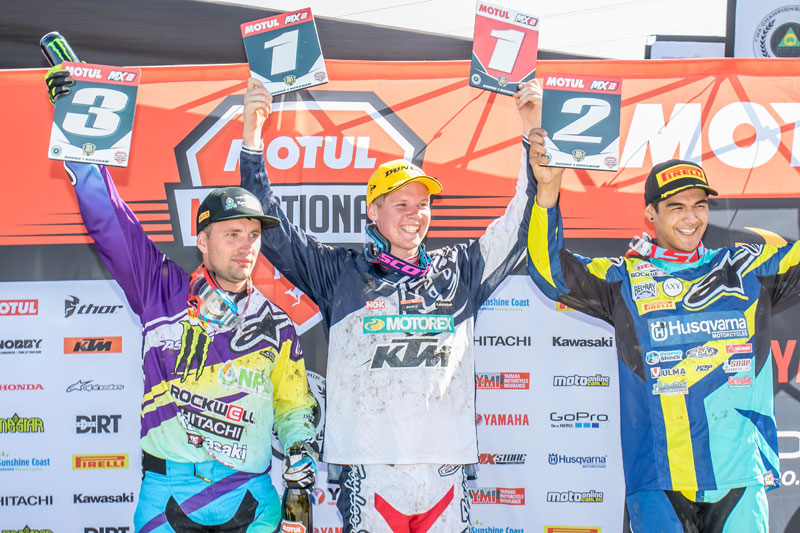 The KTM rider has opened his account with a win at the first round of the 2016 MX Nationals.
 By Hayden Gregory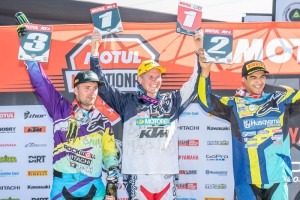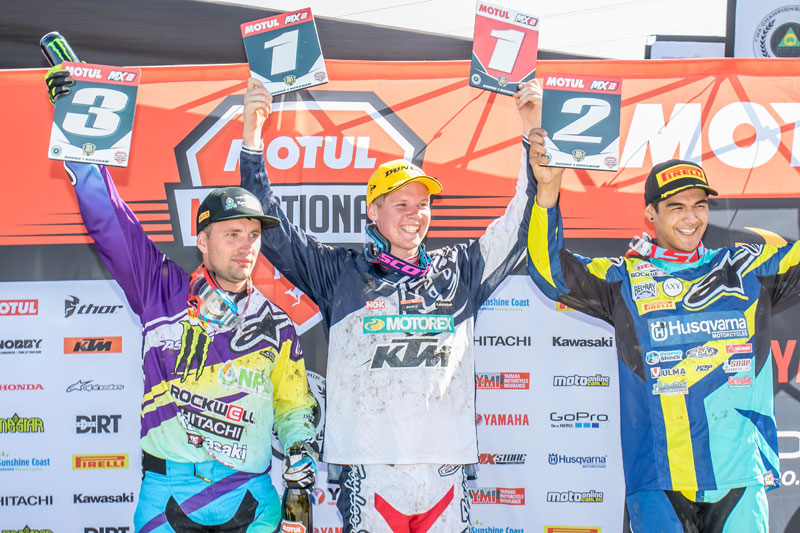 As the first race of the season kicked off, Husqvarna's Luke Arbon scored the holeshot with Jayden Rykers and Ward following closely behind. It didn't take long for the new KTM recruit to catch Rykers, moving into the lead and asserting his position at the front.
Arbon, Rykers and Jake Moss battled it out behind Ward with the riders changing positions a number of times over the 30 minute moto. Ward secured the chequered flag while Moss claimed second in his return to racing while Nathan Crawford overtook both Arbon and Rykers over the final laps to finish third.
The second moto started in a similar fashion to the first with Arbon scoring his second holeshot of the day. Crawford found himself once again in the mix after riders began to sort themselves out over the opening few laps. At the halfway stage, Arbon continued to hold onto first position ahead of Crawford with Wilson Todd and Jed Beaton also pushing forward.
Todd quickly became the focal point of the race as his sheer speed saw him climb through the ranks to second before applying pressure to Arbon for the race lead. As expected the Serco rider shifted to the front going on to take the chequered flag in a very impressive moto. Jed Beaton enjoyed a second place finish with Crawford once again scoring third.  Moss and Ward would race to fourth and fifth respectively.
As total points were tallied Ward would come out on top with a 1-5 result, just beating home a very consistent Crawford in second. Jake Moss scored third place in a very positive opening round for the Moss family.
"I'm actually a bit surprised to be standing on the podium after my result in the last one – I got a terrible start in the second race and that made my job hard, but I'm really stoked to be standing here on the podium at round one that's for sure," Ward said after the race.
"All of the guys are riding very well, and you can already tell it's going to be a competitive year. I might have the red plate but it's going to be some tough racing this season that's for sure.
"I can't thank my team, my sponsors and my mechanic enough – it feels nice to reward them with the win after all the hard work they've put in."
MX2 250 Pro Class Results – Round 1 Horsham
MX2 250 Pro Class – Moto 1 
1 Caleb Ward – KTM SXF250
2 Jake Moss – Kawasaki KX250
3 Nathan Crawford – Husqvarna TC 250
4 Jayden Rykers – KTM SX 250
5 Luke Arbon – Husqvarna FC250
6 Jed Beaton – Yamaha YZ 250F
7 Kyle Webster – Honda 250F
8 Wilson Todd – Yamaha YZ 250F
9 Dylan Wills – KTM 250SXF
10 Kale Makeham – Yamaha YZ250f
MX2 250 Pro Class – Moto 2 
1 Wilson Todd – Yamaha YZ 250F
2 Jed Beaton – Yamaha YZ 250F
3 Nathan Crawford – Husqvarna TC 250
4 Jake Moss – Kawasaki KX250
5 Caleb Ward – KTM SXF250
6 Hamish Harwood – KTM 250sxf
7 Luke Arbon – Husqvarna FC250
8 Kale Makeham – Yamaha YZ250f
9 Wade Hunter – Yamaha YZ 250F
10 Jayden Rykers – KTM SX 250
MX2 250 Pro Class Overall Round 1 
1 Caleb Ward 61
2 Nathan Crawford 60
3 Jake Moss 60
4 Wilson Todd 58
5 Jed Beaton 57
6 Luke Arbon 50
7 Jayden Rykers 49
8 Kale Makeham 44
9 Hamish Harwood 43
10 Kyle Webster 41