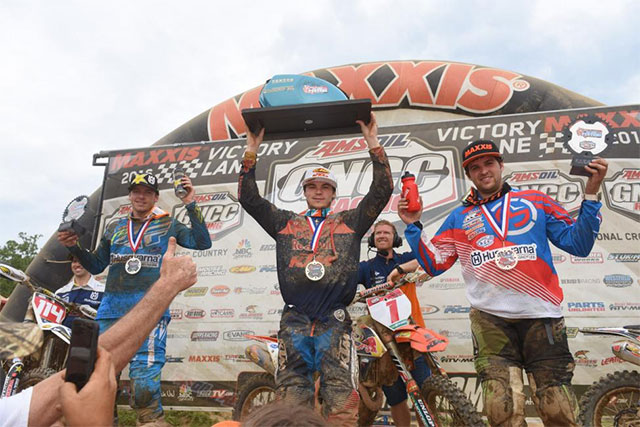 Kailub Russell has made it five wins in a row at Sunday Creek Raceway in Millfield, Ohio.
By Hayden Gregory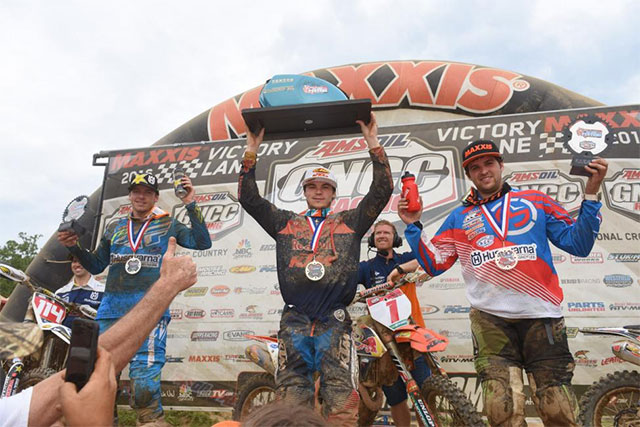 A gruelling three hour race in testing conditions has seen the FMF/KTM rider extend his overall championship lead. Russell started the pick of the riders securing the $250 All Balls Racing Holeshot Award ahead of Jordan Ashburn and Aussie Josh Strang.
By the second lap, Russell began to pull away and he would not be caught showing maturity and skill to piece together a fantastic winning ride.
"After I caught up from falling down and was back in the lead my main goal was to pull away and just ride steady for the remainder of the race," said Russell. "To get another win and extend my points lead is always my main goal and today was just a good day. 
Josh Strang won the battle for the minor positions taking out second place after his main opposition Thad Duvall collided with a lapper in the closing stages.
"When I finally got back in the front Kailub and Josh already had a pretty good time gap," said Duvall. "I was running similar lap times to them, but just couldn't make it happen. I've actually never been on the podium here, and I consider this my hometown race so it was great to finish third in front of my family and friends."
Russell now leads the championship 29 points ahead of Strang. Third placed Chris Bach sits 91 points adrift of the leader.
The Wiseco John Penton GNCC -Millfield, Ohio – Round 7 of 13
XC1 Pro Event Results:
Kailub Russell (KTM)
Josh Strang (HSQ)
Thad Duvall (HSQ)
Ricky Russell (SUZ)
Steward Baylor Jr. (KTM)
Russell Bobbitt (KTM)
Cory Buttrick (KTM)
Grant Baylor (YAM)
Jordan Ashburn (KTM)
Chris Bach (HON)
Overall National Championship Standings:
Kailub Russell (196)
Josh Strang (167)
Chris Bach (105)
Trevor Bollinger (89)
Jordan Ashburn (84)
Craig Delong (81)
Daniel Milner (80)
Steward Baylor Jr. (75)
Thad Duvall (74)
Ryan Sipes (66)