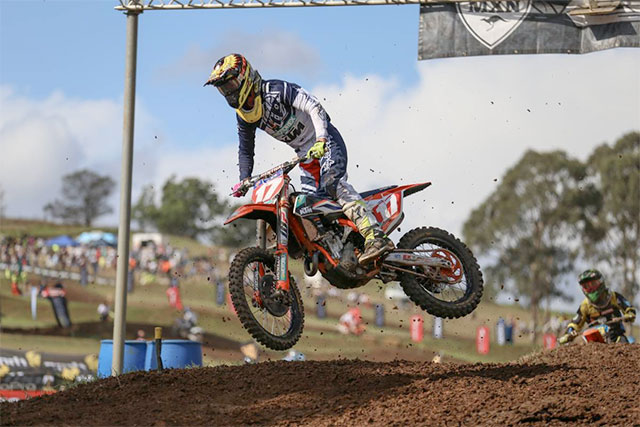 The KTM rider has proved a serious frontrunner in this year's MX Nationals.
By Hayden Gregory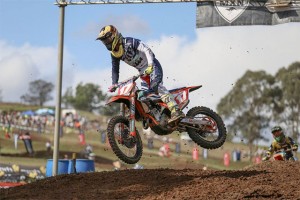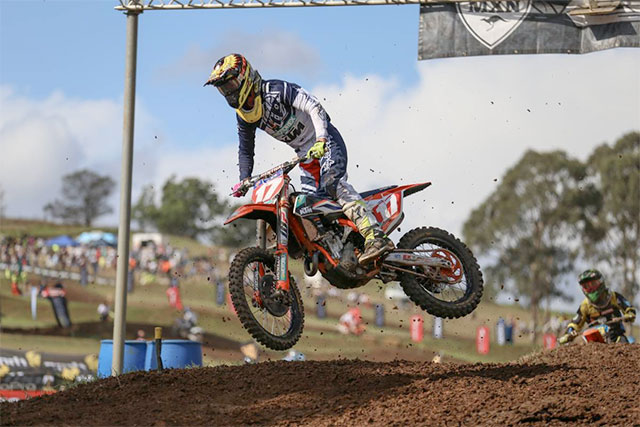 Caleb Ward has secured his second consecutive round win with a dominant display in Appin. A 1-3 finish was enough to stand atop the podium while extending his championship lead.
Yamaha's Wilson Todd qualified the fastest for moto one before continuing the pace to score the holeshot in the main. Todd looked fantastic over the opening few laps, extending his lead on the field while focus shifted to the battle for minor positions.
Caleb Ward was way back in sixth place while Jake Moss began to press Todd for the lead. By lap eight Moss had moved right onto Todd's rear wheel before making the pass and gaining control of the race.
Round one winner Ward began picking his way through the pack just as quickly as Todd was falling. With three laps to go Ward had stepped up a gear and looked unstoppable making the decisive pass on Moss before going on to take the chequered flag with ease. Moss was able to hold onto second with Jayden Rykers impressing in third.
In the second moto National Pump Monster Energy Kawasaki's Jake Moss looked out for revenge sparking his race with a speedy holeshot. Ward fell into second place followed by Makeham, Arbon and Crawford. Serco Yamahas Todd had a disastrous start, crashing off the straight, forcing him into the mechanics area for maintenance.
By lap four, Ward once again found himself leading the pack and was looking confident of a round clean sweep. Three laps later however a crucial mistake in a rut, left Ward in the dirt, crashing out to fourth position.
Makeham was the benefactor of Ward's crash, gaining the race lead before holding on to take a break through MX2 victory. Crawford impressed with second place while Ward was able to pass Arbon to finish in third.
Ward was the pick of the weekend, extending his championship lead with another round win.
"It was actually looking like it was going to be a perfect day for me – I won the first moto, and then I was leading in the second race and I went in to a rut that had caved in and I had already committed, and I ended up going down, but we fought back and I'm stoked to be standing on the top step," Ward said.
"Everyone was riding very well today, and the track was pretty crazy out there towards the end so it was good to get through with the help of KTM, and keep the red plate.
"I can't thank the team enough, this time last year I was in a completely different position, so it's awesome to be able to leave Appin with the round win and the championship lead, I'm stoked."
Makeham and Arbon claimed the remaining podium positions for round two, while Crawford and Moss hold second and third in the championship.
The Motul MX Nationals will now begin preparations for round three of the championship, being held at Broadford in Victoria on May 1, 2016.
Motul MX2 round two results
1) Caleb Ward – 65 points
2) Kale Makeham – 60 points
3) Luke Arbon – 56 points
4) Nathan Crawford – 55 points
5) Jayden Rykers – 52 points
6) Wade Hunter – 47 points
7) Jake Moss – 47 points
8) Jed Beaton – 45 points
9) Wilson Todd – 44 points
10) Richie Evans – 39 points
Motul MX2 Championship Standings
1) Caleb Ward – 126 points
2) Nathan Crawford – 115 points
3) Jake Moss – 107 points
4) Luke Arbon – 106 points
5) Kale Makeham – 104 points
6) Jed Beaton – 102 points
7) Wilson Todd – 102 points
8) Jayden Rykers – 101 points
9) Wade Hunter – 84 points
10) Hamish Harwood – 81 points