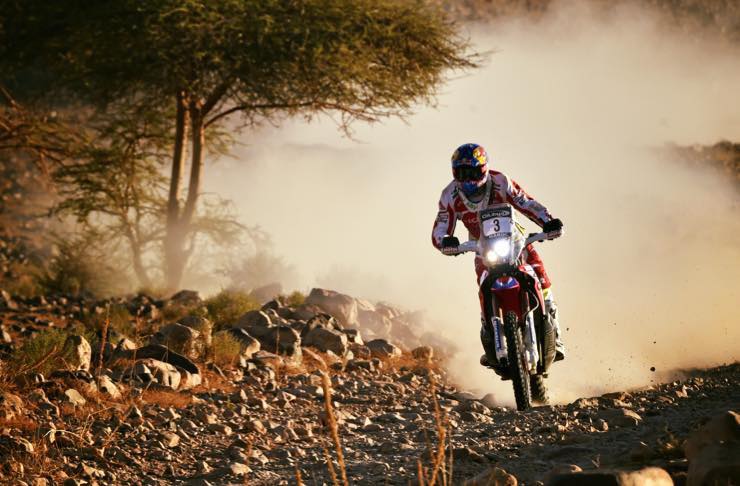 Day three of the Morocco rally has seen Team HRC head the podium with Paulo Goncalves and Joan Barreda finishing first and second respectively.
By Hayden Gregory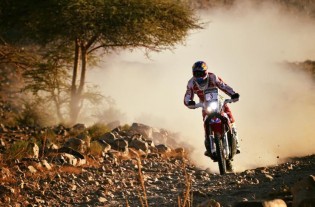 Paulo Goncalves was the fastest rider over the 247km special stage showing impressive pace and navigational skills.  The stage victory was vital for the Portuguese rider to remain in touch with the leading group. Sitting in fifth position, Goncalves holds a 36 minute buffer over the next rider however trails teammate and leader Barreda by just six minutes.
"Finally, today I had a stage without any mistakes," Goncalves stated. "I set out to attack, I made up some time and won the stage. Tomorrow will be another day, a very important one, as I will be opening the track which is always a good thing.
 "I will do my best, as always, to get the best possible result, but let's not forget that the most important thing here is to fine-tune everything, as this is the last test before the Dakar, so we can't fall and pick up injuries as we are so close to the Dakar and there wouldn't be time to recover."
A second place result for Joan Barreda has reinforced his grip on the championship lead. At the halfway stage the Spanish ace controls the race by four minutes. The HRC rider is trailed by the KTM trio of Sam Sunderland, Mathias Walkner and Pablo Quintanilla.
"Today was a day where we started from behind," Barreda commented. "The objective was to catch up with the riders ahead. They set a very fast pace all day long, but thanks to our concentration we were able to make it, in other words: mission accomplished."
Australian rider Toby Price failed to start stage three due to sickness. The AORC champion once again took to Facebook to share his dismay.
"Yesterday was not my day, I wont be starting day 3 of the ‪#‎RallyeOilibiadue to sickness!
I can't go more then 30 minutes without needing to pay the bathroom a visit and with almost 500km today, racing is not going to happen!
Jordi, Meo and I are all sitting out the day with the same problem.
‪#‎TP87News ‪#‎NotHappy"
Results Stage 3

| | | | | | | |
| --- | --- | --- | --- | --- | --- | --- |
| Pos. | Rider | Num | Nation | Team | Constructor | Time/Gap |
| 1 | GONCALVES Paulo | | POR | Team HRC | Honda | 2:47'20 |
| 2 | BARREDA Joan | | SPA | Team HRC | Honda | + 1'18 |
| 3 | WALKNER Mathias | | AUT | KTM Red Bull Rally Factory | KTM | + 3'01 |
| 4 | QUINTANILLA Pablo | | CHI | KTM Warsaw Rally Team | KTM | + 5'05 |
| 5 | SUNDERLAND Sam | | GBR | KTM Red Bull Rally Factory | KTM | + 7'48 |
| 6 | BENAVIDES Kevin | | ARG | Honda South America Rally Team | Honda | + 16'18 |
| 7 | FARIA Ruben | | POR | Husqvarna Factory Rally Team | Husqvarna | + 18'42 |
| 8 | RENET Pierre-Alexandre | | FRA | Husqvarna Factory Rally Team | Husqvarna | + 18'56 |
| 9 | DUCLOS Alain | | FRA | Sherco Rally Factory | Sherco | + 19'45 |
| 10 | PEDRERO Joan | | SPA | Sherco Rally Factory | Sherco | + 20'25 |
| 11 | SANZ Laia | | SPA | KTM Factory Racing Team | KTM | + 20'48 |
| 12 | PAIN Olivier | | FRA | Nomade Racing | KTM | + 21'19 |
| 13 | VAN BEVEREN Adrien | | FRA | Yamaha Racing | Yamaha | + 22'18 |
| 14 | ALBALOOSHI Mohammed | | UAE | KTM UAC | KTM | + 22'56 |
| 15 | CERUTTI Jacopo | | ITA | Husqvarna Factory Rally Team | Husqvarna | + 27'11 |
| 16 | AZEVEDO Jean | | BRA | Honda South America Rally Team | Honda | + 33'18 |
| 17 | CECI Paolo | | ITA | Team HRC | Honda | + 35'38 |
Rider StandingsProvisional Standings after Stage 3

| | | | | | | |
| --- | --- | --- | --- | --- | --- | --- |
| Pos. | Rider | Num | Nation | Team | Constructor | Time/Gap |
| 1 | BARREDA Joan | | SPA | Team HRC | Honda | 8:51'59 |
| 2 | SUNDERLAND Sam | | GBR | KTM Red Bull Rally Factory | KTM | + 3'57 |
| 3 | WALKNER Mathias | | AUT | KTM Red Bull Rally Factory | KTM | + 5'22 |
| 4 | QUINTANILLA Pablo | | CHI | KTM Warsaw Rally Team | KTM | + 6'06 |
| 5 | GONCALVES Paulo | | POR | Team HRC | Honda | + 6'34 |
| 6 | BENAVIDES Kevin | | ARG | Honda South America Rally Team | Honda | + 42'16 |
| 7 | FARIA Ruben | | POR | Husqvarna Factory Rally Team | Husqvarna | + 43'48 |
| 8 | PAIN Olivier | | FRA | Nomade Racing | KTM | + 44'51 |
| 9 | PEDRERO Joan | | SPA | Sherco Rally Factory | Sherco | + 48'00 |
| 10 | CERUTTI Jacopo | | ITA | Husqvarna Factory Rally Team | Husqvarna | + 1:20'13 |
| 13 | AZEVEDO Jean | | BRA | Honda South America Rally Team | Honda | + 1:31'32 |
| 14 | CECI Paolo | | ITA | Team HRC | Honda | + 1:36'04 |