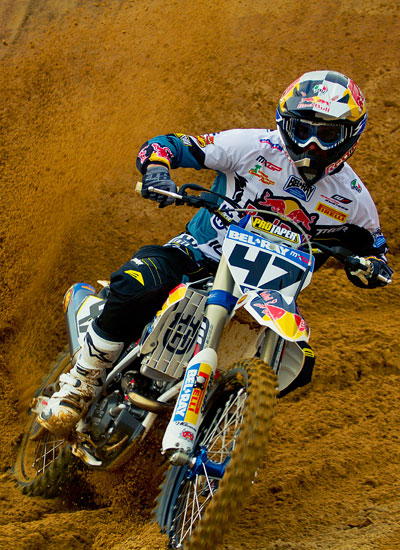 Husqvarna duo Todd Waters and Dean Ferris have signed off on another successful racing season.
By Hayden Gregory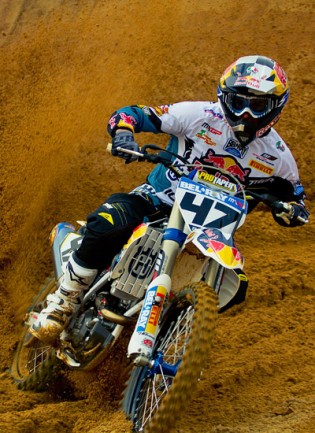 The biggest motocross race of the year proved challenging for the Aussie team which was rounded out by late replacement Luke Clout. The group suffered from a number of mistakes, ultimately falling from the title race early on.
In a showpiece between teams USA and France, Australia toiled away down in the pack coming from tenth place to almost within reach of the podium. Todd Waters was a victim of two bad starts resulting in 13th and 12th place finishes. Wilvo Nestaan Husqvarna Factory Racing's Dean Ferris showed great speed in the final moto holding down third place for majority of the race. At this stage Australia appeared like they could be in at a shot of fourth position before Ferris came crashing down, not once but twice to fall all the way back to 20th.
"The Motocross of Nations is such an amazing event, but from a team point of view things can change fast," Waters commented.
"That's what happened to the Australian team in the last moto. But it's always an awesome atmosphere, and this year was really something special. For me it was tough. If you get a good start and run near the front it's amazing, but I didn't get great starts and wasn't in the action. When a rider falls right in front of you and you get taken down, like happened to me in the first moto, things are over before they've begun.
"It's unfortunate, but as we all know it can happen in racing," Waters finished.
With a mixed bag of results the Australian's finished in seventh place overall, one ahead of our trans-tasman rivals. The Ernee hillside track, proved difficult for our boys and for another year we will be left wondering what could have been given good starts and the ability to stay on two wheels.
2015 Final MXoN Standings
1. France 14
2. USA 16
3. Belgium 56
4. Estonia 66
5. Switzerland 67
6. The Netherlands 72
7. Australia 77
8. New Zealand 92
9. Germany 97
10. Austria 103