The Australian Open of Supercross (AUS-X Open) will partner with leading automotive retailer Supercheap Auto in bringing the fans the 'Supercheap Auto Superpole' at AllPhones Arena on November 28 and 29 in Sydney.
Press release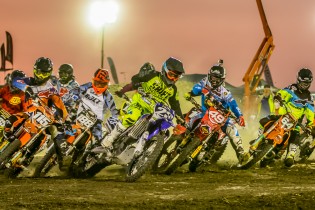 The Supercheap Auto Superpole will see each rider throw-down one lap around the AUS-X Open track with the best time securing pole position for the race in the Supercross discipline.
Some of the world's best including Chad Reed and James Stewart, alongside Australia's best Supercross riders will all lay it on the line for the Supercheap Auto Superpole and the chance to win $1000 in prize money.
"We're excited to announce our new partnership with the AUS-X Open and looking forward to what is sure to be a great event," said Dane Patterson – Supercheap Auto Promotions Manager.
"Supercheap Auto has a large range of products that cater to the riding community from workshop equipment; like bike stands and tool boxes, to key riding consumables in our ranges of oils and plugs.  The AUS-X Open is a great platform to showcase our wide range of products to a key demographic while further contributing to sport and its fans.
"With the world's best riders heading to Sydney and the AUS-X Open being broadcast nationally through the Seven Network, we are proud to partner with an event that is going to bring something really special to Australia and put Supercross and FMX back in the national spotlight."
In conjunction with the Supercheap Auto Superpole the AUS-X Open and Supercheap Auto are giving fans the chance to win a personal meet and greet with Chad Reed and one of Chad's signed riding jerseys.
Fans simply need to subscribe the Supercheap Auto Club Plus newsletter to find out more about entering the promotion.
AUS-X Open Commercial Director Ryan Sanderson says the partnership with Supercheap Auto offers even greater commercial strength to the event which has had to put on a second night of entertainment after selling out its initial show, in just two weeks.
"Supercheap Auto is synonymous with anyone who loves working on any vehicle whether it's on two wheels or four and we're excited to have them on board as a major partner to the AUS-X Open in Sydney," said Sanderson.
"The Supercheap Auto brand ties in perfectly with our target audience and we feel this is the ideal partnership to present the Superpole which is sure to have fans on the edge of their seats as riders do battle to be crowned the fastest rider in Australia.
"With Saturday's show sold out for months now and Sunday selling out fast, fans are in for a real treat as the world's best Supercross and FMX riders do battle at Allphones Arena in Sydney this weekend."
The AUS-X Open is set to be the greatest action sports spectacular Australia has ever seen with free access to the pit paddock for all ticket holders via the Monster Energy pit party, FMX demonstrations from Showtime FMX, DJs, Fireworks, Cheerleaders and of course the Supercross racing and FMX 'Best Trick' competition, featuring the world's best FMX riders.
Riders will be battling for over $150,000 in prize money across the Supercross and Freestyle Motocross 'Best Trick' disciplines at the 2015 AUS-X Open, with the 'Best Trick' element the only one of it's kind in the world in 2015 and the first-ever to be held in Australia.
After a complete sell-out, a second AUS-X Open event was announced for Sunday November 29. A complete replica of night one, this second opportunity offers fans who missed out, the chance of a lifetime to see the world's best Supercross and FMX athletes go head to head in one of Australia's premier venues.
Tickets are available through Ticketek (www.ticketek.com.au). For more event information go to www.ausxopen.com