Honda hands over the newest version of the Africa Twin and we find it more suited to the long hauls than ever before, but without losing the fun factor
STORY DAMIEN ASHENHURST
PICS DAMIEN AND BARRY ASHENHURST
When Honda announced the return of the Africa Twin (AT) in 2015 you have to wonder if the company knew they were about to redefine a category. The approach of hitting the adventure market with an unabashed 1000cc offroad bike unencumbered by electronics was not the norm…is still not the norm. There was little to satisfy riders that wanted to ride twisty roads all day and as such it copped criticism from people who completely missed the point – this was a big dirtbike.
I don't mean to diminish KTM's 1190 Adventure R standing at the time. The 1190 was a fantastic bike that was far too short lived, but Honda ignored the push for over-the-top horsepower that's senseless on the dirt and with the 21/18 wheel-set made it known that the bike would be at home on the trails. The Africa Twin had more ground clearance and longer-travel suspension and certainly when compared to the 1190, basically no electronic aids at all. It was a CRF in every way and there wasn't anything else like it. And there still isn't.
To mark the 30th anniversary of the original XRV650 Africa Twin, Honda launched a new variant of the AT called the Adventure Sports which is a bike that bequeathed to many that for which they have asked, such as a bigger tank, improved suspension and throttle-by-wire with ride modes. The Adventure Sports is only available in the celebratory red, white and blue tri-colours which is a tribute to the 1988 XRV650; it's a nice touch and it cuts a fine figure out and about. And that brings to what were here for; we rode the Adventure Sport a lot in the time it was at UAB headquarters, and hit everything from quick squirts to deep bush runs, some fun in mud and a mammoth 12 hour day. We got to know the bike every well in that time and I even recruited 14 time national motocross/supercross champion Craig Anderson to push it harder than I could to find where the chinks in the armour where. Honda calls it a CRF and so we rode it as such.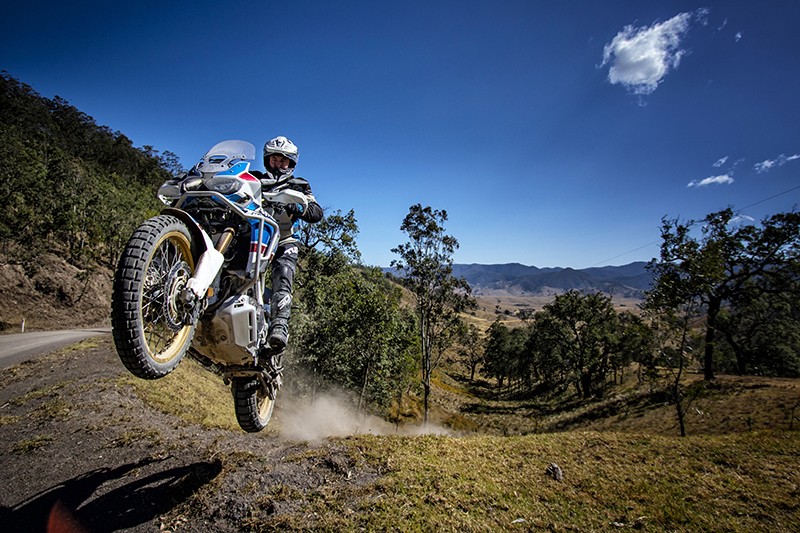 Craig Anderson launches the AT out of a gully
AT GOES LARGE
The Adventure Sports (AS) feels quite different from its closest relative, which is unavoidable when you seek to add 5.4 litres of fuel tank capacity. The seat is higher but flatter but it's the tank that dominates the feel splitting your knees wider than the standard model. There were legitimate complaints that the standard model didn't have enough fuel range and Honda saw to this with the AS by fitting the 24.2 litre tank (standard model is 18.8) but didn't stop there. The bike also has longer travel suspension with an extra 22 millimetres on the forks and 20 on the shock which also increases the ground clearance by 20 millimetres. Seat height is increased by 30 millimetres and the overall weight of the bike (fuelled) is up 13 kilos to a claimed 243kg. In keeping with the higher theme, the handlebars are also up by 32.5 millimetres which is a big change and it's certainly noticeable.
The electronics package has received a total overhaul to now include three standard ride modes titled Touring, Urban, Gravel and a fourth mode called User which banks your personal preferences and remains active (except ABS), even if you turn the bike off and on again.
Within the modes are three variables; Power, Engine Braking and Torque Control (HSTC) which is traction control in any other language. ABS is switchable but that's still done via a button on the console rather than through the electronics menu. You can change within the standard ride modes on-the-fly as well as make changes to any of the three variables as you ride which we did from time-to-time with the Traction Control, basically only shuttling between off or the weakest of seven (yes seven) settings. We experimented with the Power setting (one to three with one being maximum) which doesn't affect the amount of power but instead the abruptness of the delivery, and we left the Engine Braking at two which is the mid-point with one increasing engine braking and three offering little.
The new dash is angled well for reading while sitting and standing but the single colour display suffers when the sun is behind you. A TFT screen is a far better option for visibility and it feels as though the menu system would be less convoluted if the bike ran a display that didn't have to show all the information all the time. It's hard to beat what Triumph, BMW and KTM are offering in this area.
Our test bike was a DCT unit which is to say where there should be a clutch there is a handbrake and there was no gear shifter to be found. The Dual Clutch Transmission is effectively an auto and we've done a fair bit of riding with it on the standard model and we love it for a number of reasons.
As this is a DCT model there are also two modes that dictate the gear changes. Drive mode has the mellower, fuel saving, around-town type of feel while Sport mode runs shorter shifts and holds lower gears longer. Sport mode also has three separate aggression settings itself so there are a number of ways to tune the way the Africa Twin puts its power down through both the ride modes and control of the DCT. Should you wish take more control of the shifting, there are up and down shift buttons on the left side switchblock which can either override the DCT or me used as a completely manual system.
Finally the new exhaust must be mentioned here because whoever designed it deserves a pay rise and free lunches at the Honda cafeteria for life. It produces a deep, guttural growl that has no peer in the adventure market. It's truly a stunning stock engine note that induces an emotional reaction when you hear it echoing across a valley, and it achieves this without actually being loud. You can't really hear it when you're following the AT on another bike. Honestly, whoever is responsible, please accept our heartfelt gratitude.
NEWTON'S TRUTH
As I mentioned earlier we rode the Adventure Sport a lot and took in a wide variety of terrain and trails so we got a really good feel for it. It feels similar to the standard model but the few differences are striking. The 'bars are higher, which is a good thing, particularly when you're standing.
We ran the seat at its highest and it'll certainly be a challenge for those shorter in stature, but you can drop it down considerably. I'm 5,11 and with the seat in the high position I found the new windscreen to be too short and it allowed wind to pass over at just the right point to pick up the peak of my Shoei.
I'm fairly sure it's the laws of physics that govern the unmistakable fact that if you increase fuel range by fitting a larger tank then the bike will not be the same. It will be heavier, it will carry that weight differently and you will feel it between your legs. It's a give-and-take situation that Honda has wrestled with and largely got right except in the rearward sloping of the tank which makes it damn near impossible to grab with your legs. To hold the AS firmly you have to use your calves, not your knees, which doesn't offer anywhere near the stability nor does it allow you to give your arms a rest.
As a long-time critic of Honda's tiny footpegs, it's pleasing to see that the AS has bigger units and while I personally would go bigger again I'll give credit where it's due, ditch the rubber dampers and you'll be well served.
TWIN RIPPER
I found the Adventure Sports to be a little deceiving at first. It feels nimble for a big bike and carries its weight exceptionally well and this got me into a few sphincter-puckering moments early on where I found myself coming into a corner way too hot. I might have gotten away with it on the standard model but on the AS I hadn't factored in the extra room needed to pull the big unit up. I hadn't factored it in because it didn't feel like I needed to most of the time, but one epically large moment, which I was sure was going to have me eating hospital food by the end of the day, seared it into my brain henceforth. This was not the bike's fault – this was all me. I was asking a very large bike with a full tank of fuel to take a tight right hander from a crazy pace. As it so happens the bike handled the ensuing chaotic blitzkrieg over an embankment and into the thick bush so well I was able to avoid any carnage and not a scratch was evident. I did have a quiet sit-down to think about my life for a while though.
What you come to learn very quickly is that Honda has done an incredible job at building a bigger bike that doesn't really feel that much bigger until Newton's laws of inertia play a hand. Up till then the bike can be jumped, you can slide all day on the Adventure Sports and you hit rocks, roots and ruts much harder than some would imagine possible on an adventure bike. The manually adjustable suspension isn't as soft as the standard model and it's a positive improvement that not only resists diving and bottoming better but soaks up general trail trash with ease which is not an easy combination for a stock set-up. It's a confidence building ride and it's also just a hell of a lot of fun whether you're riding it aggressively or not.
The engine doesn't get enough credit for how versatile it is in my opinion. Because the Africa Twin is built to take on some fairly hard-core offroad scenarios you'd expect an engine that's all about torque and control and while that's true to a degree, it's also a bit of a bolter. It doesn't rev-up as fast as the inline triple in Triumph's XCa 1200 but from bottom to mid it will charge and if you go into full power mode and the most aggressive Sports setting and turn traction control off, it's actually pretty hard to keep it in check at times and there isn't much that can keep up with the way it can blast out of corners. There's not a heap up the top of the rev-range but it does sit on the freeway happily all day, waiting for a chance to get off it and into some dirt.
The throttle-by-wire and revised airbox have improved overall response (fit cruise control please Honda), and the bike absolutely aces the trickiest sections, particularly hills that might have you looking for an easier option on another bike. It has an incredible turning circle too so I found myself exploring areas suited to trailbikes but confident I could turn around, even ripping a foot-down bush turn with no dramas.
Our final solid ride was a 12 hour run in which we rode the bike hard at times and also cruised when it was called for. Craig Anderson gave it a massive workout and fell in love – they are a good match. He basically rode it like a motocross bike at times and the Adventure Sports was along for the ride at all the way. It was pretty epic to watch, when I could stay close enough to see it. The end of a long day like on a bike can be pretty painful if it's not up for the task and after all the shenanigans were over with, the Africa Twin proved itself to be a comfortable bike to be on for a long haul which is after-all, the entire point of an adventure bike. This is no one trick pony.
GET IT AND GO
Honda has taken a much loved bike and expanded its capabilities without robbing it of its sole. The standard Africa Twin will still sit well next to the Adventure Sports because not everyone is willing to take on the bigger bike chasing better fuel range, but this is an improvement over the standard model in a number of ways from the suspension to the electronics and the higher bars. Built off the same base, Honda has given us two quite distinct bikes that won't always appeal to the same rider and that's a good thing for the adventure bike gene pool.
We would park the Adventure Sports in the garage with no hesitation. There are some thigs we'd attend too, a windscreen extension, grip tape on the tank and yes a set of Pivot Pegs but there isn't much else to change from stock.
If you're after a bike with the longer fuel range but capable of taking on the most amount of stuff offroad with the least amount of electronics this really is the best choice at the 1000cc or above mark. The electronics interface could be improved but it's not a deal breaker because we generally left it in User mode and toggled traction control on and off every now and then with ABS off on the dirt and back on for the road. That's not a lot of button pushing on a big bore adventure bike these days.
It's a fun bike, an exciting bike and a confident bike. It's versatile and carries itself incredibly well.