STORY DANNY HAM PHOTOGRAPHY MATT BERNARD
For many years, two manufactures have lead the way when it comes to power in the 250 class, that is until now. Already this year we have seen the blue machine lift it's game and now Yellow Magic stepped up too. Dirt Action traveled south to Park4MX for the launch of Suzuki's all new RM-Z250 and we weren't disappointed. Run – Turn – Stop were the fundamental performance elements and similar to other brands, engine performance, weight reduction have been high on the list of refinements.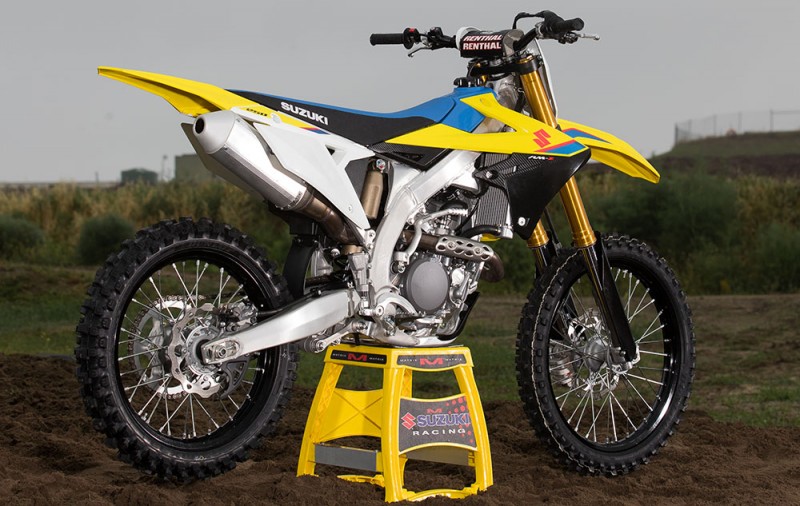 THE POWERHOUSE
Suzuki has made a number of changes that have brought this bike up to a race-ready level with the other colours in the class. In years past there has been a clear winner when it has come to the way the bikes clawed at the earth, but now the fields are closer then ever. Suzuki has revised the intake and exhaust ports featuring a downdraft layout and has a straighter flow into the cylinder head increasing combustion efficiency results in achieving higher peak horse power while also maintaining low to mid range power. A secondary injector has been introduced at the bottom of the intake, the main injector positioned in the throttle body and the second near the air cleaner duct which gives the fuel and intake air more time to mix, while a 17% increase in fuel pump pressure improves throttle response. Additional to this, the air filter element has grown by 30% and the airbox intake redesigned with a straighter flow. Complimenting the engine upgrades is a newly designed Exhaust system with a new muffler design and construction that has seen improved power through the range, increased torque and a 5% gain on top.
TIME TO TEST
When we landed in Melbourne it was raining. I wasn't overly stoked at this point (yes, I am a princess these days when it comes to the conditions) and expected to be flapping around in the mud. To my surprise, I couldn't have been more wrong. Cheyne Boyd had worked the track perfectly and turned my first visit to Park4MX into one I would remember. The track had a bit of everything, hard pack that offered endless traction and super deep ripped heavy soil that would really test full potential of Suzuki's new power plant. Of course, the first point as soon as we jumped on the bike, the kick starter. Why? I know that's being precious but with all the other manufacturers embracing the button I'm still surprised the yellow machine has let itself fall behind. Once it is running though there is not a great deal to complain about. The motor is strong and has a very distinctive bark when you twist the throttle. With previous models feeling restricted at the tail end, this new exhaust seems to sing a racy tune. It's a bike that doesn't shy away from torqueing out of the turn in a tall gear and enjoys living in the high RPM's. The power delivery is generous and with an updated ratio in the gear box, it is truly race ready. To get you out of the gate in front of the field, Suzuki's Hole-shot Assist Control (S-HAC) has been updated also. There are a few settings to cover all conditions, notably, it now has a rev limiter to assist the launch. At the time of testing both Suzuki Japan and Australia were unable to give us an idea of numbers the bike was producing as these were a pre-production type bike, all we know its that we were impressed.
GETTING COMFORTABLE
With six riders for the day representing various media out let this meant a fair amount of bike swapping was in order. Our day started with a quick overview presentation by Suzuki and it's key changes before it was Rock – Paper – Scissors to see who got the first rides on the bikes. I lost. A quick 15min by the first group and it was my turn to tackle the track. I must admit, I struggled. Deep ruts, loamy turns and a bike setup for the previous rider unsettled my confidence and I was falling over or sitting up in nearly every rut I entered. I managed to knock out a few laps, lock some photos in the bag and try to learn the track before we had a break for lunch. Honestly, I felt average on the bike and it wasn't helping my opinion of the beast. We had been bouncing between the bikes, levers and bars different every time and one out of his mind rider loved to have the rear brake lever up near the kick starter. I really needed to sort my head out over some food.
After lunch, I was first back out on the bike as I had a rather long flight home which required me to leave early, so we decided to now have a go a setting the bike up. That Suzuki feel was still present as we dialed in some sag.  The rear end has also had some refinement. I was happy to see that the 250 does not share the same shock it's bigger brother has, offering all the adjustment ability I would use whilst setting suspension. A change to the lever ratio suppresses short stroke movement while demonstrating positive long stroke characteristics. After we set the sag at the correct height (around 108mm) the bike felt completely different. All of a sudden I wasn't the amateur I was prior to eating. I got into the ruts much easier and turned through them like I thought I knew how. Because the Suzuki turns so well it doesn't take much to effect it's turning characteristic when the rear end sits to high or low. This is very handy when you need to dial in the bike particular track without disrupting the suspension handling to much. Once we found our settings the bike felt very balanced, offering a great feel and response to the inputs to changes and handling. There was no harsh spike feeling in the handling often felt when frames become too rigid, Suzuki have developed this bike to win.
FINAL THOUGHTS
Suzuki have created a bike that is suited to all levels and ages of riders.  The bike has plenty of power when needed, the smoothness if required and the bike handles well. I still fit comfortably into that Suzuki feel and those that are use to it will feel right at home.  Where they may have lacked a little in previous years, certainly this year they have answered the call.  This is a bike that can and most likely will run at the front in the right hands.  At a price point of $10,490 (was not confirmed at time of writing), this is a great value buy.  I expect we will see a little more yellow on the start line at motocross in 2019.
FOR THE FULL TEST: CHECK OUT ISSUE #227 OF DIRT ACTION MAGAZINE – ON SALE NOW