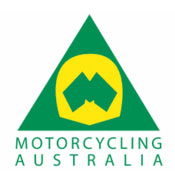 Motorcycling Australia (MA) would like to advise the 2014 AIS Elite Rider Training Camp is now open to all disciplines and applications are being accepted now.

The camp includes general sports science (i.e. nutrition, sports psychology, physiology, strength and conditioning etc), physical conditioning and motorcycling specific training where participants will receive personalised tuition from Australia's leading coaches.
Since 2007, these camps have proven to be an extremely successful venture with all riders benefiting greatly in areas such as time management, professionalism, bike set-up, recovery skills, training plan construction, technical riding ability, physiological training techniques both on and off the motorcycle, nutrition and hydration as well as psychological skills.
It's a fantastic opportunity for riders looking to take the sport to the next level and gives an invaluable look behind the scenes to the many skills it takes in order to become a professional both on and off the track.
MA is searching for the best up and coming riders in the country and inviting them to hone their skills in their chosen discipline in order to become the next crop of Australian Motorcycling stars.
The Elite Rider Training Camp will be held at the Australian Institute of Sport on Monday 17 to Friday 21 November.

Applications are available for downlad here or from the forms section of the MA website and should be sent to:

Laurence Miller
National Development Officer
PO Box 134
South Melbourne, VIC 3220
Email: development@ma.org.au
Applications close COB 15 September 2014.
Please note that strictly no applications will be considered after the closing dates of the camps
Participants will be required to personally supply and transport their own motorcycle(s) for use during the camp.
Apply now to secure a spot in what is sure to be another year of fantastic training camps at the AIS.