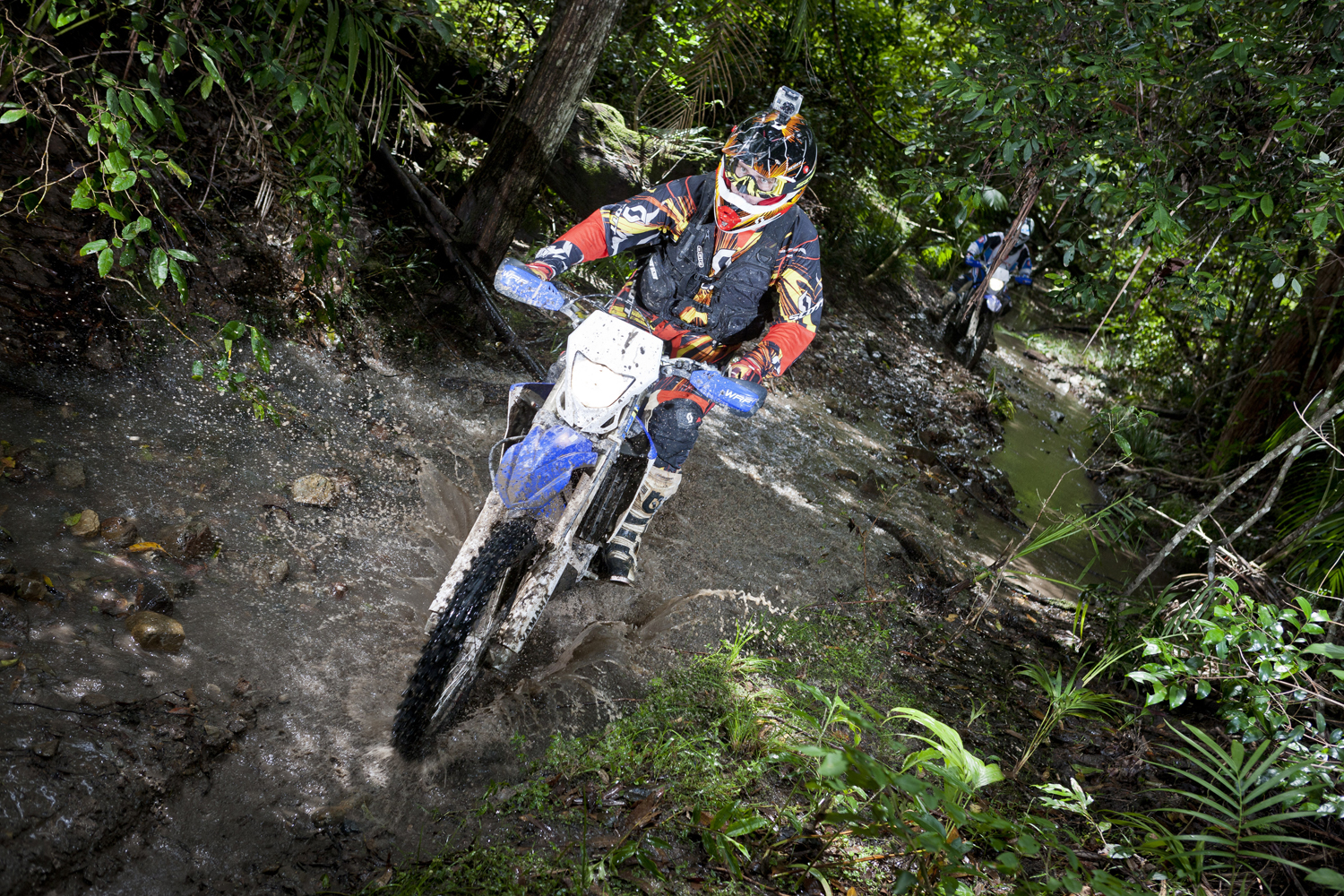 The New Playa: Yamaha has finally taken the WR450F back to the drawing board. Will it kill an old favourite or create a new one?
Story by Damien Ashenhurst |  Photography by iKapture/ Ashenhurst/ Bernard
As a bike journo, one of the more difficult tasks is testing and writing about a bike that hasn't changed for years. You're essentially trying to come up with something new to say about something that has nothing new on it. It's like asking someone what they think of colour TV. It's been around for 45 years, so what's there to say?
It's been this way with Yamaha's WR450F since 2007 when it was graced with an aluminium frame but didn't get any real attention at any point after that. It's still that way with Honda's CRF450X.
The 2012 WR450F is, however, a totally new machine with all sorts of shiny stuff to talk about. It's time to celebrate the WR-F again.
Time for change
Changing a bike that's as identifiable and near iconic as the WR450F is something of a gamble. It still sells and none of its Japanese competitors has come up with anything markedly better as yet, so why mess with the recipe?
On the other hand, the WR450F was once at the cutting edge in big-bore four-stroke bush weapons but it's since been surpassed by KTM in nearly every department. On top of that, the WR450F doesn't mean the same to the rest of the world as it does to Australia. In America they want to know whether they can fit a gun rack to the bike to go with their coonskin helmet cover. They don't see it as an enduro bike but more of a trail basher and they don't really care for it. Is it any wonder that this view comes from a country where a slice of the population believes humans once rode around on dinosaurs with saddles on their backs?
Indeed, Yamaha had to be convinced that the WR450F was a machine worth keeping on the books. It came close to becoming a deleted model until senior engineer Masaki Kamimura of Yamaha's Motor Sports Development Division took up the charge to reinvigorate the WR450F and prove it still had a place and a future. Therefore, Mr Kamimura gave the biggest lovers of the WR-F in the world — who are Aussies — a bike that will see the WR-F moniker continue for some time to come. Kamimura even came out to Australia for the launch, which is the first time a Yamaha project leader has graced our shores. This is a big deal for Yamaha Australia as well as Mr Kamimura and it was cool to see him not just in the country but riding alongside us on the launch. He's a top bloke, too.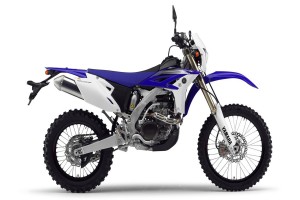 Nuts and bolts of it
The bike is a fine-looking piece that's immediately a world away from the tired look of the previous models.
The chassis is based on the YZ250F's rig. The idea was to get a quicker-steering bike by using the more compact frame, which was then made a little more rigid, with changes to the steering head angle to compliment. The removable subframe is unique to the WR450F, as are the engine mounts, and all of this alone would mean the 2012 model will feel way different from the 2011 machine.
The 48mm Kayaba forks are twin-chamber units based on the YZ boingers and this, folks, is the moment we've all been waiting for. The previous WR-F had a somewhat lazy front end and didn't have what you'd call pinpoint steering. It was plush and comfortable at lower speeds but once you wicked it up the front end became the WR-F's Achilles heel.
With the new Kayabas and an ally in the bilateral beam frame, the front end is stable, capable at speed and turns like a modern bike should. It still feels planted and solid up front and not as loose as a KTM, but the bike's ability to cover a range of terrain and obstacles at any speed has been increased. The racer and gun rider will appreciate this the most. It's been a long time in coming but the WR-F finally has a fork that will match it with the best.
The engine is still a five-titanium-valve unit that Yamaha says it prefers to stick with rather than a four-valve configuration because it offers superior reliability. Who are we to argue? The record stands for itself on that one.
Electronic fuel injection has made its way to the WR-F and, given Yamaha has been onto EFI since the 60s, it should be all over this one. It's a 10-hole open-loop system governed by a Keihin throttle body that can be started even when the battery is flat and presented no problems when bump-starting either.
The gearbox is a five-speed and while we'd prefer a sixth gear in there the ratios are good and the ability to tune this engine to suit whatever type of riding you're doing at any given moment is unparalleled through the Power Tuner. We changed the mapping on our test bike from a sand setting to a more all-round trail-ready setting in 14 seconds. The bike felt a lot different, as though we'd put an aftermarket pipe on, and I barely had time to take a sip of water before the tuning was done. The Yamaha Power Tuner is the best and easiest-to-use tool of its type in the universe and a hell of a lot cheaper than buying a pipe to alter your power curve. It stores nine different maps at any one time and also works as a diagnostic tool. It looks like it was designed by Nintendo, so your kids will be all over it.
The fuel tank is a fairly small 7.2 litres, which some people might be concerned is a bit too light on. EFI affords better mileage and so the tanks are getting smaller, but 7.2 litres is pretty small — just over two litres less than KTM 405EXC. We had no problems on the launch ride but we'll be interested to see how this works out in the real world.
Yamaha will make available a 15-litre tank shortly for those looking to hump across country.
One thing we did note was that the WR-F heated up and boiled pretty fast in some tight and tricky terrain. We'll have to log many more hours to find out if that's an issue to be wary of but it's not something we've seen before on the Yammie.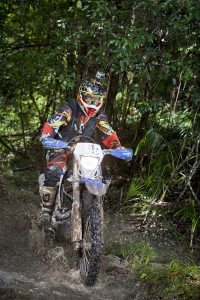 All Fired Up
The engine note of the WR450F is a little underwhelming. It's not aggressive and certainly not loud and in fact it's amazing how quiet this bike is. This is a good thing. There is a GYTR pipe available and its note is meatier, but don't go jumping on that for the sake of it. Enjoy the quiet bike. Rejoice and embrace the quiet bike. It has all the grunt you need because it's a 450 so don't be a swapper and demand a performance pipe without actually having a specific need for one.
The bike doesn't feel what you'd call small but the ergos are good and an improvement on the 2011 in that it's easier to get forward and the tank/shroud area is thinner. The 'bar position is neutral and, while I don't know how they do this, the bike feels like a Yamaha. Maybe it's because it is a Yamaha? This'll do my head in.
Seriously though, it feels familiar. It doesn't feel like a completely different bike. To be perfectly vague, it feels like a WR405F — only better.
The WR-F didn't get the angled YZ engine because that configuration can't accommodate electric start but the engine in the WR-F is very nice all the same. It's a fair bit smoother than the previous mill and doesn't have the mighty midrange surge, but curiously it's not a whole lot better. It's not a world away from the 2011 engine and Yamaha haven't tried to reinvent the whole deal because — let's face it — the 2011 engine was really good.
The EFI and the tunability that goes along with it are the big improvements, along with the fact that it pumps out fewer emissions, uses less fuel and is more responsive. Think of it as if the old engine is still in there but is even better now, particularly from the bottom to midrange where it's easier to control but with no loss of grunt. We'd like to see a sixth and there's a fair bit of chain chatter but, aside from that, all's well in the engine room.
The suspension and chassis are the business end and it's immediately obvious that this bike turns better than it ever has. Yamaha's mission with the 2012 YZ250F was to make it the best-cornering bike on the market and a lot of that effort was focused on the frame. That frame is the basis of the WR-F's skeleton so it's no surprise that the 450 is now a quick-steering bike. It still feels stable, as we're used to on the WR-F, but far more accurate and nimble. Interestingly, the 2011 model was heralded in company blurbs as the nimblest WR405F ever. The 2012 blows it out of the water.
The accomplice in all this is the new twin-chamber forks. This is what the WR450F needed the most and these are very good forks. The difficulty for Yamaha is to come up with a fork that's plush enough for the trail rider to be comfortable but robust enough to offer performance to the racer. Job well done here: these Kayabas are very good and after riding over every type of terrain imaginable we couldn't fault them; nor did we even change a single setting.
Good to Go
So, after well over 200km on the trails we can confidently say the 2012 WR450F is a better bike than any of its predecessors. It's better in just about every regard in fact and yet it remains familiar in feel.
The blue and orange wash that's come over our bush trails will continue for some time because Yamaha and KTM have left the others behind with the best two 450s on the market. But, while Yamaha was holding its own with an outdated machine, it now has a real up-to-date weapon on its hands.
It never really went away — but now it's back, baby.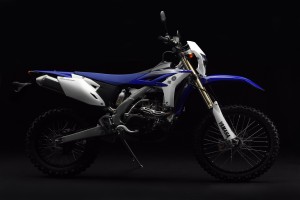 The Framing Game
We take a quick look into the development of the WR405F's all-important chassis and suspension.
* The frame development for the WR and YZ models was conducted simultaneously as one linked project.
* Both frames looked very similar to the 2010 model YZ250F frame, but inside they were very different. Through a complete review and revision of the balance of longitudinal, lateral and torsional rigidity, the YZ frame had undergone its next evolution as a competition model frame. At the same time, a new enduro-specific frame was born for the WR450F.
* The cross-section of the tank rail portion was changed from a two-box (single spar) to a three-box (two-spar) design. The vertical width of the bracket rear arm is increased to render more cross-section surface area and a new design is adopted for the rib structure. Special attention was given the backside rib design through repeated simulations and track tests of prototypes to achieve the ideal balance. In addition, there is a subtle difference in the engine mount brackets of the YZ and WR frames.
* Engine mounting bracket alloy is t6.0mm aluminium alloy for YZ250F and t8.0mm aluminium alloy for WR450F.
* The all-important welding and manufacturing processes that produce the aluminium frame of the WR450F take place at the Yamaha Motor Morimachi Factory, about a 30-minute drive north of Yamaha Motor's headquarters. If you add up the lengths of welds needed to assemble one frame, it's about four metres.
* For an enduro frame that is subjected to rugged use, the important factors are the type of aluminium alloy used for the frame parts and the degree of penetration achieved in the bead. Although the welding is performed mainly by robots, a great deal of know-how is needed to apply the optimum electrical current, welding speed, the direction of the weld and the order that the component parts are welded in. Here, the experience of the technicians is all-important.
* It's the job of these technicians to program the robots, but they weld by hand the places where the greatest craftsmanship and precision are needed to create the finished frame.
* The handlebars have been moved 10mm closer to the rider than those on the 2011 WR-F.
* The front fork is the same type of upside-down fork with air-liquid separation type shocks that has proven itself in competition on the YZ250F.
* The damping characteristics of the WR suspension have also been revised to deliver a combination of excellent shock-absorbing capacity and the softer action you want when entering a tight turn.
* The new model's rear suspension is also based on that of the YZ250F, but performance in enduro riding is optimised with WR-specific settings, such as shortening the stroke at full extension.
Yammie Shopping
Some original-recipe Yamaha-branded bits and pieces that caught our eye and are worth some consideration when handing over your cold-hard.
Yamaha Power Tuner $397.18
GYTR pipe $495
GYTR Force 2 Twin Stage Air Filter $34.72
GYTR Radiator Braces $162.12
GYTR Pivoting Levers: clutch $63.45; brake $56.65
GYTR Brake Snake $8.83
GYTR Enduro Sump Guard $179.96
From Trailer to Racer
The new WRF will go on sale in Feb 2012 fully equipped to ADR requirements. A FREE competition enduro kit valued at $650 will also be offered for those wishing to indulge in closed course riding or racing. The kit includes the following:
• Compact front brake master cylinder kit
• Braided steel front brake line
• Cycra handguards
• Rear brake light switch
• Competition GYTR exhaust muffler tip
• LED tail light and licence-plate holder
• Brake snake
• 13/50 sprocket set
• Wiring for Power Tuner
The 2012 Engine Room
What's new in the WR450F's engine? Who loves a list? We do!
Newly designed inlet joint
Newly designed cylinder head
Newly designed crankshaft
Newly designed balancer shaft
Newly designed crankcase
Newly designed air cleaner joint
Newly designed kick crank (right side)
Newly designed crankcase cover
Newly designed AC magneto generator
Newly designed radiator for increased performance
New AC magneto adopted
New ECU to match fuel-injected engine
Big end bearing width has been increased
Con rod design is changed to accommodate wide bearing
Radiation capacity is increased approximately five per cent
Exhaust system is longer and features a "power bomb" resonator
Piston circlip has been modified
Fuel injection with 42mm throttle body and 12-hole injector
The shocking truth
What are the differences between the 2011 and 2012 shock? Funny you should ask …
2011 2012
Travel 130mm – 122mm
Spring rate 54Nm – 54Nm
Free length 260mm – 240mm
Installed length 250.5mm – 222mm
Gas pressure 0.98MPa – 1.0MPa
Rebound damping setting 11 – 20
Fast comp damping 1–1/8 – 1–3/8
Slow comp damping 8 – 12
Two Top Points
The stroke has been shortened by 10mm (140mm v 150mm).
YZ250F rubber damper fitted.
Get Forked
A year later and the forkin' gets tougher.
2011 2012
Travel 300mm – 300mm
Spring rate 4.5Nm – 4.5Nm
Free length 460mm – 454mm
Rebound damping 9 – 12
Compression damping 8 – 14
Three Poignant Points
Separate oil/air chambers increase air tightness to improved damping. Transfer control valve to improve mid- to full-stroke damping control.
Tapered cylinders also improve damping.