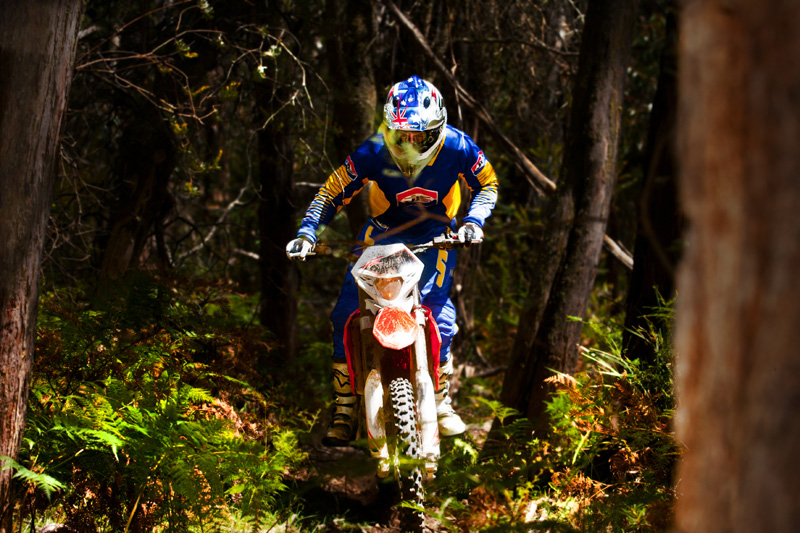 The Other Red: Beta has been producing good enduro bikes for a few years now and the 2012 350RR is evidence that the company continues to improve on a good thing
Story by Damien Ashenhurst | Photos by Damien Ashenhurst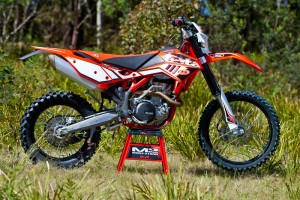 It's not a stretch to say Beta isn't the most recognisable name in off-road bikes. In trials the name looms large, but for trailriders the name is a weak signal lost in the noise of the big five.
We spent a day in the wilderness with Trailrider magazine's Tuffy, Ben Grabham and his brother Broc Grabham (yes, he's fast) and our awesome guide Luke de Graaf. We put the 350RR through its paces and found very little to complain about.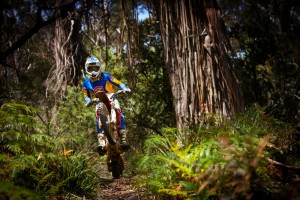 The Makeup
The RR350 feels thin and not totally unlike a KTM. The bar position is a little different and the pegs feel further forward, giving the RR a slightly cramped feel. In that respect the Beta is a little like a TM. So to draw the most accurate analogy, the Beta feels like a KTM-TM.
None of this should be surprising, though, given Beta is an Italian company (as is TM) and it drew its early enduro inspiration and mechanics directly from KTM. An Austrian and an Italian once got together in an effort to rule the world. They were total bastards and it didn't work out well for them. The Beta is far more appealing than them.
Something that surprised me was that the Beta still runs a carby, not EFI. Only three years ago this wouldn't have mattered a lot; EFI was still unproven and the sceptics were far from convinced. Now the carby is the exception to the rule — it's the odd one out. What I had forgotten was how much feedback the carburetted engine gives through the chassis. You can physically feel whether the bike is lugging or running strong in a way that's masked by the smooth delivery of EFI.
You may at this point be wondering what a Beta actually is. Many people are under the impression it's a KTM with a red finish but that's not the case. While Beta and KTM did in fact do a deal whereby Beta could use Kato RFS engines while it established its own enduro range, from 2010 the engine was all Beta. In fact, Beta has been in business since 1904. It knows what it's doing and, like Sherco and Gas Gas, it's been doing the business in trials for some time.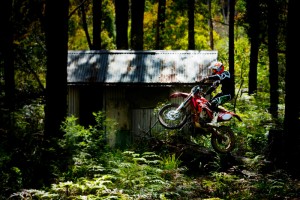 Tracking Straight
The 350RR runs Sachs suspension front (48mm fork) and rear, a 39mm Keihin FCR-MX carburetor, Mitsuba starter, Nissin brakes with wave rotors, a Brembo hydraulic clutch and a steel frame. The finish is excellent and it looks like you'd expect an Italian bike to look — it's very nice. It feels like a KTM to sit on. Maybe a little bigger, but the similarity is undeniable.
Fired up, the Beta has a throaty yet quiet exhaust note — but honestly, who cares? I'm just busting to tell what the bike's like to ride because it's friggin' good.
You might lean towards the cynical side of things and ask why you would bother with a Beta when there are so many other good choices out there. Well, let me tell you — and this is an opinion backed up by Ben Grabham and Stephen Tuff who were also on the ride — the Beta is more than a valid option. It's a very good bike.
The bottom end isn't a monster but it climbs quickly into an excellent and totally usable mid and top. The chassis provides a stable and very nimble base and the Sachs suspension is the best of its kind I've ridden with. Beta claims that the fork was in fact designed in collaboration with Sachs and Beta to best serve the RR range.
This combination alone will get you through anything, but add the Nissin brakes and Brembo clutch and you've got a bike that doesn't ignore its trials heritage but tracks inch-perfect in the gnarliest crap and softest surfaces. If I was to pick a single best attribute, it'd be that the 350RR carves so sweetly and the excellent clutch allows you to keep a good handle on the engine through anything.
The engine doesn't suffer from running a carby beyond the usual chore of getting the jetting right. As I mentioned earlier, it was cool to truly feel the bike in a way that EFI has almost all but eliminated.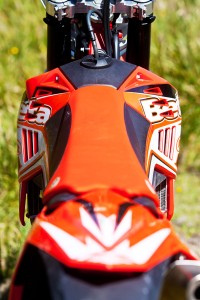 Final Assessment
Watching Grabbo ride the Beta, you could tell he was having plenty of fun on it. He liked the RR a lot; in fact I think all of us were surprised at how much the bike impressed us.
The Beta is a total in-house machine now and everything on it is well fitted and finished, a credit to the manufacturer who's come a long way in a short space of time. My biggest gripe from the ride was that the front brake lacked feel early, then grabbed hard, while the rear lacked almost all feel and I had to actually jam on it at times to convince myself it was there. I wasn't a big fan of the brakes. From there I'd like to see a 'bar pad and handguards as stock equipment.
To be honest, though, the Beta has been one of the more consistent performers of the fringe manufacturers. Others have dished up rippers and shockers but Beta hasn't really had those peaks and troughs. The decision to use Kato engines early was clever because it allowed the engineers to work on the chassis and other assorted sections knowing they already had a good powerplant. The engine, now Beta made, is a good thing and this bike has come along very nicely for a company that seems to be doing a lot of things right.
Should you worry about it having a carby? No. We didn't worry for the past 50 years so why start now? In fact, I like that there's still that choice available because I think there remain clear reasons to prefer a carby.
In closing, this is without a doubt a good bike. I'd also like to point out that I got through an entire feature on a Beta without matching the name with the word "better". It's because we care, people.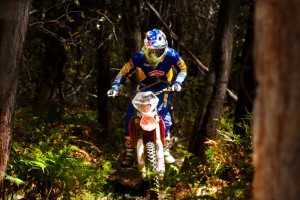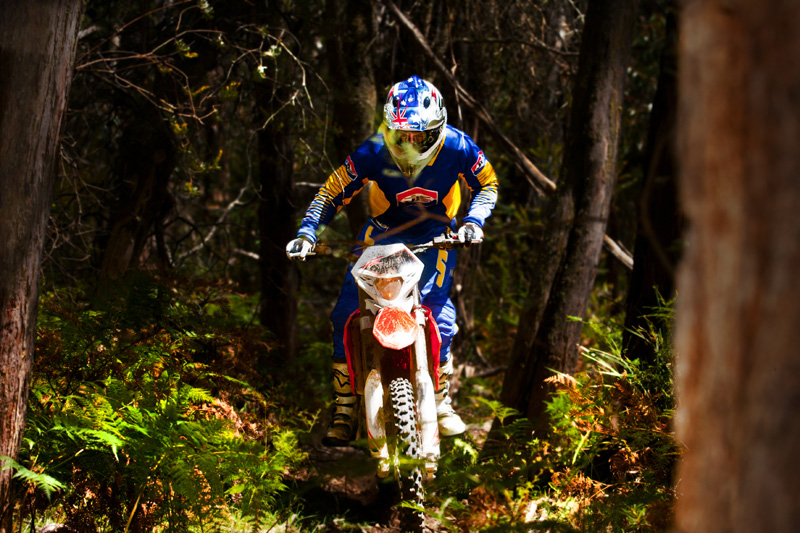 New for 2012
The Beta range has continued to develop into the year that the ancient Mayans predicted would be the last for the human race. You better get on one pretty fast then, hey?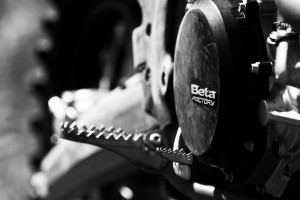 Engine
* Redesigned cylinder head including reinforced camshaft bridge, valve retainers, and updated cam-chain tensioner to help reduce engine noise.
* New clutch primary gear and springs for better engagement and clutch action.
* Updated counterbalance bearings for increased reliability.
* Stronger cam chain guides.
* Increased oil volume to the engine cam chain for reduced friction.
* New oil drain plug for easier oil changes.
Chassis
* All-new Sachs 48mm fork with TFX technology, developed by Sachs exclusively for Beta. This new design allows the fork to move through its stroke with very little friction.
* New SKF fork seals and wipers with self-lubricating compounds to also reduce stiction.
* New triple clamp to match perfectly with the new front fork.
* Redesigned frame with extra gussets as well as an increased tube diameter on the lower tubes. This new frame has less flex and improved stability.
* New front and rear brake rotors.
* New Brembo clutch master cylinder for a better clutch feel and engagement.
* Redesigned muffler offers better flow while retaining a quiet exhaust note.
* Redesigned front headlight and front fender support.
* Striking new red colour for 2012.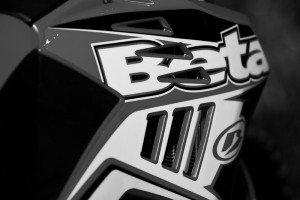 What's in a name?
Beta began in 1904 as a bicycle manufacturer under the name Società Giuseppe Bianchi. By the 1940s the company had begun making motorcycles based on its bicycle designs. Not long after this the company's principles, Enzo Bianchi and Arrigo Tosi, took their initials and formed the name Beta.
Beta turned its attention to the off-road market in the 70s with motocross, enduro and eventually trials, where Beta had found a ton of success with riders like Jordi Tarres, Dougie Lampkin and Albert Cabestany bagging plenty of world and European trials titles.
In 2005 Beta introduced the RR range of enduro bikes that used KTM engines. In 2010 the Beta became a totally in-house project.
The company also makes a range of dual-purpose bikes called the Beta Alp that use Suzuki air-cooled engines. In fact, Beta manufactures a range of bikes starting with a 50cc minibike through to motard models, two and four-stroke trials machines, scooters and of course its enduro range.
The factory is a 116,000-square-metre facility that employs more than 100 workers with an annual production rate of around 17,000 units.
Not bad, eh?