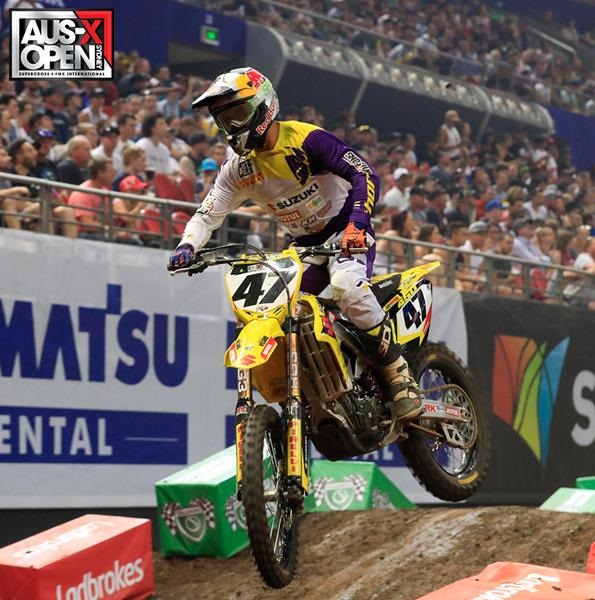 Wilson Coolair Motul Factory Suzuki have concluded its first year as a newly formed race team at the AUS-X Open over the weekend, with SX1 riders Luke Wilson and Todd Waters finishing the final two rounds of the Supercross season by putting on a stellar performance for a sold out Sydney crowd.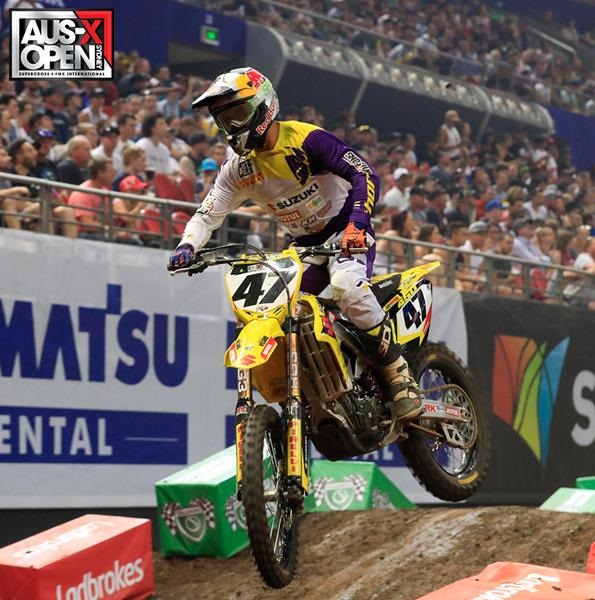 Press Release
Both Factory Suzuki's Wilson and Waters took well to the Qudos Bank Arena circuit throughout the two-day major indoor event, and despite the increase in competition, the pair recorded some positive results.
Waters who was unable to participate in competition at Avalon due to a wrist injury, beared the pain to line up at the AUS-X Open on Saturday and Sunday, but it was Saturday where the Suzuki rider shone. After finishing 3rd in his semi final, Waters went toe to toe with some of the heaviest hitters in Supercross history to finish the night in 9th place. Unfortunately, on Sunday Waters narrowly missed out on making the afternoon's main event, however finished the season in 17th in the SX1 Championship.
"The weekend overall was tough for myself coming off two hand injuries, but we just wanted to be there and to finish off the year for the Wilson Coolair Motul Factory Suzuki Team," Waters shared.
"I wanted to do my best for those guys, and make sure the bike was out there, which is what we did. I managed to make the main event on the first night, but I clipped a tough block and had to come back from last and I ended up finishing in 9th.
"On Sunday I was very sore, but I pushed through the day and unfortunately missed out on the final. But all in all this year, I've had great support from the team, and it was nice to finish off a big season with those guys. I can't thank them enough for their support."
For Wilson, the final two rounds were always going to be a challenge after suffering a hand injury in Melbourne, however the Queensland based 450 rider showed impressive speed in all races across both days, only missing out on making the main events by the narrowest of margins. Despite not featuring in the finals in Sydney, Wilson's consistency throughout three previous Supercross rounds awarded him with 10th in the SX1 Championship.
"The weekend for me was a bit of a let down for me to be honest, I started off the series well but from there out I was managing injuries which has made racing a bit difficult at times," Wilson shared.
"It was a season of getting used to being back on the 450 for me, but I managed to finish 10th in the SX1 Championship, so I'm looking forward to next year and coming out stronger than ever.
"A big thanks to everyone that has helped me in 2017, I couldn't have done it with out you guys."
Neale Wilson, Wilson Coolair Motul Factory Suzuki Team Manager was quick to praise both riders for their commitment to the event despite nursing injuries.
"Despite both Todd and Luke carrying injuries into the last two rounds in Sydney, we were thrilled that they both did everything they could to be out there competing on the weekend, and to represent our sponsors and partners who have worked with us this year," Wilson shared.
"Todd managed to make the main event on Saturday night which was fantastic, and despite Luke only narrowly missing out on making the final and missing three rounds, he finished 10th in the SX1 Championship in what was arguably the toughest season of Supercross Australia has had in years.
"I would like to thank our team supporters and sponsors who have made this year possible. It's a big exercise taking a team racing from March through to November, and each and every company and individual associated with the team has made this season successful, very enjoyable and of course without them we simply wouldn't be able to go racing.
"I would also like to make a special mention of Perdo Pikos and Simon Cathcart for their incredible support during 2016. Both of these guys have supported the team from behind the scenes, and this season wouldn't have been possible without them.
"We are very excited for what 2017 holds for our team, we have big plans and look forward to enjoying plenty more results and successes next year."
Wilson Coolair Motul Factory Suzuki would like to thank each and every one of their dedicated sponsors and partners who have made the 2016 Australian Supercross Championship possible.