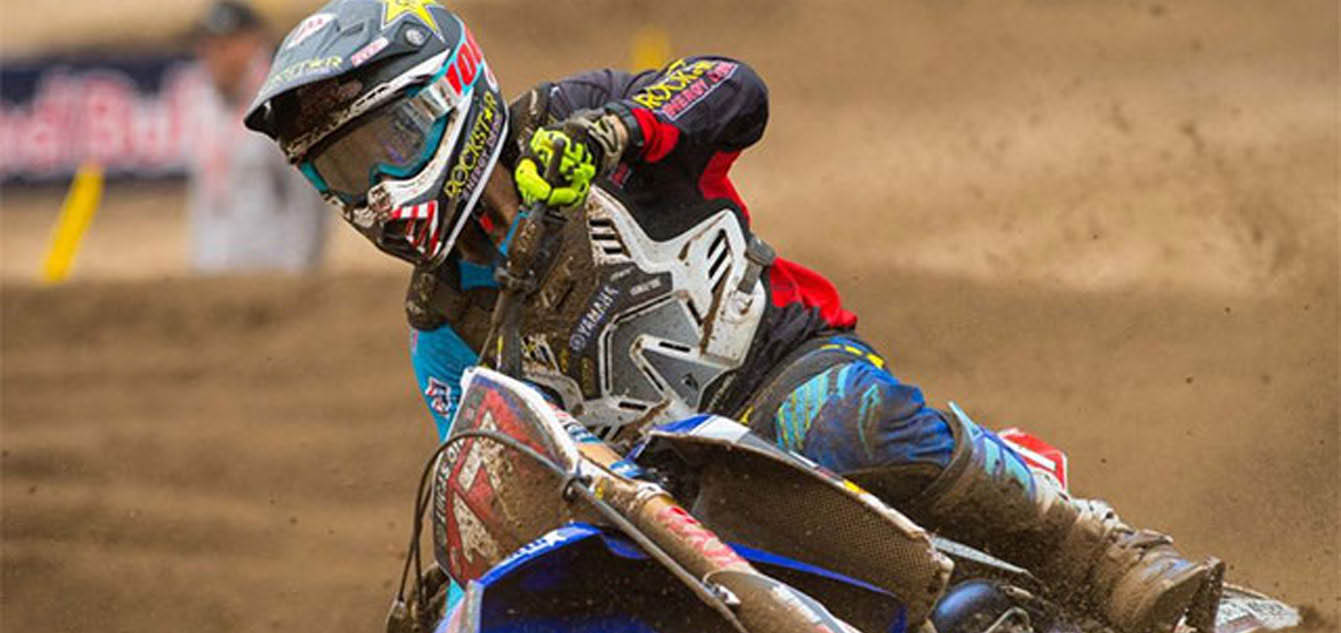 Cooper Webb finished 2-1 in Southwick to claim his third consecutive round victory.
By Hayden Gregory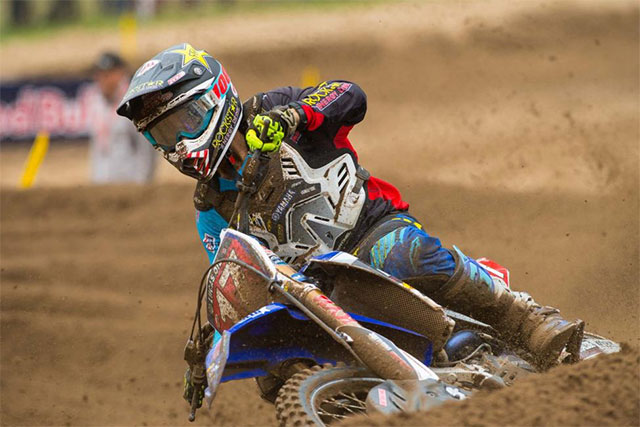 As racing got underway in the 250 class, defending champion Jeremy Martin hit the lead early ahead of Shane McElrath and Aaron Plessinger. It didn't take long for the duo to catch Martin out in front with McElrath making a huge statement early, pulling away from the pack. Martin kept in touch however and hit back at Plessinger a few laps later before then reclaiming the lead. Trailing him was Arnaud Tonus who also leapfrogged the riders into second place.
Cooper Webb was making a charge from deep in the pack leaving it to the closing stages to make his move. On lap eleven he made a methodical pass on Plessinger for third before also getting around Tonus a lap later.
Martin was able to hold on to take victory in moto one, ahead of Webb while Tonus scored third for the second podium result of his career.
In the second moto, Webb scored the holeshot before setting a fiery pace out front. Forkner and McElrath battled it out for the minor positions with Martin crashing out of the top ten all but ending his hopes of a round win.
Webb never looked challenged out front, showing too much speed to capture another chequered flag. Forkner followed in second place with Alex Martin making a last lap pass into third after McElrath came crashing down.
"I felt great all day and it's awesome to win three in a row," said Webb. "I knew I had my work cut out for me in the first moto by getting such a bad start, but I managed to salvage second behind Jeremy [Martin]. In the second moto I pulled the holeshot, which is important to get clear track in the sand." 
Jeremy Martin was able to recover from his ugly crash to finish fourth and score runner up for the round (1-4). Forkner nailed his first career podium in third after an outstanding 5-2 performance.
Webb has now extended his championship lead to 37 points over Savatgy who could only muster ninth place from the round. Jeremy Martin is just one point further back in third.
250 Class Overall Results (Moto Finish)
1 Cooper Webb, Newport, N.C., Yamaha (2-1)
2 Jeremy Martin, Millville, Minn., Yamaha (1-4)
3 Austin Forkner, Richards, Mo., Kawasaki (5-2)
4 Alex Martin, Millville, Minn., Yamaha (7-3)
5 Aaron Plessinger, Hamilton, Ohio, Yamaha (4-5)
6 Arnaud Tonus, Switzerland, Kawasaki (3-8)
7 Zach Osborne, Abingdon, Va., Husqvarna (8-7)
8 Luke Renzland, Hewitt, N.J., Yamaha (12-9)
9 Joey Savatgy, Thomasville, Ga., Kawasaki (10-11)
10 Martin Davalos, Ecuador, Husqvarna (16-6)
250 Class Championship Standings
1 Cooper Webb, Newport, N.C., Yamaha – 290
2 Joey Savatgy, Thomasville, Ga., Kawasaki – 253
3 Jeremy Martin, Millville, Minn., Yamaha – 252
4 Alex Martin, Millville, Minn., Yamaha – 232
5 Zach Osborne, Abingdon, Va., Husqvarna – 217
6 Austin Forkner, Richards, Mo., Kawasaki – 202
7 Aaron Plessinger, Hamilton, Ohio, Yamaha – 186
8 Arnaud Tonus, Switzerland, Kawasaki – 138
9 Shane McElrath, Canton, N.C., KTM – 132
10 RJ Hampshire, Hudson, Fla., Honda – 132
10 Mitchell Oldenburg, Alvord, Texas, KTM – 132