Cooper Webb has dominated round ten of the 2016 Lucas Oil Pro Motocross Championship at Unadilla.
By Hayden Gregory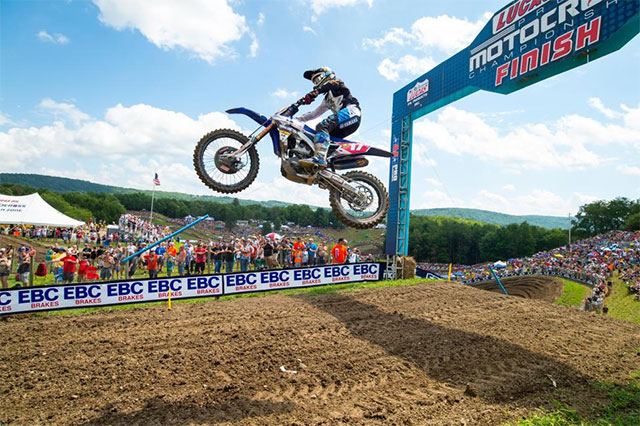 250 racing got off to a troubled start with a huge crash on the opening lap resulting in a red flag and a restart to the moto. For the second time riders lined up behind the gates and Adam Cianciarulo scored the holeshot ahead of Cooper Webb, Arnaud Tonus and Joey Savatgy.
Cianciarulo looked strong out front opening up a small gap between chasing riders and himself. It took until the halfway point of the moto until we saw the gap start to reduce with Webb making a charge towards the Kawasaki rider's rear wheel.
Once in sight Cianciarulo could do little to defend the pace of Webb with the championship leader bursting to the front. Webb would continue to pull away in a flawless second half to comfortably take the chequered flag by eight seconds. In the closing stages, Cianciarulo began to fade as Joey Savatgy and Aaron Plessinger both made their move to claim second and third places respectively.
The second 250 moto kick started with a holeshot to Austin Forkner closely followed by Savatgy, Webb, Alex Martin and Aaron Plessinger. The rookie looked confident in the lead just one week on from his debut moto victory. Savatgy soon ran into trouble, falling off the pace before pulling out of the race completely on lap six.
As witnessed in the opening moto, Webb started to turn on the pace late, closing in on Forkner before once again snatching the lead. Moments later a crash brought out a second red flag and due to the amount of racing that had been completed Webb was awarded moto victory ahead of Forkner and Plessinger.
Webb finished 1-1 to score his fourth round win of the season. Plessinger (3-3) showed consistency to finish in second with rookie Forkner (7-2) earning his second consecutive podium result in third.
"The restart definitely helped me in the first moto, but [Adam Cianciarulo] was riding awesome and I just hit my marks and slowly the race came to me. I was able to lay down some fast laps in the middle of the moto, which helped me make the pass and save energy towards the end," said Webb. "It was kind of a repeat in Moto 2. [Austin Forkner] got out front and opened a gap early, but my fitness is good right now and I began clicking off laps near the halfway point. Once I got into the lead I was feeling great and even thought I held onto the win, I was a little bit disappointed that the race got called early [with the red flag]."
With two rounds remaining, Webb holds an 81 point lead in the championship with second placed Savatgy suffering a poor result in Unadilla finishing all the way back in tenth place.
250 Class Overall Results (Moto Finish)
1 Cooper Webb, Newport, N.C., Yamaha (1-1)
2 Aaron Plessinger, Hamilton, Ohio, Yamaha (3-3)
3 Austin Forkner, Richards, Mo., Kawasaki (7-2)
4 Justin Hill, Yoncalla, Ore., KTM (5-4)
5 RJ Hampshire, Hudson, Fla., Honda (9-6)
6 Mitchell Oldenburg, Alvord, Texas, KTM (8-9)
7 Alex Martin, Millville, Minn., Yamaha (13-5)
8 Martin Davalos, Ecuador, Husqvarna (11-8)
9 Tristan Charboneau, Tenino, Wash., Honda (10-10)
10 Joey Savatgy, Thomasville, Ga., Kawasaki (2-32)
250 Class Championship Standings
1 Cooper Webb, Newport, N.C., Yamaha – 422
2 Joey Savatgy, Thomasville, Ga., Kawasaki – 341
3 Alex Martin, Millville, Minn., Yamaha – 341
4 Jeremy Martin, Millville, Minn., Yamaha – 321
5 Austin Forkner, Richards, Mo., Kawasaki – 293
6 Aaron Plessinger, Hamilton, Ohio, Yamaha – 285
7 Zach Osborne, Abingdon, Va., Husqvarna – 253
8 Adam Cianciarulo, Port Orange, Fla., Kawasaki – 197
9 Arnaud Tonus, Switzerland, Kawasaki – 195
10 Mitchell Oldenburg, Alvord, Texas, KTM – 190