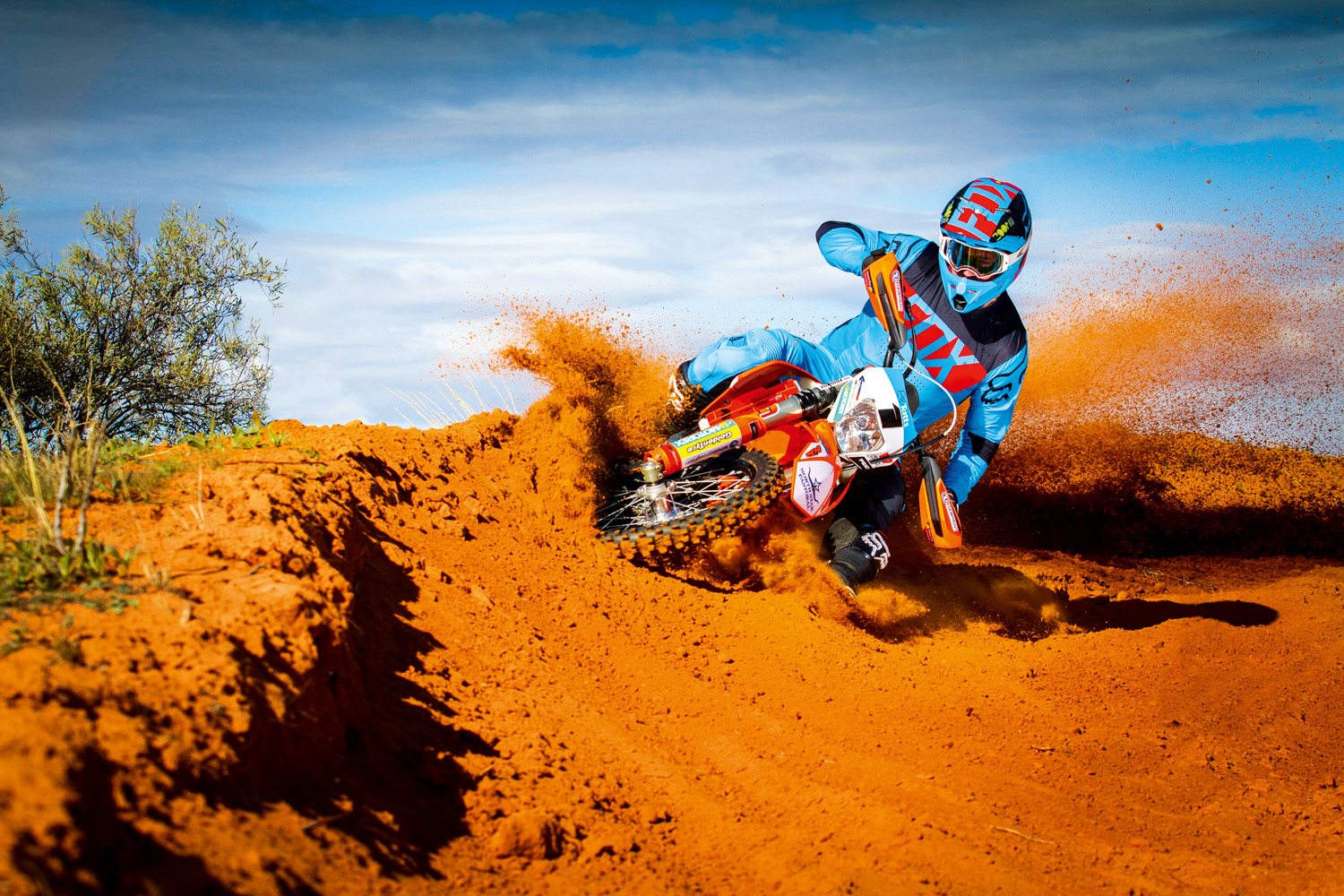 We throw a leg over Australia's most successful desert racing machine, fresh from victories at both Finke and Hattah: Toby Price's Factory KTM 500 EXC
Story by Shane Booth | Photos Matt Bernard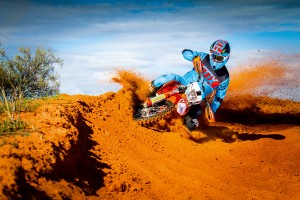 I've been fortunate enough to ride many impressive race bikes over the years but they have always been enduro, motocross or supercross machines. This is something different — I've never had the chance to sit astride a bike specifically set up for the high-speed world of desert racing.
Desert racing is a whole different beast altogether. Although I've never lined up for Finke, I have raced Hattah so I've experienced it enough to know there are many ways to set a bike up for the desert. The thing is this isn't just any desert racing bike; this is the machine just ridden to victory this year by desert-racing Viking Toby Price at both Finke and Hattah. In fact, we were riding the bike the day after he piloted it to his fifth career outright victory at Hattah.
The team was good enough to hang around an extra day so we could make the journey to Mildura and make this happen. It would end up being a 20-hour day for Matt Bernard and me that included four flights, a hire car and a drive into the desert. But I wouldn't change a thing; it was well worth the effort.
Another cool thing was that KTM Off Road Racing team manager Ben Grabham informed us this would most likely be the last time the bike would be ridden. After we were done it would be cleaned up and was headed to Toby's trophy room.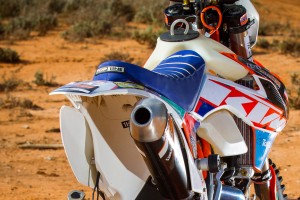 OK, Let's Get Past That Seat
You can't ignore the seats that have started to pop up on desert racing bikes and Toby's is no exception. It stands out and although some might think it looks a little silly it serves a rider well during long, high-speed desert races where there's a constant battle against fatigue.
The added padding in the seat is not only more comfortable but also helps dampen vibration. The seat is much thicker at the rear, which allows you to sit right at the back of the seat and still have some padding; a standard seat has next to nothing back there. At high speeds, riders spend more time at the back than when riding enduro or motocross, which is why you've never seen it on a bike in those events. It's a practical modification and, after riding with it, one you'd be likely to adopt if you were lining up for a desert race.
Desert Controls
This bike is the culmination of years of desert racing experience and development, not just by Toby Price but also team manager Ben Grabham — between the two of them they have nine Finke wins, making them a formidable combination.
We've talked about the seat but there's much more to this bike that doesn't stand out at first glance. Let's start up at the handlebars. The bike has foam grips fitted to help fight off blisters and dampen vibration. They're a bit strange to ride with and take a little getting used to because of the additional movement you get but there's no doubt they're comfortable.
The XTRIG triple clamps that are fitted also feature an elastomer damping system in the handlebar mounts that helps limit vibration, adds to comfort and helps fight off fatigue. There's an MSC steering damper to help the front end remain stable at high speeds; it also allows you to be a little more relaxed as well. It's not set to intervene at all aggressively like some bikes I've ridden with steering dampers; it does its job in the background without you really knowing it's there.
The last part of the control package to mention is the Steg Pegz. I've ridden bikes before with them but never have they been positioned as aggressively as here. They have knobs that protrude further from the bike more than any I've ever used; they're also positioned further forward than I've experienced. When I first rode away from the truck and straight into the Hattah sand I felt as if I was going to go over the handlebars. The way your boots wedge in between the footpegs and Steg Pegz made me feel like I was clipped onto the bike and couldn't get back as I usually do in whoops.
The key is you lean back by bending at your knees more than you normally would. Once I gave it some time it became very clear how well these worked and why Toby runs such an aggressive Steg Pegz setup. Your boots literally wedge in between the instep of the boot on the footpeg and the back of your boot on the Steg Pegz, making standing up through whoops so much easier it's almost like cheating. I'll be the first to admit I was a little sceptical about the whole Steg Pegz thing but after riding this bike I'm sold on this style of riding.
Another little detail I noticed is how everything that could come loose from the constant vibration of desert racing is immaculately lockwired — nothing's left to chance.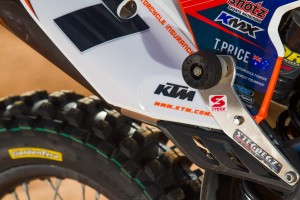 The Whoop Monster
High-speed stability is the name of the game here and this bike has it in spades. The way it eats up whoops inspires confidence in conditions that usually send self-assurance spiralling the other direction. The forks hold up and absorb whatever is thrown at them. When you're timing whoops well, they don't need to do too much but you won't always be able to drop the front wheel on the top of whoops perfectly; it's how they handle when you impact the face of a whoop that's impressive. The front end stays straight and doesn't try to knife or twitch; it just absorbs the impact and rebounds in a controlled way, ready to do it all again.
It's the rear shock though that has the hardest job at a desert race: it doesn't get to miss any bumps like the front end does. It deals with every single one for hours on end and in a perfect world doesn't fade or fall apart. It was very impressive the way the shock absorbed the impact of hitting a whoop then rebounded at a speed that didn't cause a kick but was fast enough to reset itself before impacting the next whoop.
This is the key to a bike that stays balanced over whoops that are waist or shoulder deep. It needs to absorb the impact then reset itself to full travel ready for the next one. This bike does it so well and, as I mentioned earlier, because of this you build confidence quickly.
The team also runs a custom bump stop that functions on full extension of the rear shock. This is in addition to the regular bump stop fitted for full compression. It helps take some of the load off the shock when it goes to full extension in between every whoop — more of a reliability thing than anything else.
The bike did start to skip sideways through some whoops at one point — nothing too scary but enough to get my attention. Just by maintaining throttle and driving forward, it straightened up easily and didn't turn into a proper moment. That instilled even more confidence.
Racing at high speeds in the desert is never going to be perfect; there will always be unpredictable situations and it's good to know your bike handles well when things aren't perfect.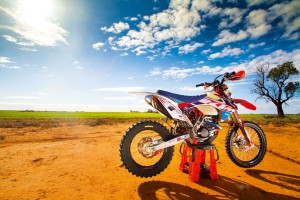 Unleash The Beast
This is a 500cc dirtbike so it's a given that there's going to be plenty of torque and outright horsepower even in completely standard form. The bike is far from standard but you don't notice the additional power the way you maybe would on a motocross track What I did realise early is that once you're moving it's third gear and up that are being used. First and second gears are irrelevant when you have as much torque as this bike does. When the track opened up into the distance and I was able to shift a few gears and get to 100 per cent throttle in fifth gear, that's when this engine was impressive. The rate of acceleration is crazy; it handles the high speeds so well you don't realise how fast you're going until you need to slow for a turn.
Braking distances are double what I'm used to on a motocross track. It really is deceptive because of how stable the bike is and how easily the engine carries the bike along at what I would guess is in the 140–150km/h range; it would be very easy to underestimate that speed and get yourself into trouble. It's another reason why what Toby has done in desert racing over the past six years is so impressive. The fact that this bike runs at such high speeds for such a long time during these races can't be ignored either.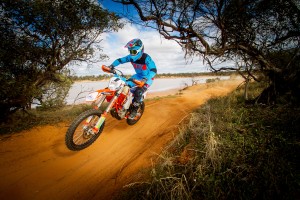 Give it back
This was one of the most unique bikes I've had the pleasure of riding. Built so well for what it's designed to do and placed under a rider as talented as Toby Price, it's no surprise they make such a formidable combo. I could easily have kept pounding through the sand whoops of Hattah for another couple of hours but eventually I had to head back to the truck and return it to Grabbo and Mick.
Toby Price career highlights
2009 –
1st Outright Australian Off-Road Endurance Championships
2010 –
1st Outright Australian Off-Road Endurance Championships
1st Outright Australian Four-Day Event
1st Outright Hattah Desert Race (first attempt at this event)
1st Outright Finke Desert Race (first attempt at this event)
4th E2 Class/8th Outright ISDE
2011 –
1st Outright Australian Four-Day Event
1st Outright Hattah Desert Race
2012 –
1st Outright Australian Four-Day Event
1st Outright Australian Off-Road Endurance Championships
1st Outright Hattah Desert Race
1st Outright Finke Desert Race
"I was also lucky enough to compete in the Baja 1000 where the team finished second."
2013 –
"I suffered an almost career-ending injury while competing in the United States: broken C6, C7 and T1 in my neck."
2014 –
1st Outright Australian Off-Road Endurance Championships
1st Outright Hattah Desert Race
1st Outright Finke Desert Race
7th Outright Morocco Rally
3rd Outright Dakar Rally
2015 –
1st Outright Hattah Desert Race
1st Outright Finke Desert Race
Toby Price's KTM off road racing 500 EXC
Front fork: Factory WP 52mm Cone Valve by GDR Suspension
Rear shock: Factory WP Trax Link by GDR Suspension
Rims: Excel
Chain: EK
Chain guide: KTM Powerparts
Front tyre: Golden Tyre 90/100-21
Rear tyre: Golden Tyre 120/110-18
Tubes: Mefo mousse tubes
Graphics: Kustom MX
Front brake rotor: KTM Powerparts
Rear brake rotor: Std
Clutch: Std
Exhaust: KTM Powerparts
Triple clamps: XTRIG
Handlebars: KTM Powerparts
Grips: Foam
Steering damper: MSC
Seat cover: Topline
Skid plate: KTM Powerparts
Footpegs: Std
Cylinder head: KTM Off Road Team
Engine: KTM Off Road Team
Ignition: GET
Spark plug: NGK Iridium
Rear sprocket: KTM Powerparts
Fuel tank: IMS