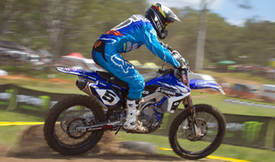 Coppins and Styke win for Yamaha at Wanneroo Monster Energy MX Nationals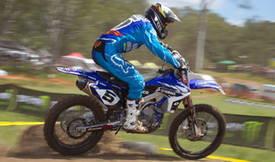 Wanneroo, WA – CDR Yamaha enjoyed a glorious return to Western Australia on Sunday, 13 May, for the fourth round of the Monster Energy MX Nationals at the sand-filled Wanneroo Motocross Park.
MX1 series leader Josh Coppins picked up his second win of the season in an impressive performance, winning motos one and three to extend his championship lead to 42 points despite riding through the pain of a pinched nerve in his neck.
"The last round didn't go to well for us, so it's nice to bounce back and I really want to thank CDR Yamaha for all their hard work," the New Zealander said. "We've been working really hard, they've been looking after me and I can't say thanks to the team enough. It's pretty tough out there, so I just want to try get rid of my injury, loosen up and try ride a bit better as the season goes on."
Despite the relentless sand whoops of Wanneroo that formed throughout the round, Australia's leading contenders pushed at 100 percent during all three of the pro motos in the series' first visit to WA since 2009.
Backing Coppins up to make it a Yamaha 1-2 was teammate Lawson Bopping, who picked up his second podium of 2012 after a consistent effort. Bopping claimed second in moto one, third in moto two and sixth in the final outing.
Continuing his spectacular run of results since joining Motul Pirelli Suzuki was Todd Waters, finishing third overall in what was his third podium in four rounds. Waters was fourth in motos one and two, before a third in the final moto sealed the podium.
Completing the top five was Carlton Dry Honda Thor Racing's Brad Anderson and Waters' teammate Cody Cooper. Top privateer finisher was Simmonds Racing Honda rider Tye Simmonds in sixth.
The hard-luck story of the round was defending four-time champion Jay Marmont, who broke through for his first win of the season for the Monster Energy squad in moto two. His day ended early in moto three though, forced out late in the moto as his pre-season knee injury continues to take its toll.
Motul MX2 championship leader Luke Styke picked up his second overall of the season for Serco Yamaha Metal Mulisha Racing, winning motos one and two before finishing fourth in the gruelling final moto.
"After putting in hard this weekend, I just want to thank the Serco Yamaha Metal Mulisha Racing team and the club for a great event," Styke said. "It was a good weekend and it feels good that all the hard work is paying off for all of us, but it's early in the season and we need to keep trying the best we can."
Styke won ahead of DPH Motorsport Honda's Cheyne Boyd, who enjoyed a consistent round for his first podium of the season. After setting pole on Saturday, Boyd raced to second in moto one and third in the final two motos of the round.
Zero Seven Motorsports Suzuki rider Adam Monea was third overall, winning the final moto in a dominant performance. The Victorian was yet again back to his best in WA, edging out fellow Victorian Kade Mosig for the final position on the podium by just a single point.
Motorex/KTM's Josh Cachia completed the top five despite battling through the day with an expected bout of appendicitis, heading another Victorian in Lewis Woods. Woods enjoyed his best round of the season by far for the Hart and Huntington/InsureMyRide team.
Title contenders Ford Dale (Carlton Dry Honda Thor Racing) and Kirk Gibbs (Serco Yamaha Metal Mulisha Racing) had a day to forget, with Dale taking seventh after a troublesome day, while Gibbs will have to settle for 13th after a flat tyre in moto one forced him out of the points.
Styke now enjoys a handy 39-point lead in the series ahead of Dale, while Gibbs remains third as we approach the halfway point.
The Australian Motocross Championship will now head straight to Murray Bridge in South Australia for round five of the Monster Energy Mx Nationals this weekend on 20 May. Visit www.mxnationals.com.au for further information on the Monster Energy MX Nationals series.
2012 Monster Energy MX Nationals, Australian Motocross Championship
Round Four – Wanneroo, WA
MX1 Overall Results:
1. Josh Coppins 72
2. Lawson Bopping     57
3.Todd Waters 56
4. Brad Anderson 50
5. Cody Cooper 46
6. Tye Simmonds 45
7. Daniel McCoy 42
8. Jay Marmont 38
9. Mike Phillips 33
10. Gordon Crockard 32
MX2 Overall Results:
1. Luke Styke 68
2. Cheyne Boyd 62
3. Adam Monea 55
4. Kade Mosig 54
5. Josh Cachia 46
6. Lewis Woods 44
7. Ford Dale 42
8. Scott Columb 38
9. Luke Arbon 38
10. Kirk Gibbs 37
MX1 Championship Standings (after 4 of 10 rounds):
1. Josh Coppins 253
2. Brad Anderson 211
3. Todd Waters 208
4. Lawson Bopping     203
5. Cody Cooper 183
6. Tye Simmonds 178
7. Jay Marmont 177
8. Jake Moss 157
9. Daniel McCoy 125
10. Daniel Reardon 107
MX2 Championship Standings (after 4 of 10 rounds):
1. Luke Styke 260
2. Ford Dale 221
3. Kirk Gibbs 199
4. Cheyne Boyd 198
5. Josh Cachia 195
6. Kade Mosig 194
7. Adam Monea 190
8. Justin McDonald 143
9. Lewis Woods 134
10. Errol Willis 131