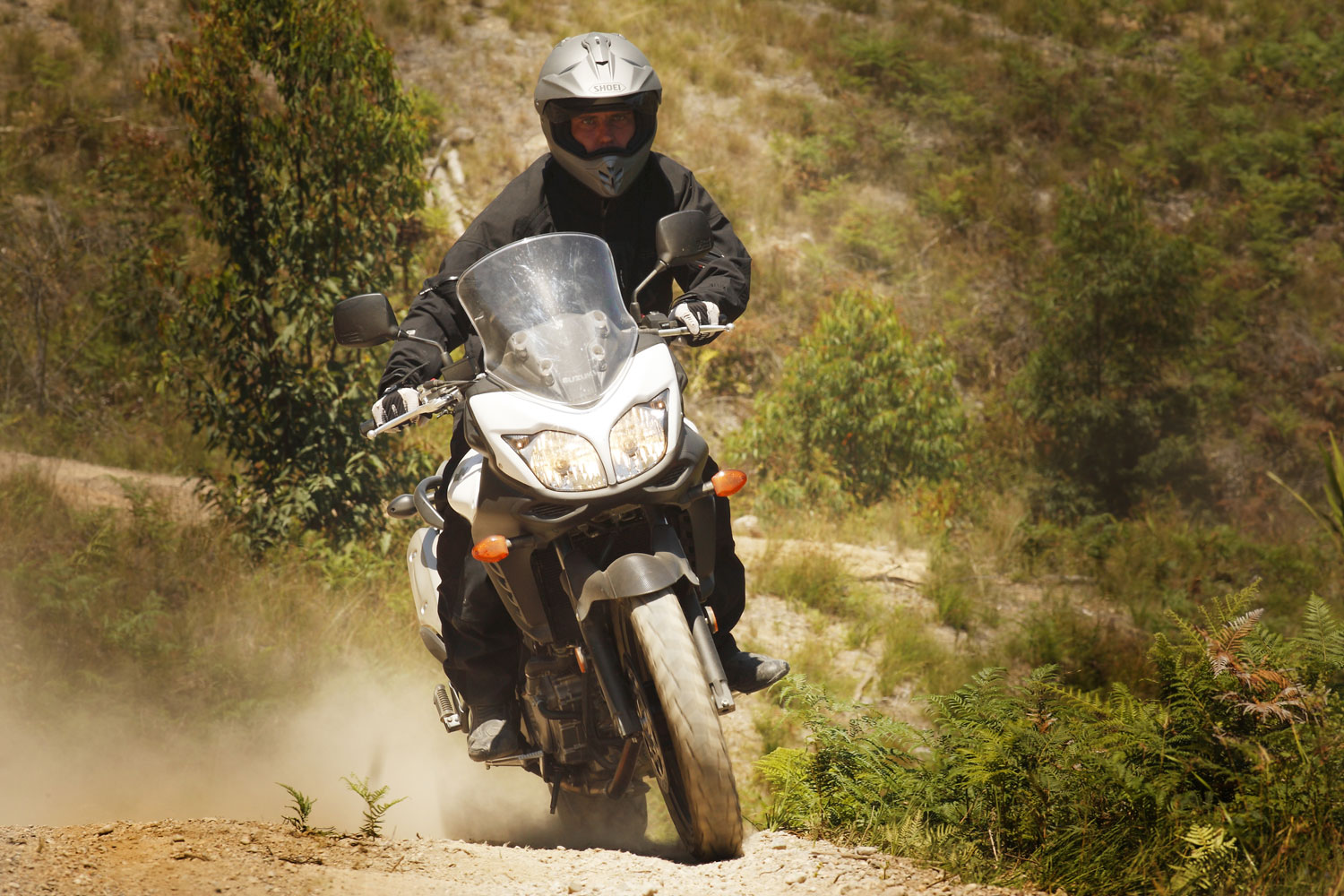 Smooth Operator: Is Suzuki's V-Strom 650 ABS a sleeping giant — or a hopeless pretender that should never leave the comforts of suburbia?
Story and photography Damien Ashenhurst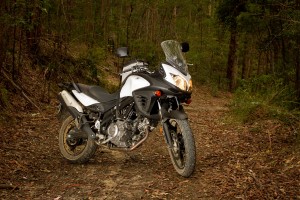 The V-Strom has never been on my radar. Until recently I knew next to nothing about it and assumed it was yet another road bike.
That changed not long ago when I started looking for a bike to buy. I wanted something that could handle my stupidly long commute to work and allow me to ride the mountain roads and light trails if I feel like getting away.
I looked at all the usual suspects, from the Beemers to the Ténérés, and even considered a DR650 with some mods as a solution. I only had a small amount of money to spend, however, so I needed to find something that could not only do the job but also not cost a heap.
Easier said than done, of course, but the one bike I kept seeing was the V-Strom 650. I eventually asked one of the blokes from Road Rider magazine if he knew anything about them. "Of course I do," he said. "They're a bloody great bike and perfect for what you want to do."
Now, the average road bike rider speaks of anything under the 1000cc range with disdain, so to hear such praise on something that comes in at only 650 had me curious.
Not long into my search for a bike, the opportunity to take on a test bike for this feature came up and, with my interest already piqued, I of course jumped at the chance. Don't you love it when the universe works this way? As opposed to when it makes your mobile fall from your hand into a pub urinal while you're downstream from three other blokes, one of whom has clearly been eating asparagus.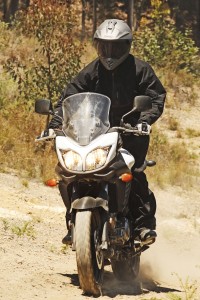 So … You got a sister?
So I picked up the latest-model Suzuki V-Strom from Pro Cycles in Hornsby and was at first struck by the look. It's a good-looking bike with solid, sharp lines. The 1000cc bigger brother has more of the signature adventure bike look but the 650 doesn't throw out many signs that it has obvious limitations. Except the unfortunate oil filter placement — that's pretty obvious.
I got to work straightaway. I get the coolest feeling around a bike that looks as though it's up for anything; I suppose we all do. It's an irresistible urge to go riding somewhere, anywhere, and I've got up off the couch late at night and ridden a BMW F800GS off into the mountains in the rain on one occasion because I couldn't resist that call. My kids think I'm nuts but it was one of the most memorable rides I've ever had — the sort of experience a capable adventure bike allows you to enjoy.
The first thing you come to realise about the V-Strom is that this is one comfortable motorcycle; one of the most comfortable, in fact. The wide, soft seat works well with excellent ergonomics. The lever and 'bar positioning is complimented by good footpeg placement but somewhat let down in the end by overly thin footpegs and a far too short gear lever that was made for people with hooves instead of feet.
So, at this point I knew I'd change the footpegs and the gear lever and cover that oil filter with a bashplate — nothing alarming there. But what's it like to ride?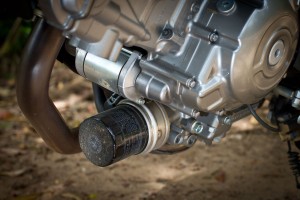 Don't fence me in
On the road, the V-Strom is outstanding but I'll be the first to admit that I don't know much about road bikes or what to expect from a bike on the blacktop. I'm a dirt rider from start to finish but I do know what I like and, perhaps more importantly, I know what I trust.
To be sure I had it right, I gave the key to my dad, Barry, who can still ride like the clappers on the tar. He came back with the same opinion. The V-Strom was still to reveal a great weakness.
I went for my first dirt ride on a stinking-hot day. I had a pretty big ride in my head but things went sideways about 70km into the mountains: I came around a corner and was confronted by a road block due to logging in the area.
OK, no dramas. I thought I could just backtrack and find a new track to explore, but after I'd ridden about five kilometres I came across a locked gate. A bloody solid locked gate with no way around the outside. Now this gate was open when I came through — that goes without saying — so some bastard locked it after I rode in and I was trapped between two road blocks.
I looked in vain for an alternative route and eventually rode back to the locked gate, where I took the only measure available: I laid the big unit down and basically dragged it under the gate. I hope the bloke who locked that gate gets crabs from a randy wombat.
The V-Strom came through almost completely unscathed — the slightest scratch on a bar-end the sum total of the damage. It's a heavy bike, no doubt, but even this level of manhandling wasn't a huge drama. A few deep breaths and I was on my way again, looking for more tracks. The amount of fun I was having on the Suzuki wasn't going to be dampened by a gate Nazi.
The V-Strom is a confident bike that only shows some front-end shyness when it hits sand, but there aren't many adventure bikes that like that sudden transition from hard to soft at speed. The rest of the time, the bike feels stable and capable of some aggressive riding. It's easy to grip with your knees and comfortable in the standing position, so you feel keen to go find some more gnarly tracks — if it weren't for that oil filter and exposed pipe and cases.
The front underside of the V-Strom's engine is its Achilles heel and it stopped me from really giving it some curry. One heavy landing from a jump of any sort and the day could end in tears. Just picking up a branch with your front wheel could do damage — which brings me to one more thing. The front-wheel mudguard is of the tight, tyre-hugging road type and that dog won't hunt in the bush. It's just asking for something to get jammed in there.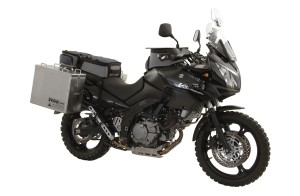 Mod for rad
So what I found in the V-Strom was a bike that was all pleasure to ride and far more capable than I had ever appreciated. With a few simple issues addressed, this bike deserves to be thought of as a true adventure bike.
I'm a little behind the curve on this — as YouTube can attest, with plenty of videos of V-Stroms doing the biz in the bush and the desert — but I'm a fan now. It's comfortable, it has good range with the standard tank, it's brilliant on the road and it feels right at home on the dirt as well.
Suzuki obviously sees it as a road bike with limited dirt capabilities but it actually has a good adventure bike on its hands. It'd be nice to see Suzuki release a standard adventure-spec machine at some point and I reckon it would sell.
And I have to be clear here: in stock trim, the V-Strom is a road bike with long-travel suspension. But with the mods that are easy to find and execute, the 650 can be unleashed on the track and trail no problems and I'd love to spend a year exploring just how far you could take one. I've read on several road-bike pages that this bike can't handle much in the off-road side of things. Bullshit.
The sticking point on purchasing is and will always be the non-switchable ABS. I don't know why this system even exists but the V-Strom isn't alone. I don't have the distrust for ABS that I once had but you need to be able to switch it off in the dirt, no questions asked. Surely it can't be that hard to engineer it that way.
There's a short list of changes I'd make, starting with the bashplate, which is an absolute must. I'd also fit wider footpegs and a longer gear lever and I may even consider gearing the bike up a little, as first gear feels like it's ready for a tractor-pull competition and the engine is torquey enough to take the gearing up a little and buy back some headroom on the freeways. I'd also raise the ground clearance a little.
Crash guards and suspension upgrades could be on the serious list for real outback riders as well.
So the V-Strom is a bike with a great feel, excellent engine, suspension and chassis and brakes and a hell of a lot going for it. It might not be on the adventure bike pin-up list but it deserves more attention.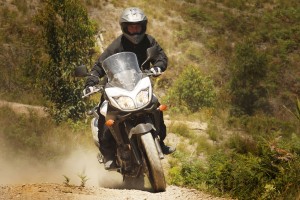 Gotta Love:
Good standard windscreen
Great ergos
Torque monster engine
Underrated handling
Amazing clutch/gearbox feel
Excellent brakes
Not Mad About:
Rear gear lever
Non-switchable ABS
Damage-prone underside