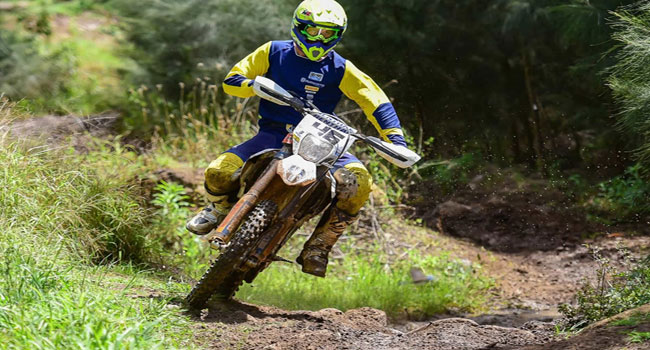 Husqvarna's Lachlan Stanford has had a positive return to racing following the recently marred ISDE.
By Hayden Gregory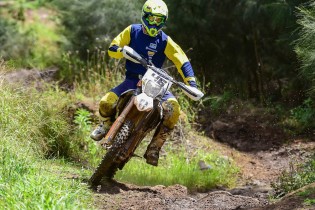 Stanford returned to the track to compete in the last round of the Queensland sprint series at Murphy's Creek. Aboard his Husqvarna FE 350 the Australian representative won all but one of the daily sprints to be crowned round victor.
Stanford headed into the 2015 series as the defending champion and after dominating the opening round he looked like he would run away with the championship. That was until it was announced that the second round would take place on the same weekend as the ISDE.
Missing a round for representative duties has allowed riders previously to protest and be granted an average of points. Stanford refused to file such a request meaning he would not be able to win back to back championships. Peter-Daniel Allen went on to claim the 2015 crown ahead of Kritsian Sprenger and Kye Crosswell. Stanford's two round victories were enough to claim fourth in overall standings.
"It was good to get the win today," Stanford said. "I won all bar the third one where someone pipped me. It was the first right back from the six-day and all the time on the 500. I stepped back down to my 350 and it was too fast for me! The 500 was all placid with power everywhere, and my 350 is real barky and revvy. It took me some of the morning to get used to racing it again, then I started beating them all like over 15 seconds per lap.
"The club ran a really good event, the track was a ten-minute lap with a couple of technical bits like uphills with tree roots, it was cool, I really enjoyed it and it was good to get back racing in Australia. It's disappointing not to win the championship, but I would feel bad if I got points for not being there and won that way. They offered today, but it didn't feel right to do it, so I didn't."
Young gun Fraser Higlett completed a clean sweep of the junior class winning all nine sprints to lead the day by four minutes. The win marked Higlett's fourth championship in an amazing enduro debut year.
"It was a short track today but pretty good fun," Higlett said. "It was the complete opposite to Conondale, being dry and dusty. The rain during the week didn't change things that much; it was a bit rocky, skatey and rough.
"I got the win by about 20-30 seconds each sprint lap, so that wrapped up the title. It feels pretty good, this is my fourth title in my first year of enduro, so you've got be happy with that! I just kept my normal cruisey attitude about it and went out and had a good time. My bike was super-reliable as always and it was pretty fun."
Husqvarna Queensland Sprint series points:
Peter-Daniel Allan 69,
Kristian Sprenger 60,
Kye Crosswell 51,
Lachlan Stanford 50,
Andrew Janke 48
Junior category:
Fraser Higlett 75,
Lachlan Allan 64,
William Scott 45,
Will Choice 40,
Luke Allan 39